Bridging the experience gap
Fanshawe College partners with Riipen to deliver work-integrated learning experiences to students
FANSHAWE COLLEGE IS the latest post-secondary institution to partner with Riipen, an experiential learning platform that matches students with project-based learning opportunities with private employers.
Access to the platform will allow students to connect with real-world employers to work on what they call "micro-experiential learning opportunities" — these range from one-off projects to full internships — that are either paid or count towards course credits.
Story Continues Below
According to Riipen, the platform is used by around 19,000 employers, whose labour needs are matched to courses submitted by professors. Fanshawe was one of 30 schools selected for funding through the RBC Future Launch program, a $500-million skills and training funding program announced in 2017.
Riipen, founded in 2015, has benefitted from growing concern about the employability of graduates in recent years. In 2019, they closed a $5 million funding round that garnered investment from ed-tech investors including EduLab Capital, the Entangled Group and others. In the years since its founding, it has partnered with a number of universities, including the University of Waterloo, U of T and Concordia.
Story Continues Below
Among the other Ontario schools selected as part of Riipen's expansion are Carleton, Lakehead, Georgian College, Ontario Tech University and St. Clair College.
"Riipen is a valuable platform to help connect the world of remote work experiences through project initiatives needed by our community and industry partners," says Annette Markvoort, manager of Fanshawe's Innovation Village. "The engagement tools embedded in the platform just make the experience richer for all partners involved; student, faculty and industry lead."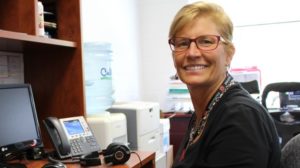 Photo: Allison Stephens, professor and program coordinator, Advanced Ergonomic Studies at Fanshawe (courtesy Fanshawe College)
Students stand to gain from this kind of platform by getting hands-on experience through remote opportunities. The platform allows employers to upload real-world projects or contests, and students can tackle the projects under the guidance and supervision of their course instructors. As well, instructors can present student-led projects to employers.
"The Riipen platform has allowed the Advanced Ergonomic Studies program to reach companies and industries that we would never have even known existed," adds Allison Stephens, professor and program coordinator, Advanced Ergonomic Studies at Fanshawe. "This has resulted in more than 50 opportunities for my students. Many took on multiple projects to achieve their 300 hours of placement and sometimes even over 300 hours. The projects were so varied and interesting. I was skeptical about doing ergonomics remotely at first, but these students and companies rose to the challenge and found ways to do it."
Story Continues Below
According to Markvoort, thus far the partnership (which began as a pilot in October, 2019) has facilitated 770 Fanshawe student experiences, comprising 149 industry projects with 86 partners. "We look forward to continuing to work together to deliver many more signature innovative learning experiences to our students," she says.
"Canada's future workforce is graduating into an economy still in recovery, and it is our mission to support these students in their transition from learning to work," says Dana Stephenson, CEO of Riipen. "Over 90 per cent of students on Riipen report feeling a positive impact on their employability in areas such as career readiness, professionalism and critical thinking."

Kieran Delamont