With empathy and humour, the Career Resilience with Jann Danyluk podcast/YouTube channel features candid discussions about successes, failures and the real-life experiences that make us resilient
Photo: Jann Danyluk
IN THE PANTHEON of vaunted career traits — things like ambition, drive, creativity — it is time to add another, often overlooked trait: resilience.
"I've had a long and successful career, but it was not without huge challenges along the way," says Jann Danyluk, senior human resources consultant and business coach with Ford Keast HR Consulting and host of the podcast/YouTube Career Resilience with Jann Danyluk. "And that's what most people's careers are like, right? We make it look easy, but we're paddling under the surface like mad. We just hope that no one finds out."
In her series, we get something like an inversion of the usual scripts we often internalize about entrepreneurs and professionals: facing problems and solving them, manifesting success for themselves and their businesses and achieving success through an unwavering pursuit of a singular dream.
"I think it's really interesting to hear what people say about their resilience, and what we can learn from their experiences. It is wonderful that they are willing to share their stories" ― Jann Danyluk
This, of course, is the duck on the surface of calm waters, a story that has been smoothed out and where all roads, eventually, lead to success.
To think about career resilience is to think about all the ways that it can go wrong—the occasions when someone is knocked down, where the story isn't what they did to overcome and leverage it, but what they did to survive it.
"I had difficult jobs, I had difficult bosses, I had feelings of anxiety especially when I was starting out in my career," Danyluk recalls. "We're so confident-looking on the outside, and on the inside we're alike with our foibles and our insecurities. We know that about ourselves, no matter what façade we put on."
Guests on the podcast/YouTube include our own London, Ontario artist, Dan Pietens, who has achieved incredible artistic success by managing his anxiety and recognizing that what he had been doing wasn't working for him; or an emergency room doctor who fainted upon seeing his first cadaver and is willing to talk about the parts of his job that actually can make him feel somewhat unwell. Jann talks with a wife in an inter-racial marriage and the challenges that are constantly with her and her husband. All these stories are connected by setbacks and focused on the personal decisions made to endure them and persevere.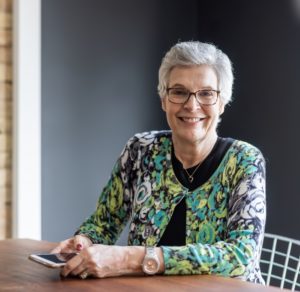 "I think it's really interesting to hear what people say about their resilience," Danyluk says, "and what we can learn from their experiences. It is wonderful that they are willing to share their stories."
These are stories, she says, of facing difficult times and seeing opportunities, however distant or abstract. The episodes are like instructive memoirs. Merely having the space to admit that you haven't always done well enough by yourself ― and to explore what it means to get through that ― is something many professionals are rarely, if ever, afforded. When it's at its best, the podcast, with its easy-going cadence, can feel like dropping in to just such a safe space.
Danyluk launched the series in 2020. It's timelier than ever as we have gone through shock after shock over the past couple of years. Many people have experienced, and continue to experience, career shocks too, and are now being asked to pick up the pieces and resume normal life.
"I knew I wanted to do something that gave back, because I've had a great career, but I also know the pain — I know what it's like to be struggling and having to pretend you're doing okay," Danyluk says. "Something good can come out of the struggle in the end. Hearing about each others' stories helps immeasurably with that."
Jann Danyluk is a veteran HR professional and consultant with the Ford Keast HR Consulting, an affiliate of Ford Keast LLP, Chartered Professional Accountants. Career Resilience with Jann Danyluk is freely available on most podcast platforms, on YouTube, and on her website, www.career-resilience.com.
---
This story was created by Content Studio, TreeTown Media's commercial content division, on behalf of Career Resilience with Jann Danyluk