Connecting with compassion
London's Twenty Under 40 Foundation selects 519Pursuit as the recipient of its 2021 Community Project Award
Photo: Twenty Under 40 Foundation board member Nicole Spriet and president Chris Costello with 519Puruit's Allison Deblaire (centre)
OVER HER 10 years working as a ­security guard in downtown London, Allison DeBlaire got a closer look at homelessness in the city than most. Closer than she had ever had, at least.
"I grew up in a small town, so I was never really exposed to homelessness until I came to London for college," she says.
Click here to view this story in magazine format
Working as a part-time security guard, she recalls, "Often, I was the voice of ­exclusion." Responding to it differently — more humanely and compassionately — grew important to her.
Story Continues Below
She began keeping a binder with news articles about homelessness. It allowed her to be more helpful when she met people experiencing street life by knowing a bit about the services available. But it also helped her start to understand homelessness, too.
"Over time, I basically cut out quotes from staff, or people that were working on the homeless response plan, and I had put together their quotes into a seven-page essay of sorts," DeBlaire explains. "It helped me understand how I could do better, and how just offering friendship can help."
"There are so many times that people have been brought to tears — they're so thankful that we've shown up at the right place, at the right time" ―Allison DeBlaire
In 2017, she ran a crockpot full of homemade chicken soup out to folks behind a shelter on a cold night, and seeing the impact of such a simple act set her on the course to launch 519Pursuit with friend, Amber Irvine.
From its humble beginning, 519Pursuit has gone on to partner with organization such as The London Food Bank and RBC Place, and it was recently announced as the 2021 recipient of the Twenty Under 40 Foundation Community Project Award.
Like many organizations working with people experiencing homelessness, 519Pursuit wears a lot of hats— taking people to appointments, setting them up with clothes or just being around to chat. One of their most successful annual programs is the 519Pledge, which has brought in nearly 200,000 pairs of donated socks — a commonly overlooked item that is in higher demand than just about anything else. (In just six weeks last year, they amassed 81,000 pairs.)
Story Continues Below
The through-line to all of this, DeBlaire says, is meeting people where they're at, and helping them without judgement.
"We focus on a friendship-based approach. We connect with those facing homelessness and extreme poverty in our community, and we use a humanizing, person-helping-person approach," she says. "We're not asking questions, we're not taking personal information and we're not trying to dig into why they're in the place they're in."
519Pursuit is hardly alone in this approach: in cities across the country, there are an increasing number of ­organizations that bypass to a degree the official support channels (shelters, social services, etc.) to offer direct aid to the homeless. Homeless neighbours are still your neighbours, after all; 519Pursuit refers to the folks they work with simply as 'friends,' rather than as 'the homeless' or 'clients.'
"Over time, we get to know people in our community who sleep rough," says DeBlaire. "We get to know them, understand who they are, what their clothing size is, what their shoe size is, and we can make those care packages directly for them."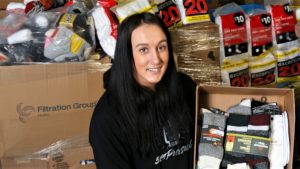 With the Twenty Under 40 Foundation funds — a grant of up to $10,000 — 519Pursuit intends to purchase a vehicle to be used by the organization and its teams of volunteers.
For Chris Costello, board president of the Twenty Under 40 Foundation, it's the exact kind of project that the alumni are eager to support.
"This year, much like last year with the Covid implications, we had a strong number of applicants, all so worthy and doing interesting things in the city. So, when 519Pursuit was part of this shortlist, and when the alumni selected them, it was exciting," Costello says. "They are doing really great work.
"The foundation, in the past, has really looked to support organizations that have a capital-based request — something that's tangible and able to benefit as many people as possible," Costello continues. "Having that tangible item that will be used over and over again is a key aspect."
Story Continues Below
The grant money will allow 519Pursuit to expand the ­number of people it reaches, DeBlaire says, and that translates directly to greater impact.
"There's so many positive outcomes," she says. "There are so many times that people have been brought to tears — they're so thankful that we've shown up at the right place, at the right time."

Kieran Delamont