Erin Mitchell, director of operations at Canada's two top-performing Harley-Davidson dealerships, chats about building community, the electric ride and why the ­experience always trumps
ERIN MITCHELL IS director of operations at Rocky's Harley-Davidson in London and Blackbridge Harley-Davidson in Cambridge.
Click here to view this article in magazine format
Both dealerships are owned by Brian Jacobs, the former controller at both locations. With partners Cory Stuart and Darryl Turley, he purchased them from the Duncan family — Rocky's more recently. The two businesses employ about 75 people combined.
Mitchell lives in Port Stanley with her partner and a "big, beautiful, blended family" that includes dogs Loki and Shiner. She began working at Blackbridge in 2019. "I've spent a lot of time on the 401 since then. During the pandemic, I spent weeks at a time living in Cambridge and commuting home."
She grew up in North London and attended A.B. Lucas Secondary School and King's University College. She was a VP at digital marketing firm Arcane for nearly five years and continues to operate her own consulting firm, Erin Mitchell + Co. Her passions include golf — her goal this season is to hit 200-yard drives — and her family. "As a foster parent, I am constantly pulled into the adventures of my boys and their friends. I love the quality time we all spend as a family."
She rides both a Harley-Davidson Street 500 and LiveWire.
Story Continues Below
After the recent purchase of Rocky's, you've doubled your responsibilities, at least on paper. How will your job change?
My primary focus will be on aligning the customer experience between both stores. From concierge customer service in all departments to industry-leading expertise, precision and performance are in our DNA. Blackbridge and Rocky's are undeniably the top-performing dealers in Canada, with motorcycle sales exceeding 1,000 units per rooftop annually and the ­profitability to match. Our performance builds are the envy of privateer and factory race teams alike. The California custom-build community is talking about 'the other Ontario' and we're winning King of the Baggers races, all while building performance bikes that are roadworthy and accessible to our customers.
Harley-Davidson has a reputation as a brand that you buy after starting on something else, but that seems to be changing. What's being done at the dealership level to promote a wider clientele?
We provide our customers with candid advice, including our personal opinions, experience and recommendations for particular riding styles. We host events like The Moto Social, where all are welcome, bike or no bike, and which are known for being inclusive to riders of all makes, models, experience levels and riding styles. We create a community bikers can come home to. At our hub, bikers discover a holistic riding experience where they can hone their skills, bring family to events, expand their biking experience, network with each other and build lifelong relationships.
We also take new riders under our wing through mentorship. Our ambassador guides them on where to test for their license and how to get discounts. We offer tips on passing their exit tests, recommend them places to rent a bike and where to stay when riding specific routes — and most importantly, we'll make sure they sign up for the right class. There's a riding club for just about any style, and we know them all. We play matchmaker and love seeing our people find their home in the community.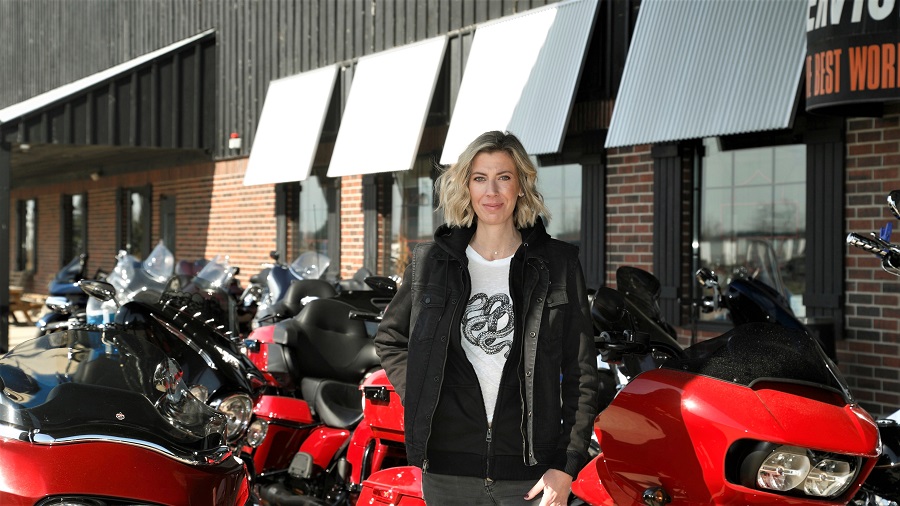 You joined Blackbridge nearly three years ago, an apparent departure from your previous jobs. What was the attraction?
Erin Mitchell + Co. evolved from my successes in growing small business to sustainable infrastructure. The invitation to join Blackbridge Harley-Davidson with the goal of acquiring Rocky's Harley-Davidson was an enticing opportunity.
Rocky's has a loyal following, going back to the 1950s. What changes, if any, will customers see from new owners?
First and foremost, a reinvestment in the riding community. Being a hub for those hitting the open road is a big part of the roadmap in Rocky's future. This includes fostering inclusivity for riders of all ages, gender and experience levels, investing in the community, leading the way in new rider mentorship and engaging more female riders. We'll also be hosting more events such as this month's 30th annual provincial HOG [Harley Owners Group] Rally, June 16 to 18. It will attract thousands of riders to the Forest City and set the groundwork for the largest ongoing annual motorcycle rally in Ontario. These events welcome riders and non-riders alike and are intended to break down barriers to the sport and Harley-Davidson brand.
Story Continues Below
Automakers are spending billions to develop EVs and plug-in hybrids. Is anything similar happening with Harley-Davidson?
Harley-Davidson's LiveWire was unveiled in 2018 and is the first in a revolutionary portfolio of electric Harley-Davidson motorcycles. It features a high-voltage battery and permanent magnet electric motor that can produce 100 per cent of its rated torque instantly, producing breathtaking acceleration. A lightweight but rigid aluminum frame contributes to precise, responsive handling and makes this motorcycle a thrill to ride. Think zero to 100 [km/h] in 3.5 seconds!
For the uninitiated, what's the deal with Harley-Davidson? Why are its fans so fiercely loyal?
What the Harley-Davidson brand symbolizes to me is a community of freedom-loving, adventure-seeking individuals who aspire to the values Harley-Davidson stands for — independence, authenticity and the passion for being on the open road.
In recent years, Harley-Davidson has favoured large automotive groups as dealer principal, hoping that automotive dealerships well versed in moving high volumes could spike sales. Auto groups loved this because it was great to have a fun and iconic brand in the portfolio. However, both Harley and the auto conglomerates overlooked the reason that Harley-Davidson is the number-one tattooed corporate logo in history — the experience.

Interview by Christopher Clark