Fanshawe unveils $5-million welding lab
The upgraded and expanded welding lab creates a modern learning environment utilizing the latest welding training equipment, including virtual welding technology
FANSHAWE COLLEGE HAS thrown the curtains back on its newly renovated welding lab, one of the largest welding training facilities in Southwestern Ontario.
According to Fanshawe, the original lab space was nearly 50 years old and, with increasing demand on the facility, renovation and equipment refurbishment was needed.
Story Continues Below
The total cost of the construction and equipment was $5 million, with more than $800,000 provided through the Province of Ontario's Apprenticeship Capital Grant.
"Fanshawe is committed to advancing education and apprenticeship in the skilled trades," says Stephen Patterson, dean of the Faculty of Science, Trades and Technology. "Labs like these are designed for students to learn the necessary skills, techniques and safety processes they need to graduate ready to enter the workforce."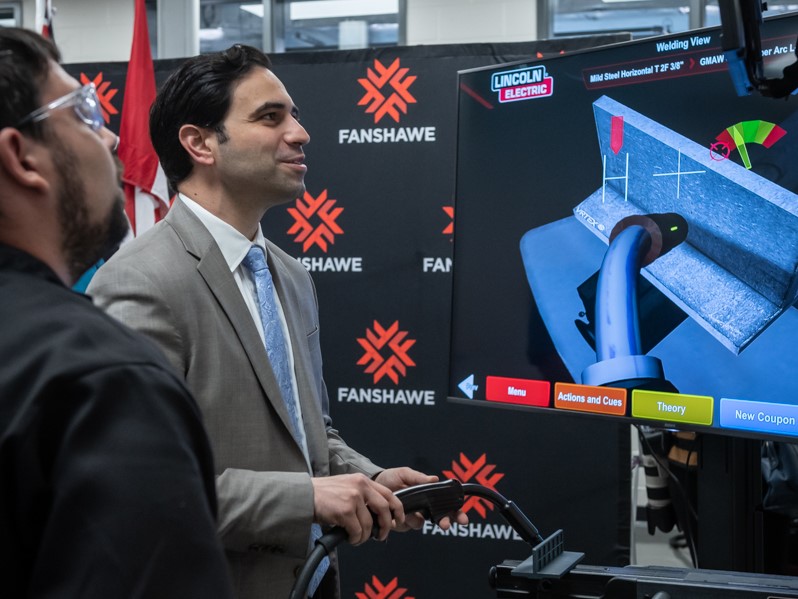 Photo: London North Centre Liberal MP Peter Fragiskastos at one of the lab's new virtual welding stations
The renovated lab increases the number of available welding stations from 37 to 50, and it also includes simulated welding stations, which allow students to hone their skills while cutting back on physical materials required at a traditional welding bench.  
Story Continues Below
Fanshawe says more than 15 of the school's programs utilize the welding lab, including its Welding and Fabrication Technician course, a two-year Ontario college diploma program with a paid co-op component. Creating a modern learning environment utilizing the latest welding training equipment, the school says the expanded lab "will position Fanshawe to meet growing programming potential to produce skilled labour to meet the high demand from the industry."