Aspire receives additional federal funding
Additional investment in state-of-the-art Aspire cricket protein facility to support sustainable food production
LONDON'S NEW HIGH-TECH Aspire Food Group cricket facility is getting an infusion of federal funding, with the announcement of an $8.5-million investment through the government's AgriInnovate program.
Announced on Monday, it's the second major public investment being made in the company, after NGen, the federal government's advanced manufacturing supercluster program, made a $16.8-million investment in Aspire last February.
Story Continues Below
The investment will go towards Aspire's new cricket protein production facility, which was recently opened and which is aiming to produce two billion crickets a year for use in the human and pet food industries. The project, which leans heavy on leading-edge AI, machine learning and automation technology, has been a veritable investment magnet in recent years, with support from telco giant Telus (who have recently launched an agriculture department) as well as tech companies Swiftlabs Inc and DarwinAI, both of whom are contributing technology to the project.
"Aspire is re-imagining what it means to sustainably produce food, and how smart technology can turn that vision into a reality," says Francis Drouin, parliamentary secretary to the minister of agriculture, in a statement. "Aspire's innovative facility will help further establish London's reputation as a hub for cutting-edge technology, strongly contributing to Ontario and Canada's position as an innovator in agriculture and agri-food."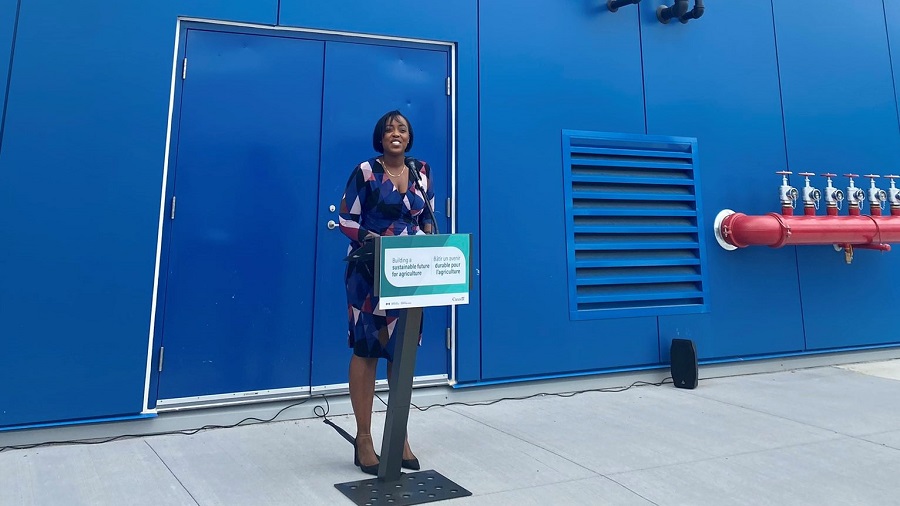 London West MP Arielle Kayabaga at a news conference to announce the new federal investment in Aspire
London's Liberal MPs championed the announcement in the futuristic food project, which comes amidst a growing focus on food security and sustainable agriculture in Canada. (And, perhaps not completely coincidentally, rapidly rising food prices: when NGen announced their investment last year, they praised the project as one that will address "a major social concern around food security" in Canada.)
"London attracts leaders and pioneers in technological innovation who are dedicated to making the world a better place," says London West MP Arielle Kayabaga. "Aspire will be at home here as the company re-defines what is possible in the insect protein sector, creating new solutions for sustainable food production."
Story Continues Below
London North Centre MP Peter Fragiskatos adds, "The strength of Canadian agriculture has always been its openness to new ideas and new approaches. Aspire is helping to re-shape how we think about agriculture and opening the door to new product and market opportunities."
"Aspire is grateful to Agriculture and Agri-Food Canada for its support of our first commercial facility," offers Aspire's CEO Mohammed Ashour. "A growing population and increasing demand for food and material requires sustainable, scalable solutions that keep our world healthy."

Kieran Delamont