A new artisanal bakery looks to champion ­community and creativity in Old East Village
Photo: Baker's Table co-founder Rob Howland (story photos by Mary Levykina)
ROB HOWLAND MET Amy and John Reehill through a mutual friend in mid-March 2020, days before the world went into isolation mode. Who knew that an evening of ­making French macarons in the friend's kitchen would lead to a business partnership two years later, as the world was slowly returning to normal?
Click here to read this story in magazine format
"John and I have dreamed of ­having our own business, and Rob has dreamed about having his own ­bakery," says Reehill. "We were talking throughout the pandemic, and last September we purchased a butcher's block on marketplace. Then we had to find somewhere to put it!"
Story Continues Below
That somewhere turned out to be Somerville 630, a developing food and arts destination in Old East Village that is home to several food ­operators, including Fire Roasted Coffee Co., Willie's Café and Momos at the Market.
"We love the feel of this old ­building and the vibe here, and the rent is affordable," says Reehill. "Old East Village is a passionate community, and we wanted a place with a community feel. We hope this will be the shop that people walk to every few days to buy food as they do in Europe."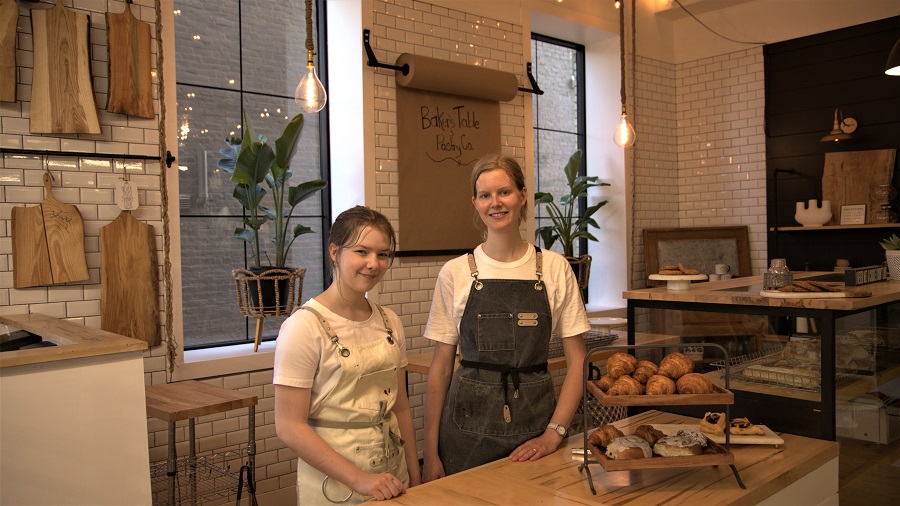 Baker's Table co-op student Megan Annable and pastry chef Erika Vangeest
The three began renovating their 1,400-square-foot space in February, investing $150,000 and hours of sweat equity. The Baker's Table and Pastry Co. opened its doors in mid-June, offering breads, pastries and a selection of made-­from-scratch soups, lasagna, beef pot pies and other hot food items.
The retail side of the business is currently open Wednesday to Saturday for those that want to grab-and-go at lunchtime or on the way home from work. The business is also offering catering, and wholesales some items to local restaurants and food service operators, such as the desserts and pastries it provides for events at the Elmhurst and Idlewyld Inns.
Story Continues Below
"Rob has connections in the food and restaurant ­industry," says Reehill. "High-end boutique hotels often don't have in-house pastry chefs, so we are focusing on some of those."
Howland is a pastry chef by trade who worked in several restaurants, including Cambridge's Langdon Hall, before turning his talents to teaching. He now works as a culinary instructor at Clarke Road Secondary School, and three of his former students have been hired as pastry chef, lead baker and gourmet chef at Baker's Table. Additionally, he has put plans in place to bring on co-op high school ­students this coming school year, and possibly students from Fanshawe's culinary programs in the future.
"One of our goals is to create a safe space for young adults to work in. This field is often a pressure cooker, with high expectations. We want to provide a place where they can explore and be creative," says Reehill.

Kym Wolfe