Bringing unique solutions to a constantly evolving market, Driverseat London puts flexibility and adaptability in high gear
Photo: Driverseat London franchise owners Dana and Glenn Clark
THOUGH THE WORLD of transportation is continuously changing — from the advent of Uber to car sharing to the future of self-driving cars — one thing remains constant: people have places to be and want services to get them there.
Click here to read this story in magazine format
For Glenn Clark, who six years ago took a career U-turn out of years of retail management to open a Driverseat franchise with his wife Dana, that means there's an exciting and interesting future for companies built around providing driver and shuttle services.
Story Continues Below
"Every day is a new adventure — people wanting some sort of new service," Clark says. "Our services are so varied, and every day it seems to expand a little further."
Founded in 2012 by brothers Brian and Luke Bazely and headquartered in Kitchener, Driverseat now operates in over 400 communities in Canada and the U.S., with franchisees providing custom transportation services ranging from chauffeur, shuttle and tour services to designated driving.
According to Clark, what makes the Driverseat concept unique is its flexibility and willingness to adapt to client needs and wants. While shuttle companies like Robert Q have narrowed in on a specific niche — scheduled ­airport shuttles, for instance – Driverseat operates on a more ­specialized, bespoke approach.
"The dynamic of the people that work with us is really interesting. It's fun. We have a really, really strong team" —Glenn Clark
An airport shuttle comes and goes on a set schedule, Clark explains, but Driverseat will take your flight info, keep tabs on the flight and make sure there's someone there to pick you up whenever it lands, with no fear that a delay could strand you (a valuable facet these days, no doubt).
Corporate services have also been a major part of the mix for the London franchise, says Clark. Sometimes that takes the form of a corporate shuttle, other times it's a chauffeur option, taking the person in his or her personal vehicle to a meeting or destination. "We have a number of corporate clients," he says. "The ability to work while we drive is huge."
There's also been a growing demand for tours and designated-driver services as the tourism sector springs back to life. Clark says as attractions reopened and thousands of delayed bachelorette parties and guys' ­weekends were back on the calendar, demand soared. "One of the biggest sales channels this summer has been driving folks around on things like winery or brewery tours," Clark explains. "Ditto for day trips to Grand Bend or Port Stanley. We're doing that all the time now."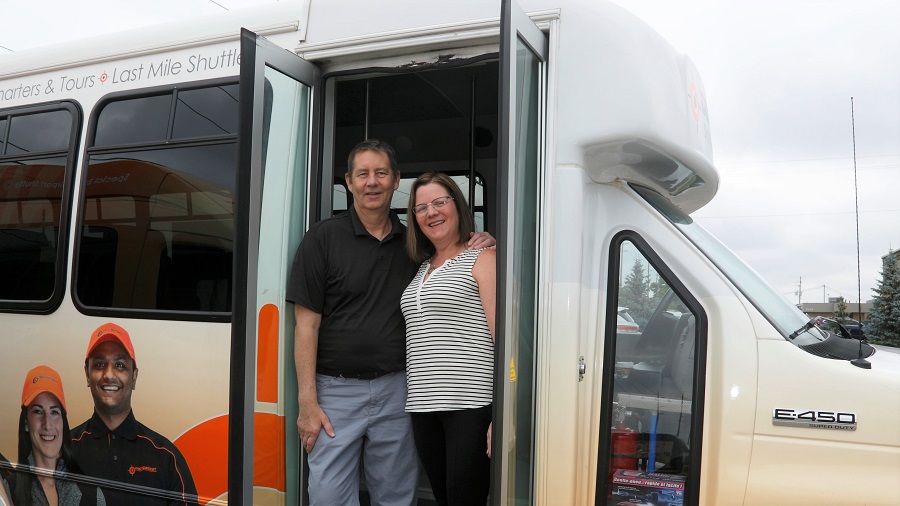 Part of their success in London, says Clark, has been an adaptive approach to staffing. They've diverged from an independent contractor model in favour of hiring full- and part-time drivers, with much of their services being offered in the company fleet, which currently consists of eight minivans and mini-buses.
"We actually started off with having independent contractors, but we found that once we started getting busier it was a little hard to manage," Clark says. Now, they work with three full-time drivers and around 15 part-timers. Many, he says, are semi-retired — folks who like driving, don't want the hassle of dealing with apps and want a side job that "pays for their golf or their trips."
"The dynamic of the people that work with us is really interesting," Clark says. "It's fun. We have a really, really strong team."
Story Continues Below
Looking ahead, Clark sees opportunities to expand his franchise business, especially regionally, as smaller ­transportation operators find opportunities. Greyhound's retreat from Ontario — taking with them many route ­exclusivity deals — has left a wide-open lane for companies like Driverseat. In Owen Sound, for example, the local Driverseat franchise has an agreement with Grey County to operate an inter-community transit service, picking up a lot of what Greyhound left behind, Clark says.
And as customer needs evolve (and as gas prices alter our transportation habits), Clark believes customers will ­continue to look to professional driver services — and will keep finding new ways to leverage their skillset.
"Quite often, people will tell us what they're looking for," he says. "We're going to be so creative over the next number of years."

Kieran Delamont