Taking inspiration from a Canada's most successful convenience food, Plantworthy Food finds a receptive audience
Photo: Plantworthy Foods founder Andrew Zuk
TODAY'S MODERN GROCERY store is filled with more and more vegan versions of classic products: there's the new generation of plant-based meats, dairy-free ice cream treats and an ever-expanding selection of high-end vegan cheeses (including London's own Nuts For Cheese).
To read this story in magazine format click here
But sometimes, even the strictest and most idealistic vegan wants something else: think that classic weeknight mac-and-cheese option, complete with space-age powdered cheese sauce.
Enter engineer and plant-based cook Andrew Zuk, creator of Plantworthy Foods.
Story Continues Below
"We make a powdered, plant-based cheese, similar to that orange powder that most kids grew up with," says Zuk, ­delicately tiptoeing around a simpler description: it's vegan Kraft Dinner cheese powder.
Plantworthy Cheeze Sauce comes in four flavours — the original, joined by a smokey cheddar flavour, a pesto flavour and (Zuk's favourite) a chipotle flavour of cashew-based cheese sauce.
"Ours is the only one that's made of cashews," he says, the base that most fans of plant-based cheese tend to ­prefer. "That's what makes it different — I don't know if you eat many cashews, but they're really high in fat."
Plantworthy Foods the brand pre-dated the cheese ­product, Zuk explains. He'd started it as a website where he was posting recipes he created as he learned to cook plant-based meals for his wife. He had perfected his own cashew-based cheese sauce and used it frequently in his ­recipes. But since it required a high-speed blender or a long soak for the cashews, it was time- and equipment-intensive for a lot of his audience.
"To get into Whole Foods within the first year was huge for us" —Andrew Zuk
"That's when I started thinking, how could I make a ­product that people could make in a matter of minutes but is still healthy?" he recalls. "People would say over and over that they didn't have the high-speed blender, or they didn't have the time to do it. And fair enough. When I was originally making it, I didn't have any kids. Now I have two kids under two — it's not going to happen."
To turn his idea into a business, Zuk went the indie route, first launching a Kickstarter campaign to raise startup ­capital and to gauge interest.
"We got funded pretty quickly," he says, "so I figured we were onto something."
Story Continues Below
From there, growth of the company follows a ­somewhat standard entrepreneurial path. The company rented ­commercial kitchen space, and Zuk enlisted his brother as part of the team. ("I thought this would be more fun if I had my little brother around," he says.)
For the first 15 months of operations, it was the two of them in the kitchen, producing all the orders. "Let me tell you," Zuk recalls, "it was gruelling."
This year, growth reached a point where Zuk removed himself from the kitchen to work on growing the business itself. They have enlisted a co-manufacturer and landed a distribution deal that has put Plantworthy Cheeze Sauce into more than 90 stores across Canada, including select Whole Foods Market locations.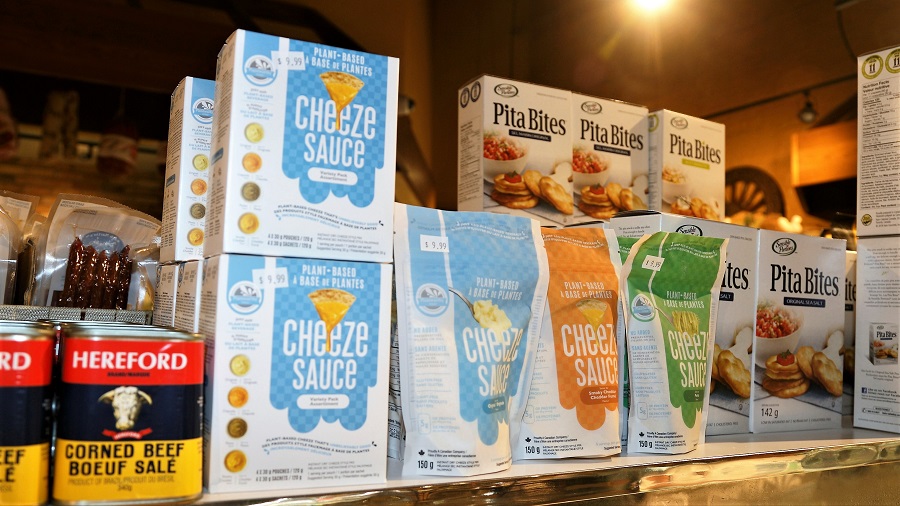 "To get into Whole Foods within the first year was huge for us," he says.
While not shying away from competition within the vegan cheese space, Zuk acknowledges that a challenge (and opportunity) facing vegan cheesemakers is not solely marketing to existing vegans, but in getting omnivores to start moving away from animal-based products — at least part of the time.
"One of the main things we did is a pretty significant ­sampling program," Zuk says. In addition, they don't market the sauce as 'vegan' — opting instead to use the more neutral term 'plant-based.' The hope is more meat-eaters will give the product a spin. "Just give us a try — we put that on our marketing," he says.
Story Continues Below
For the immediate future, the focus is on growing the ­customer base and expanding the reach of the current ­products rather than innovating with something new. Zuk says the volatile price of cheese in Canada opens a lane for them, but inflationary pressures put strain on his business as well. He's trying to ride those pressures out, keeping an eye on the long-term.
"Right now, we are focused on expanding our distribution footprint," he says. "We're just focused on moving forward and taking the wins where we can get them."

Kieran Delamont