Bringing new long-term supports to London employers, Youth Opportunities Unlimited looks to launch the careers of a new ­generation of young employees
Photo: Dina Haddish, community developer, and Justin McGuire, job retention coordinator, Youth Opportunities Unlimited
WITH YOUTH UNEMPLOYMENT only now falling back to around pre-pandemic levels, and with many businesses still struggling with labour shortages, London's non-profit youth employment service Youth Opportunities Unlimited is looking to bridge the gap with a new ­program they hope will stabilize more young people in ­quality jobs.
Click here to view this story in magazine format
The program, called Collective Impact for Connecting Youth, is not so much a 'new' program as it is an extension and modification of their current services.
"The easiest way to explain it is that we have a variety of employment ­programs here, but sometimes what ends up happening is the services can seem like they come to an end," says YOU job ­retention coordinator Justin McGuire.
Story Continues Below
When the initial placement ends, it's not uncommon for an employer to keep a young person on — but without as many supports available, workplace issues crop up, often leaving the youth on their own in navigating it. The new program "extends a ­landing strip," McGuire says.
"Essentially, it looks at following a placement for a year past the official end date," says McGuire, ­noting that it includes both the personal and ­financial supports already offered through the initial placement program. "The hope is that the employer will still reach out to us when they have questions or issues."
McGuire believes the program will help more young people settle into jobs for more than just a three-month placement period and help navigate the kinds of issues that start to crop up in the ­transition to regular full- or part-time employment. It extends wage subsidies to employers (typically up to $5,000), as well as existing funding that goes to youth. At present, McGuire says, there are about 90 young people engaged in the program.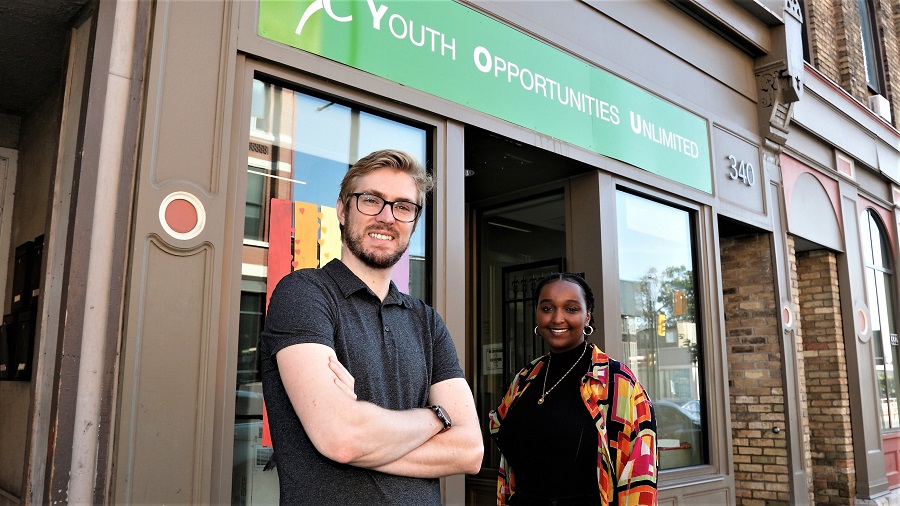 It also offers a bit more of a safety net to fall back on. In one case, McGuire says a young employee was having attendance issues stemming from early shifts and infrequent bus service. By being able to step in and work with both sides, YOU was able to help hammer out a solution and keep the young person employed. It didn't take much, he says.
"We just had a conversation about how we could best support and remedy the situation," he says. "Sometimes it is a financial piece we need to support; sometimes it's that ongoing job coach offering advice or navigating the awkward conversations. It really depends on the employer."
YOU believes that by extending their involvement with placements, they can make more long-term connections and place young people in positions that have a more long-term outlook. This is especially true for young people dealing with complex social issues that often serve as barriers to meaningful employment.
"A lot of larger employers will have a whole HR practice in place. We want to challenge that a little bit in terms of what kind of flexibility they have" ―Justin McGuire
"For youth who are facing these barriers, we're likely going to need a lot of these supports," McGuire says. "It allows us to have that wrap-around, long-term approach."
It's a recognition, tacit or explicit, that YOU's mission of improving the conditions experienced by many of the young people they help involves more than just getting them into a job and calling it a day.
"The traditional, formal route of hiring doesn't work for all youth," McGuire explains. "We're asking, 'What are the ­alternatives that we can do to get youth in the door?'"
Story Continues Below
Sometimes that means playing advocate to employers to convince them to take on a placement. Sometimes it means providing bus passes to young people to get to their first day of work. In one case, McGuire recalls, it meant rolling up his sleeves and installing an electric motor on a young person's bike so that she could get to work more reliably. "One of our budget lines is 'Whatever it Takes,'" he says proudly.
On top of helping the youth employee, McGuire believes extended supports will also help bring more businesses on board. Having been doing this for many years, YOU already has a roster of businesses they work with who understand the flexibility required and are committed to working toward the larger goals for youth workers. But as the economy changes — and as more business continue to grapple with labour shortages — Youth Opportunities Unlimited wants to be able to expand their placement options. And that is something that extended supports should help with.
"A lot of larger employers will have a whole HR practice in place," McGuire notes. "We want to challenge that a little bit in terms of what kind of flexibility they have."
Story Continues Below
If the program is successful, McGuire says it will only strengthen the case for making an investment in a young worker early — in taking a chance on someone.
"If you're hiring youth anyways, why not hire the youth that we have?" he says. "We're looking for employers who have the same values. They see the benefits of investing in youth — and they want to do what they can."

Kieran Delamont