10 Minutes With: Xiomara Carrillo
Xiomara Carrillo, chief sales officer at StarTech.com, chats about the benefits of volunteering, decision-making and the product side of hybrid work
XIOMARA CARRILLO IS a two-decade veteran with StarTech.com and recently was named chief sales officer. A native of Costa Rica, she has lived and worked around the globe. She came to Canada in 1992, earned finance and masters degrees at Université de Sherbrooke and became a Canadian citizen. She then completed a six-month MBA program in France.
Click here to read this story in magazine format
Carrillo began with StarTech.com in 2003. Two years later, she moved to Britain to oversee the company's expansion within Europe and later Asia and Latin America. She returned to London in 2016. She and husband Darren Hanton have two Bernadoodles, Luna and Oliver. Their youngest son, James, still lives with them too.
They enjoy canoeing and camping in Northern Ontario and are avid cross-country skiers.
Story Continues Below
Congratulations on your recent appointment as chief sales officer. Do you view that as the culmination of your 20-year career with StarTech.com?
It has been a privilege to work for such an amazing company that grew from a small business founded in London to become an international success story. There is a lot of great talent in the company, and coming through the ranks has provided me with the experience and knowledge to keep building on our success globally. When I started, we were mainly doing business in Canada and the United States. Now we have operations in 26 countries around the globe and about 450 employees, half of whom work in London.
You've lived, studied, volunteered and worked all around the world. One of your earliest ­volunteer positions was aid worker for five years with the Red Cross/Red Crescent in Costa Rica. What are your most vivid memories from that experience?
Being part of the Red Cross ­provided me with the fundamentals of leadership, intertwined with a compassionate outlook. One of my most vivid experiences was the simulation of a rescue in the tropical jungle where we spent the day looking for survivors. It certainly put a number of different skills to test such as quick thinking, prioritization, resilience and the ability to think outside of the box.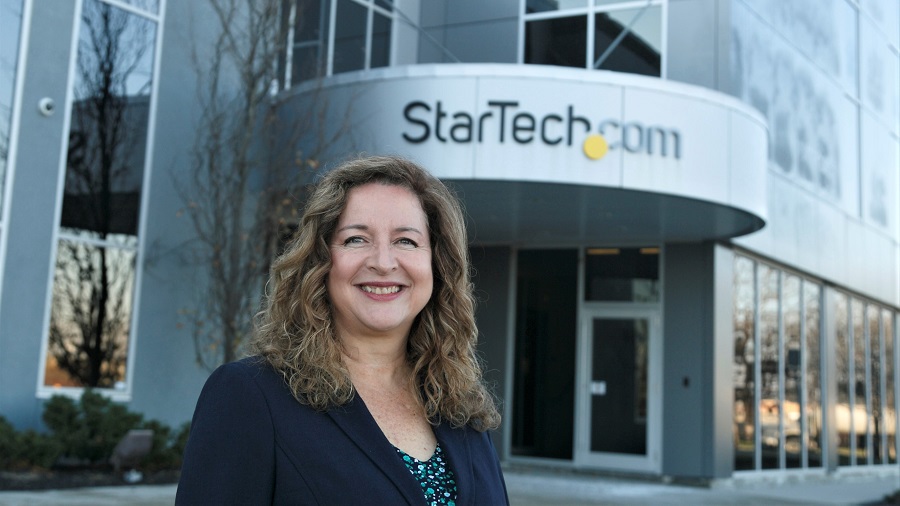 You moved from vice-president, global channel sales to chief sales officer. How is your new job different?
The most significant difference is being involved in key strategic decisions at an early stage. It is rewarding to both build and execute strategies that impact the company's growth trajectory. Our firm has been named one of Canada's Best Managed Companies by Deloitte for 12 consecutive years, and I'm very proud to be part of a leadership team with such a successful track record.
In London, StarTech.com is something of a household name, but I imagine most customers around the world do not know the gizmo they found on Amazon to solve their tech problem is a StarTech.com product. Does that matter?
Our target market is IT professionals who need connectivity products to enable business technology solutions. Although we are not necessarily a household name with consumers, we are quite well known in the IT industry due to the quality of our products, which perform at a higher level than consumer brands, as well as our expertise. Last year, we sold more than 24 million products around the globe and although consumers can order our products through Amazon and other resellers, the majority of our products are used in business environments. Over 80 per cent of Fortune 500 companies use StarTech.com products and that is something we are very proud of.
Story Continues Below
Can you remember a tech ­solution that was particularly challenging, a product you knew was needed but was difficult to produce?
Like many companies around the world, we experienced some supply chain issues over the last couple of years due to a shortage of microchips. Docking stations are one of our most popular products but were in short supply for a number of months due to this issue. Fortunately, the expertise of our product team as well as our broad product portfolio allowed us to find replacement ­solutions for customers using ­adapters, hubs and cables. This allowed us to support our customers until the supply chain situation stabilized earlier this year.
Most people have a ­complicated relationship with tech. It's great except when it's not. Is it fair to say StarTech.com has prospered by delivering solutions to those aggravating, or very specific, challenges?
Absolutely. In the IT world StarTech.com is known for making hard-to-find easy because we offer unique products and support for connecting technology. We focus a lot of effort on customer research and understanding the problems IT professionals face so we can develop innovative solutions to solve those problems. We have an innovation lab in London where engineers continually develop new products to support changing technologies and trends. For instance, to support the growing trend of hybrid working, we just launched a new Speakerphone Mini Docking Station that makes it easy for teams to collaborate remotely using only their laptop and a cable. We're always looking for new ways to make hard-to-find easy for our customers.

Interview by Christopher Clark