Five years in, a side hustle brewing company keeps its focus firmly on craft and city
Photo: 4EST Brewery's Colin Gunn and Myles Rombough
AS AN ENGINEERING student at Western University, Colin Gunn started homebrewing beer for a couple of reasons: to save money, and also because it offered an interesting logistical challenge.
Click here to read this story in magazine format
Starting with the basic ingredients for all beer — water, grain, hops and yeast — and a classic lager recipe, Gunn began to experiment. He tweaked the ­ingredients, lagering time and other variables countless times in his quest to perfect the brew — even building a unique mineral profile into the water.
Story Continues Below
"Colin was obsessed with getting it right," says long-time friend and business partner Myles Rombough, who was one of the official taste-testers as Gunn's lager went through dozens of iterations.
Once the lager was perfected, the duo wanted to share it with the world, so they incorporated 4EST Brewery in January 2018. Named for the Forest City, 4EST's slogan — Back to the Roots — captures two of the brewery's priorities: embracing the roots of beer brewing by making classic European-style beer, and helping London get back to its roots by supporting tree planting to increase the city's tree canopy. To that end, from inception four per cent of profits have been directed to reforestation ­initiatives and funded the planting of thousands of trees.
"Demand grew organically, kind of like a tree" ―Myles Rombough
Because they were both busy university students when 4EST launched, with neither the time nor money to set up their own physical brewery, Gunn and Rombough approached Sam Smith, the head brewer at Toboggan Brewing Company. That collaboration brought 4EST's Munich Helles Lager into ­commercial production.
Initially the beer was sold through restaurants across the city. "Demand grew organically, kind of like a tree," says Rombough.
With brewery license in hand, the partners went through the process to have 4EST lager distributed through The Beer Store, and always being up for a new challenge, in 2021 they ­successfully applied to have it listed with the LCBO.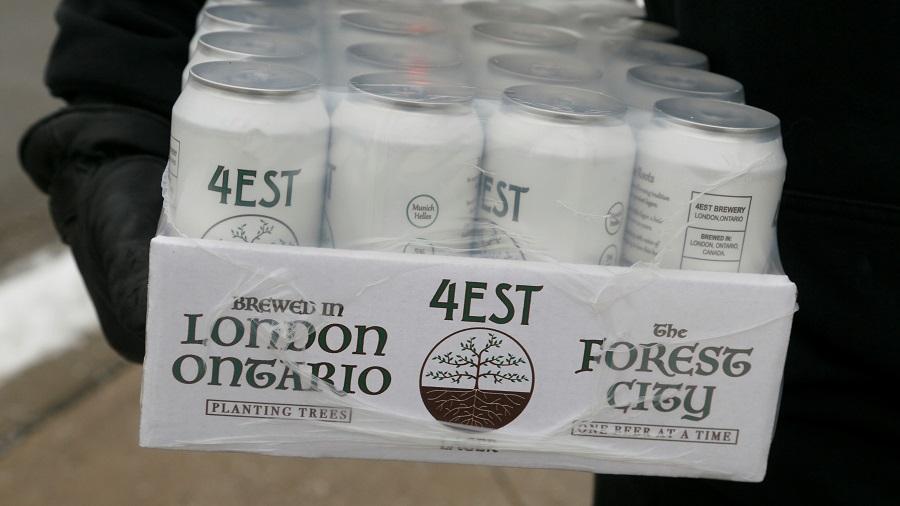 "First you apply and get it approved to be sold in the LCBO, then you have to approach each store individually and convince them to carry your beer," explains Gunn. And once you do convince them, you only get to keep that valuable shelf space if your beer sells.
Currently, 4EST can be found in five area Beer Stores, 11 LCBOs and 11 restaurants.
Story Continues Below
As sales have increased, ­production has moved to successively larger contract brewers and 4EST is now being ­produced at Equals Brewing Company on Sovereign Road. Gunn and Rombough have plowed 96 per cent of profits back into the business to support its growth. And while they still don't have the time or necessary capital to set up a physical brewhouse, that's still their eventual goal.
Five years in, Gunn and Rombough continue to operate 4EST as their side hustle. After graduating with a degree in engineering, Gunn went on to medical school and is currently completing his residency. In his spare time, he's been working on recipes for the three other European-style beers they plan to produce. "It's 4EST — we do things in fours," says Rombough. With the next recipe now perfected, watch for a 4EST Czech Pilsner to hit the market soon.

Kym Wolfe