Delizioso Skincare: Two sisters craft an entrepreneurial journey in the cosmetic and skincare space
Photo: Delizioso Skincare founders Leeona and Ariel Emerald
WHEN SISTERS ARIEL and Leeona Emerald ­established Delizioso Skincare in 2008, the fledgling — and very young — entrepreneurs began selling their line of self-produced, all-natural cosmetic, hair and skincare products online, primarily to American clientele.
Click here to view this story in magazine format
Over the next few years, the duo happily nurtured steady, if unremarkable, growth. But in 2014, they were taken by surprise when U.S. demand for Vegaline, a skin lotion the sisters developed as a vegan alternative to petroleum jelly, exploded.
Story Continues Below
"We found out that someone had used Vegaline after ­getting a tattoo and blogged about how well it worked," says Ariel. The sisters were kept busy with orders and went on to develop a specialized version dubbed Inkaline that has extra anti-inflammatory ingredients for tattoo aftercare.
To keep up with demand, the Emeralds secured production and retail space on Sovereign Road in 2015. They were now selling to customers all over the world, but realized that here in London, their products remained relatively unknown. To help remedy that, they moved to a more visible storefront on Oxford Street just west of Quebec Street in 2018.
Their boutique shop Nature's Hub sells the full line of Delizioso Skincare products in addition to jewelry, crystals, candles and a small selection of giftware. Delizioso's ­production, packaging and shipping are done in the back area of the 900-square-foot space.
Delizioso products are freshly crafted as they are ordered, and then sent out to clients as far away as Australia, Africa and Saudi Arabia. "We wholesale to some small boutiques in the U.S., Canada, Europe and Asia," says Leeona, "but most sales are directly to customers."
Story Continues Below
The sisters have no formal training, but learned about natural plants from their mother, Dr. Mila Emerald, who had learned from her mother when she was growing up the Ukraine and went on to complete degrees in biochemistry/biophysics and cellular biology. After moving to Canada, she eventually started her own phytoceutical company selling essential oils and raw ingredients.
"Our mom inspired us to do this work," says Ariel. The sisters say that because of her, at a young age they became aware of the toxic and synthetic ­ingredients used in some cosmetic and skincare products. When Ariel was 14 and Leeona was 10, they talked about starting a business together so they could develop and sell natural products they would want to use themselves.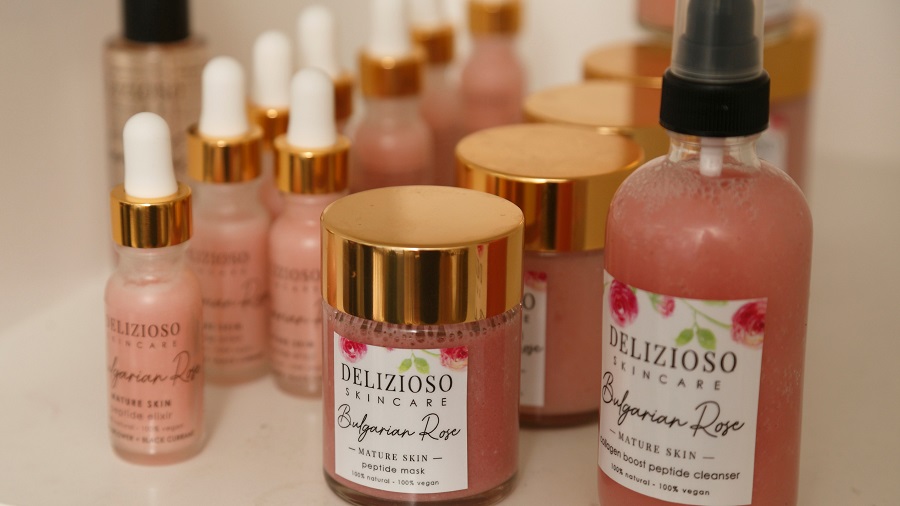 When they were ready to launch, says Leeona, "Mom helped us source high-quality raw ingredients, like Bulgarian rose oil that we buy directly from Bulgaria. She has a lot of great connections."
It is important to the Emeralds that all ingredients are pure, natural and ethically produced. "We refer to our products artisan crafted food for your skin," continues Leeona. "We don't ­recommend people eat them, but it would be safe to do that."
Story Continues Below
Ariel, who does the bulk of the ­product development, research and testing, has responded to customer requests for family well-being options by creating natural deodorants, baby balms, anti-aging serums and facial creams and beard oils specifically for men. She is now working on a pet care collection.
When they are not in the workshop or the store, the sisters enjoy music and as members of the band Mirage, performing a mix of grunge, punk and alt rock. "Our whole family loves music," says Ariel. "We play on the weekends sometimes and are working on our debut album."

Kym Wolfe