A worker-owned cooperative taps into the growing functional beverage market with a tonic aimed at changing consumption habits
Photo: Jeff Pastorius and Ellie Cook
WE TEND TO like drinks that do things for us. We drink coffee because it perks us up in the morning, milk because it's healthy for us and alcohol because it alters our emotional state.
Indeed, many consumers don't just want a drink to be an input — they want some output as well. So, it's not surprising to hear it's not just taste and style that drink-makers think about now, but function as well.
Click here to view this story in magazine format
Jeff Pastorius, worker-owner at the London Brewing Co-operative (as well as On the Move Organics) was thinking about this when, for a period, he was looking for alternatives to alcohol. Unlike many who switch to non-alcoholic beer, it wasn't the form he was interested in replacing, but the function.
Story Continues Below
"Beer is, at the end of the day, an excellent sedative," he says. "It works as a tool, so it's functional."
What he and his wife Ellie Cook also knew was that organic ingredients and teas had all sorts of functional benefits, too. They reached into "the enormous tea cabinet we have" and started experimenting with different recipes — and the result was the first of two non-alcoholic, functional ­botanical beverages now sold as Forest City Botanicals.
"All of the inputs in this drink have a long list of health benefits. They've been designed to have functionality" —Jeff Pastorius
Pastorius describes Forest City Botanicals as a "non-alcoholic, ­functional health drink" that uses herbs, flowers and adaptogenic plants to produce a beverage that taste-wise falls somewhere between a tonic, a kombucha and a seltzer.
"They're very unique ­flavours," Pastorius says. "Most people are surprised when they initially interact with them, but they almost always land on one or the other. Quite a few people find themselves migrating between the two.
Story Continues Below
"The first [flavour] we listed was the Raspberry Calm," Pastorius ­continues. "It's a very floral experience."
The second version is called Elderberry Boost. Each uses different ingredients for a different effect: the Raspberry Calm uses ingredients like ashwagandha tonic and nettle to create a calming, relaxing drink; the Elderberry Boost infuses holy basil and dandelion to create a drink that gave you a burst of energy.
"All of the inputs in this drink have a long list of health benefits," Pastorius explains. "They've been designed to have functionality."
Producing Forest City Botanicals is a collaborative effort, Pastorius says, between On the Move Organics and London Brewing Co-op, and contains more than a little bit of that DNA. It's produced by three co-op members working on the project part-time, as part of the constantly changing mix of projects going on in the co-op's ecosystem at its Old East London facility.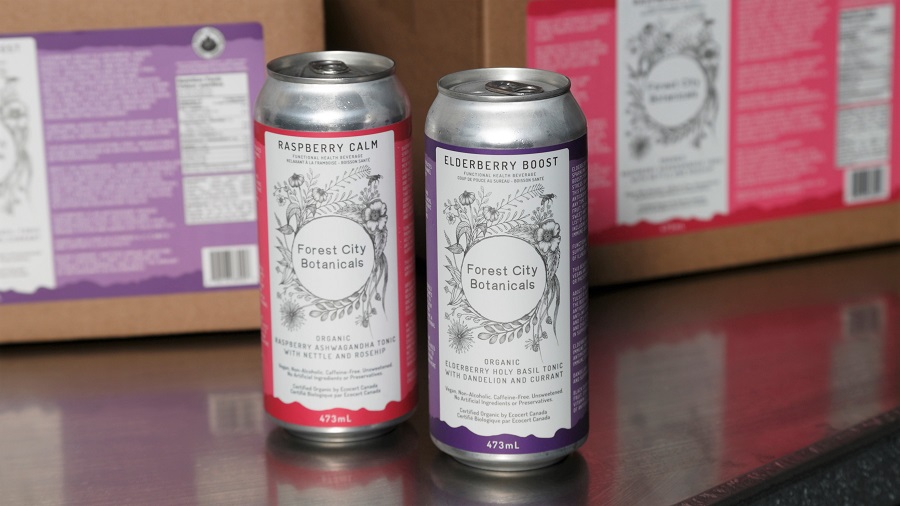 The sparkling tonics also have a strong sustainability focus, with much of their input ingredients being sourced locally. "This, really, is a project about the love of sustainable food," says Pastorius.
For now, they are ­taking a very measured and paced approach to growing the Forest City Botanicals brand. They're selling it themselves, through On the Move Organics, as well as at a "limited number of retailers." They're only just starting to take meetings about wholesale.
Like non-alc beers, Forest City Botanicals almost can't help but position itself somewhere in the conversation about what beverage options are available to non-drinkers. "No matter what the event is, there are a percentage of folks who aren't going to drink and I'm sure are tired of walking around with a bottle of water in their hand," Pastorius reasons.
Story Continues Below
But unlike many of the non-alc beverages available to consumers, Forest City Botanicals isn't trying to look or taste like a version of something else — the marketing and product design aims to be obviously different from the jump.
"The concept of this is as a conversation piece – it really, in our opinion, stands out in its category," Pastorius says. "It's a unique, premium beverage."
And for Pastorius, the ultimate proof is in the pudding: where he used to have a beer at the end of the day, he now often finds himself unwinding with a Raspberry Calm. "A beer was sort of the indication that the day was done," he says. "It very enjoyably filled that place."

Kieran Delamont