Born from a combination of crafting and culture, a DIY studio aims to build community through creativity
Photo: Hello Maker founder Kirstie Leedham
KIRSTIE LEEDHAM USED to work as a content creator for a social media platform. As the company's do-it-yourself specialist and creative director, her specialty was crafts.
"I basically came up with ideas and was filmed making different items, then the tutorial videos were posted on our social media channel," she explains. "During the time I was there, the channel grew from 300,000 to more than two million followers."
Click here to view this story in magazine format
Leedham also recalls the most frequently posted reaction to those projects: "The number one comment I got was that people loved a project, but with the cost of art supplies it didn't make sense for them to go out and buy everything to make just one item. That made sense to me; I had a whole studio full of supplies to draw from, but of course people wouldn't have that at home."
Story Continues Below
Launching a new business often begins with a problem in need of a solution, and as Leedham thought about this one she realized there was likely enough demand to set up a DIY studio — a place where people would get a steady stream of craft ideas, exactly the supplies they needed and a space to create in the company of other crafters.
As the concept evolved, she revised her business plan to also offer support to established creative entrepreneurs to grow their businesses, plus resources to entrepreneurial wannabes who were selling their handmade goods as a side hustle and were exploring the potential to make it their main hustle.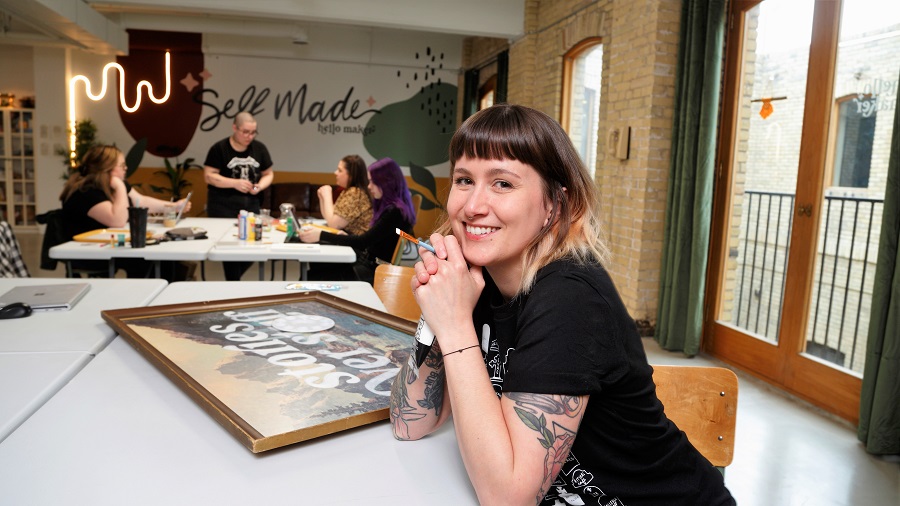 Looking at how she could pull all of those pieces together led Leedham to establish London's first DIY hobby-to-business studio and market, Hello Maker. Hello Maker opened in March, in an open-concept studio that overlooks the indoor courtyard at 717 Richmond Street at the corner of Piccadilly Street.
There are DIY kits and DIY workshops for hobbyists of all ages, from the Saturday morning "Little Locals" (children ages three to six) to evening sessions for adults that run from macramé to candle- or jewelry-making.
"As soon as I walked into this building, I knew the vibe was right. With the exposed yellow brick walls and balconies facing the atrium, it's a beautiful space" —Kirstie Leedham
Some of the workshops are delivered by Leedham, others are led by an assembled roster of local creators and ­entrepreneurs. There are also open studio times every Tuesday where people can bring whatever craft project they are working on, use materials from the free craft cupboard and spend time with other creatives while they work on their own pieces. And there are occasional seminars and speakers on various topics related to starting and running a small creative/arts business.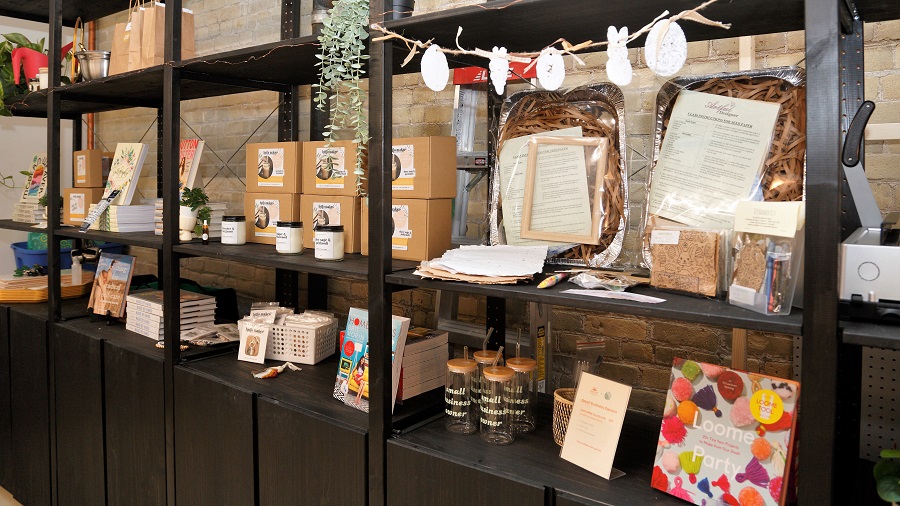 In addition, on the last Sunday of every month Hello Maker hosts a pop-up market, with a curated group of vendors that Leedham predicts will vary each month. The market gives both established entrepreneurs and dabblers an opportunity for in-person sales and interaction with the public at a low cost.
DIY kits and supplies, workshop fees, market table rentals, sales of finished goods and event space rental all contribute to the top line at Hello Maker, but just as important for Leedham is her ambition to connect ­likeminded people and build a maker society.
Story Continues Below
"Sporty people have sports teams and writers have cafés; artsy people and everyday creatives also need their own place," Leedham reasons.
Crafting, she says, strengthens creativity, boosts confidence and provides a platform to learn and develop new skills. But above all, Leedham says it brings people together and builds relationships, which is why she was so excited to secure the 1,500 square feet of core-area, open-concept creative space.
"As soon as I walked into this building, I knew the vibe was right. With the exposed yellow brick walls and ­balconies facing the atrium, it's a beautiful space," Leedham says. "But it was also important to me that it be fully accessible, and in a convenient central location. I want to be part of making downtown a place where people want to go."

Kym Wolfe