The power of first impressions
The quest for the perfect headshot photo is growing. After all, we might not like to judge a book by its cover, but it is instinctual
Photo: Reid Lucier photographs physiotherapist Daniel Sobczak
HEADSHOT PHOTOGRPAHER REID Lucier likes to joke that most of his clients start out in a pretty bad mood.
"Ninety-nine percent of people don't like coming in to get their ­headshots," he says. "They'll say, 'Oh, my boss wants me to get one,' or 'I know I need one, but I don't want to do it,' or 'You're going to hate me, I don't like my smile.' I hear everything."
Click here to view this article in magazine format
But rarely do they leave his studio in the same headspace. "We sit down during the shoot multiple times and go over the images, and from the first time they look at an image they'll pretty much always say, 'That's amazing.' Everyone leaves happy, with a nice headshot they never thought they would ever get."
Story Continues Below
Lucier got his start in the headshot business almost by chance. After working for a few years in 3D ­animation on the west coast and focusing on ­landscape photography, he took a job as "the multimedia guy" at a local hospital. "They said, 'Hey, Reid, this doctor needs a headshot. We've got a bunch of lights, and you've got to figure it out,'" he recalls. "I kind of got thrown to the lions and went from there."
Some years later, Lucier now finds himself living in the Forest City, where he moved at the beginning of the pandemic. "Probably the absolute worst time to start a business," he says. "Photography was not ­essential. Nobody knew me. There were no ­networking events."
Still, he plugged away at building a client list, and as things opened back up, he found that his networking was starting to pay off — just as many people were ready to refresh their look. "I get most of my clients through LinkedIn," he explains. "I post content and people see it, and when they're ready, they reach out."
Over time, Lucier's client list has grown – a lot of them realtors, he says, but many are new graduates or professionals from a variety of fields.
A corporate headshot may seem, to many, like a formality or a box to be checked, but in reality it's something much more personal, Lucier says. There are all sorts of reasons that someone ought to invest in a good headshot, but fundamentally it's about putting forth a professional image, commensurate with your job title. And the more networking happens online, the more a corporate headshot becomes you — in digital form.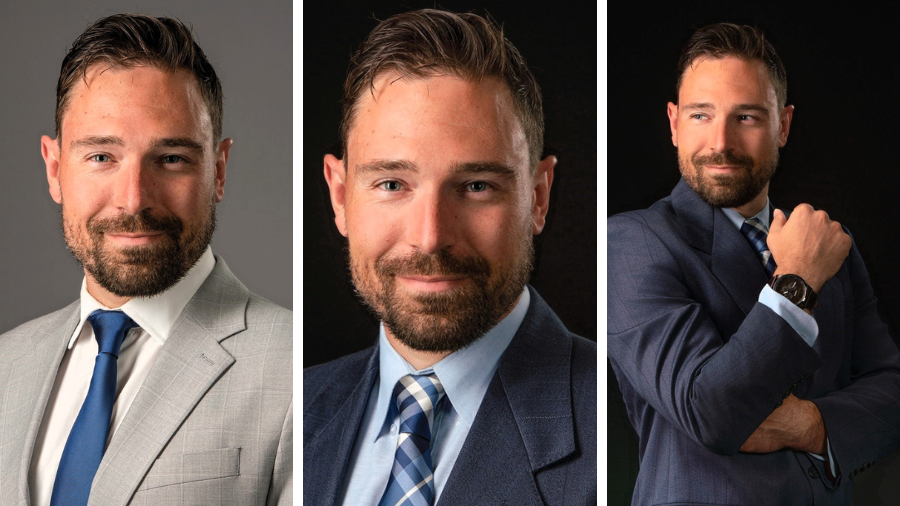 "If you're on LinkedIn or handing out ­business cards and you're using a selfie or your head cropped out of a wedding photo, you're probably not presenting yourself in the best way," Lucier says.
A headshot, he suggests, should be an up-to-date reflection of who you are at that moment in time. "The first impressions [aspect] is probably one of the things I bring up the most. Potential clients see a polished image and that instills confidence. You've got a nice smile, you look ­professional, you look approachable."
Story Continues Below
As a one-man operation in a creative field, Lucier doesn't have grand plans for building a business empire. His aspirations are somewhat simpler, with more of an eye on being known for good, quality work to support the business ­community of the city.
"I don't want to be that guy that's the jack-of-all trades," he says. "I just want to be the ­headshot guy of London."

Kieran Delamont