A Cheese By Any Other Name
An accidental entrepreneur turns an artisanal cashew-based cheese into the city's fastest-growing food venture
Photo: Margaret Coons, owner of Nuts for Cheese
ON HER BUSINESS card, Margaret Coons doesn't identify herself as president and CEO of the cashew cheese company, Nuts for Cheese. Instead, she chooses a more colourful title: The Big Cheese.
And given her early and rapid success, it seems the perfect label for the company, too.
Although she says it feels like two weeks, Coons actually launched Nuts for Cheese three years ago after having worked as a chef at a former downtown vegan restaurant. At the time, that business, Veg Out, was closing, and her original plan was to launch a restaurant of her own.
But before that idea took hold, she decided to try selling her cashew-based cheeses at the Western Fair Farmers' Market (now The Market at Western Fair District) for a summer.
Coons had been crafting her various recipes for years. They had proven to be "super popular," she says, and she figured a small weekend sales booth would be an ideal way to ease herself into a business of her own.
Right now, Nuts for Cheese wedges are sold in about 400 stores in Canada, but the ­business is also being inundated by requests from the U.S.
Before she even had the chance to open at the market, however, three requests came in from local stores eager to stock her product. And it wasn't long before larger grocers—Farm Boy, Goodness Me!, Longo's, Sobeys, Real Canadian Superstore and others—were knocking at her door.
Coons describes the past three years as "an incredible experience," one forged through good fortune, hard work and the passion of her supporters.
"I never did any market research prior to starting the business. A lot of it has been by instinct—gut instinct is how I've done most things," she says.
"At the farmers' market, we had so many amazing conversations with customers directly who were providing a lot of positive feedback. That told me what we were doing was working. And then we just started getting more and more requests from retailers. I'm one of those people: if something feels good, if it's working, I'm just all in."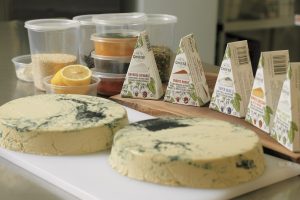 Produced in five flavours, the Nuts for Cheese vegan cheeses are made from organic cashews cultured using traditional fermentation processes to produce convincingly cheese-like wedges and spreads.
"Cashews are mild in flavour and really versatile," she says. "They also have a high fat content, so they make things really rich. I think one of the things people miss about dairy cheese is how creamy and indulgent it is, so I wanted to replicate that."
While the casual observer could be forgiven for thinking the company's success is wrapped up in today's veganism food trend, Coons says there are additional factors to consider. She points out that many people are lactose intolerant or have dairy allergies, or simply may opt for a high-quality, premium cheese alternative.
"When I first started, I assumed it would be all vegans buying our product, and definitely we have a lot of fans who are vegans—they're the most vocal supporters," she says. "But a lot of people who eat the product aren't vegan, they just enjoy it. Seven million Canadians are lactose intolerant. Twelve million Canadians identify as eating less meat or vegetarian. And those numbers are growing all the time. I knew there would be so many people this product would appeal to."
Coons herself went vegetarian when she was 12 years old, and has been vegan since she started at Western University some six years later.
She started getting into cooking as a teen because she had to create her own substitutions for family dinners. As a result, she had a lot of experience going into health food stores, seeing what was available in terms of vegan products, and coming away with the realization the available selection "was pretty dismal" back then.
While the number of options has improved dramatically over time, that period was where her love for cooking was established. And although Coons did her undergrad in English at Western, she went right from that into a culinary program.
After graduation, she thought she'd be a cook for the rest of her life. As a result, the business side of Nuts for Cheese was something she's had to work hard on developing. But so far, so good for the young food entrepreneur. The company now employs 19 people, has tripled its revenue year-over-year since inception and is in the process of ramping up production to meet the demand of new and larger accounts. Right now, Nuts for Cheese wedges are sold in about 400 stores in Canada, but the business is also being inundated by requests from the U.S.
"We'll definitely continue to hire, automate, purchase equipment and continue to scale up," says Coons.
In addition to focusing on continued business growth, Coons is also eager to further nurture the growing demand for plant-based foods of all kinds.
"I like talking to people. I love surprising people with how good a vegan product can be," she says. "For a long time, consumers had to choose between a good-tasting product and their own moral compass, and it's really amazing now that choice doesn't have to be made." 

 Sean Meyer