Tania DeMelo
Owner,
Tania DeMelo's Hair Studio
2016 Hyundai Elantra
1.8-litre inline four, 145 HP
55,000 kilometres
I HAD A van before this car, and gas mileage was a major factor in the decision to switch. The gas mileage is great with this car, plus it handles nicely on the road, I like the appearance and, for what I wanted to spend, it delivers a lot of features like Bluetooth, a USB portal, a great sunroof and keyless entry.
TRUTHFULLY, I WAS really tired of the van, and this is a surprisingly good replacement. We have three small guys, and it's a good family car. The trunk is roomy, the seats go down for sports stuff and it's efficient. And I love how easy it is to get in and out of places, and it is so easy to park. It's perfect for our lifestyle right now.
I WOULDN'T CALL l it sporty; that would be a stretch. But, you know, for a mom-vehicle, I think it's pretty cool. Being in the beauty industry, I think it's important to drive something with a little appeal to it. I'm ­particularly fond of the mocha colour. It's different and stands out a little.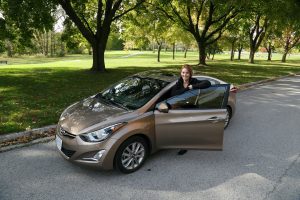 IT'S KINDA STRANGE, but I feel safer in this than I did in the van. There's something about the ­maneuverability of a smaller car that gives me better sense of my surroundings and more confidence. It also has an excellent safety rating, so I always feel pretty safe.
I'M IN TORONTO with my son every few weeks for health procedures. It's a really comfortable car on longer drives—even in crazy Toronto traffic.
THE PLAN IS to keep it for a while. My oldest is 11; I'd love to be able to pass it along to him when he turns 16.