2019 20 Under 40 Nomination Form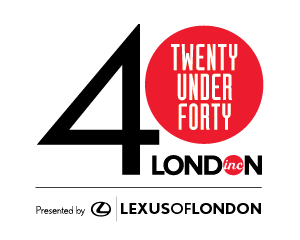 ---
Nominate Someone Today!
DO YOU KNOW someone under the age of 40 who deserves to be recognized for their accomplishments or contribution to our city? Now is your chance to nominate them for London Inc.'s 2019 20 Under 40 Awards, Presented by Lexus of London.
Administered and hosted annually in partnership with London's 20 Under 40 Foundation and sponsoring partners, past 20 Under 40 Awards have celebrated some of our city's most remarkable people, including entrepreneurs, doctors, chefs, artists, social workers and scientists. We honour individuals from all industries who are excelling in their careers and making a difference in the community.
To nominate, simply fill out and submit the form below. Your nominee will then be contacted and forwarded a comprehensive nominee submission form, which must be completed by the nominee in order to accept and finalize the nomination.
About the Nomination Process:
• Nominees must be 39 years of age or younger as of December 31, 2019.
• Verification of age, such as a driver's licence or passport, may be required.
• Self-nominations are welcome and encouraged!
• All nominees will be contacted via email. To accept and complete a nomination, individuals must complete and submit a detailed form that includes questions about career achievements, professional advancement and community involvement.
• Judging commences in August, and 2019 20 Under 40 recipients will be notified by mid-September.
• For further information, please visit our Frequently Asked Questions page.
• Nominations close on July 31, 2019.
---