Promoted Content: POI Business Interiors
The new design of work
Photo: Jennifer Miller, PMP, Special Projects Manager, Sifton Properties Limited
"SIFTON CENTRE AT West 5 is the first Net Zero office building in Ontario, meaning Sifton Centre generates as much energy as it uses. Because we were moving about 65 employees—previously spread across four floors of our old building—into a collaborative one-floor space while remaining true to our mission of smart and sustainable, the expectations were grand and many.
Our key goal was to provide a fun, collaborative environment where our teams could work in different settings, vibes and postures. We wanted the new office to be a place where we would want to spend our day; where we could get work done and enjoy doing it.
We put POI through a rigorous selection process that ultimately led to them winning us over with so much more than pricing. What truly impressed us was the opportunity to meet with other clients who were proud to work alongside POI and who spoke highly of the partnership—and had beautiful spaces to prove it.
We have some pretty amazing employees within the walls of Sifton Properties Limited, and we wanted everyone to have a say and contribute to this project. With that level of employee engagement came tall orders and extraordinary requests, but the POI team rose to the occasion.
We were fortunate enough to get familiar with what our spaces would look like months before we moved in thanks to POI setting up mock workstations. They even brought in dozens of sample chairs so we could test out furniture during monthly office move update lunches. Opportunities like this gave our teams the chance to vote on furniture and get an idea of what they might expect to see in the new space.  Jennifer Hawcutt, our Project Manager from POI, along with owner Jeff Crane, joined us for lots of meetings, tours and countless discussions, allowing us to work extensively together to make our dreams come true.
We couldn't be more proud or pleased with how our new space turned out, and I feel like we did something truly different than what I've seen at any other office. It's provided everything we wanted and more—we love it!"
Jennifer Miller, PMP, Special Projects Manager, Sifton Properties Limited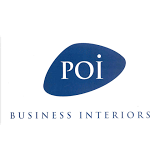 POI Business Interiors | 201 Queens Avenue | 519-455-0056 | [email protected]