With 13 locations and 150 employees, M&T Printing Group ­continues to find new and innovate ways to thrive in the digital age
Photo: Dean, Don and Mike Froome
'Twas a month before the season, when all through the land,
Lightning season ticket buyers received their tickets in-hand;
The games were marked in their calendars with care,
In hopes a repeat title the Lightning would snare;
Their thoughts may have turned to how much they paid,
But no one considered where those tickets were made.
THE DELIVERY OF thousands of colourfully designed, perfected printed London Lightning season tickets was the latest success story for M&T Printing Group, an operation much larger than even many of its customers realize.
On the cusp of its 50th anniversary, M&T operates a complex network of technology designed to do something very simple: print anything a customer might want on anything a customer can imagine.
Gift certificates, sticky note calendars, menus, books, banners, outdoor signs, canvas wraps, plaques, floor graphics, vehicle wraps, wind flags, tents, pens, lanyards, mugs, cooler bags, t-shirts, divot tools and balloons. Even those wacky air dancers that gyrate outside many a new business.
The options are almost endless, and M&T has the 194-page catalogue of print ideas to prove it. Anyone who has ever walked into one of its smaller ­locations to order a standard set of business cards or letterhead has seen only the tip of the ice cooler—and yes, it prints those, too.
For its first six seasons, the Lightning had season tickets printed in Montreal. Same-day tickets are printed at Budweiser Gardens, but season tickets are fancier, with pictures and sponsor logos.
"The tricky part is the barcode," says Carolyn Botten, the team's director of marketing and communications. "We had looked for a local supplier in the past but couldn't find anyone who could reproduce the barcode correctly. It's a technical challenge."
"We realized 15 or 20 years ago, if we don't invest in technology, we're dead in the water" —Dean Froome
The story of how M&T landed the Lightning ticket contract says a lot about how the company has thrived at a time when some other printers are struggling or closing. It has combined the very latest technology with some excellent sales and customer service.
"Mike Froome met with us several times over a couple of weeks, met with the people from Budweiser Gardens and made it happen," Botten recalls. "He was driving back and forth with samples. He was invested in making sure it was perfect."
Froome is one-third of the troika that owns and runs M&T. Mike, 53, looks after the London operations. His brother Dean, 51, does the same thing in Kitchener-Waterloo. Their father, Don, became a partner at M&T after working for an advertising agency. M&T started in 1968.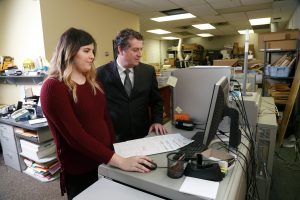 Photo: M&T graphic designer, Karlene McCarthy, and Mike Froome
At a time when people didn't make their own copies, at home or work, ­commercial printers ruled the day. M&T introduced instant printing to London, which of course wasn't really instant but was a whole lot quicker than the competition.
"They called it quick-and-dirty printing, but it caught on with customers," Don recalls. Both boys hung out with dad at the shop on weekends growing up. Dean joined the company 26 years ago; Mike joined 17 years ago, around the time Don's original partners cashed out. Their sister Melissa is not involved with the business.
The basic stats give some idea of how successful the company is today: 13 locations across Southwestern Ontario with 150 employees. What those stats don't reveal is the innovative ways M&T is expanding its business to reach into many more communities. Nor do they say anything about the relationship M&T has with numerous clients, operating as in-house copy centres and supplier of everything from stationery to business cards to forms. And it doesn't even hint at the company's innovative approach to co-op learning in Guelph.
If the company's creation in 1968 is its most important moment, the decision to double and triple down on technology early in this century is easily the next important moment.
"We realized 15 or 20 years ago, if we don't invest in technology, we're dead in the water," Dean recalls. Of course, everyone talks about technology and anyone can order the latest and greatest Heidelberg printer. M&T went a step further and created an entirely new approach to selling its services.
"We hired four programmers to create our POOL program," Dean says. The Product Ordering On-Line system allowed customers to order and reorder letterhead, business cards, forms and other staples. The goal was to integrate the system into customers' offices, so reordering was as easy as clicking a few boxes. The order would show up the next day, like magic.
"It was a great idea," Dean laughs. "But for the first year or two, nothing happened. We had four programmers writing code and developing the system, but online ordering was new, and people were happy to keep doing things the way they always had."
A few early adopters convinced the Froomes they were on the right track, and today POOL accounts for a large slice of the company's orders. It's but one of many examples of the company leading the way with its technology and improving the customer experience as a result.
"People expect things right away," Mike says. "That's the way we shop today, and they expect it from us, even if the order is for thousands of copies of something very complicated. We make sure we can deliver it."
They do that by relying on technology hubs. Among the 13 locations, four have enhanced capabilities and technology. In London, the hub is on York Street and runs until midnight, churning out orders for next-day delivery. In Waterloo, the hub runs 24 hours a day.
"People expect things right away. That's the way we shop today, and they expect it from us, even if the order is for thousands of copies of something very complicated. We make sure we can deliver it" —Mike Froome
The system is a bit like an emergency room triage process, assessing orders and assigning them to the right location for service. If someone orders a basic copy order from a smaller location, on Clarence Street or Dearness Drive for example, it might be handled right there. If it's more complicated, it might go to the York Street hub, where it's possible to print on a wider variety of products with more complex designs. If there's a real time crunch, the order goes to Waterloo where M&T elves take care of it overnight and have it back to the customer as promised.
"It goes where it needs to go," Mike says. "People don't realize the technology and ability we have at our hubs when they go into one of our smaller locations with three employees. They don't always know the capability we have overall."
The hub-and-spoke system is the basis for another program that is expanding M&T's reach across Southwestern Ontario. It goes largely unnoticed because it's designed that way.
If smaller M&T locations can send complex jobs to the company's tech hubs, why couldn't other printers, operating in markets where M&T doesn't have a presence? Why indeed?
The affiliate program matches smaller, independent printers that want to provide a greater array of services with M&T's technology and bandwidth.
"They continue operating, being the local face of their business in their community, but they suddenly can offer their customers a lot more services, everything we offer our customers," Dean says. "Their customers don't even have to realize how they're doing it."
M&T is being approached by printers across Southwestern Ontario, looking to sign up. "It has to be the right fit," Dean says. "We have a handful of shops and we will add more, but it's not right for everyone."
One of those affiliate relationships has graduated to a full 50/50 partnership in Welland, where M&T has opened a dedicated sign shop with G. D'Angelo Printing, a family-owned firm that's been around almost as long as M&T. Large format signs is an area were the Froomes expect to see significant growth in the next few years, and they're now ready for whatever requests their customers make.
The other expected target area of growth is short-run packaging—retailers using their boxes, bags and wrapping to convey messages and enhance their brand. The message might go out for a week or two and then be replaced with a new ­message. On that kind of schedule, it's crucial to turn things around quickly.
And it's not just printing technology that M&T offers ­customers and affiliates. It has 26 graphic designers on staff to help with projects right from the design stage.
"It's common for customers to come to us with an idea of what they want and ask us to create something," Mike says. "We have the creative people to work with them on the design."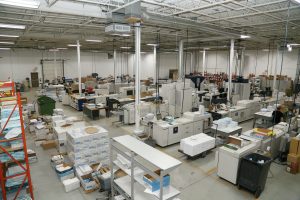 Photo: Large production facilities in London and Waterloo support M&T's network of retail locations
Sometimes those ideas come from the company's Graphics Factory, an innovative approach to co-op student placements at its Guelph facility. Rather than take high school co-op students for part of a day and try to find something for them to do, M&T designed a three-credit course and runs it with the Upper Grand Public School Board and the Wellington County Catholic School Board.
"We have 18 students and they come to our classroom for three hours a day. We teach them graphics skills and get them working on real projects," Dean says. "It's been a tremendous success, and we'd love to expand it to other school boards."
Clients looking to save money and be creative work with the students. "There's no charge, and they understand the results could be good or bad. Students work on real-world projects and often have some really good ideas."
For all the high-tech whiz bang technology it uses, M&T is still a printer. And so its Volumes division works with publishers to print old-fashioned books. On-demand publishing is popular with traditional publishers and self-publishing entities like Amazon. Volumes produces on-demand books and can work with authors to create art work, register ISBN numbers and market their books.
Once its season ticket needs were met, the Lightning took the next step and signed up M&T as its official printing sponsor.
"They'll be printing our roster packs, banners, ads, pocket schedules and posters this year," Botten says. "Our roster packs can change from game to game. We often need them next day. They can do that locally. They provide professional service with a next-door approach."
Nothing is official yet, but it would hardly be surprising if M&T started printing more tickets and other materials for Budweiser Gardens. As it usually does, the company has passed its tryout and is ready to deliver on its high draft choice potential.

 Christopher Clark