Building on a Sturdy Foundation
With a transition strategy in place, Forever Homes looks to
the next quarter-century
Photo: Forever Homes founders Betty Tam and Richard Fung
AFTER 25 YEARS of building new homes, husband-and-wife Richard Fung and Betty Tam say they are ready to pass the reins to the next generation. Over the next five years, the couple plan to transition into retirement, with their son, Jeff Fung, and construction manager, Phil Gonzalez, gradually buying ownership stakes in Forever Homes.
When they arrived Canada from Hong Kong in 1990, Fung recalls, "My English was not good. But we were young and hardworking, and we surrounded ourselves with mentors and people who gave us helpful advice. They told us if you don't mind putting the effort in, you can learn the skills to build homes."
They established Forever Homes in 1993, starting with one house, then using the profit to buy a couple of more lots. In the early days, they built on spec. Fung was on the ground as site supervisor and Tam earned her real estate licence so she could sell each house as it was built.
Over time, the couple established working relationships with local developers, and they now build around 60 single family homes each year. About 95 per cent are pre-sold, and today only about five per cent are built on spec.
"We want to expand to the next level. Our goal is to increase to 100 homes a year" —Jeff Fung
It's not unusual for the company to have 30 to 40 houses on the go at one time, but more and more, it's Gonzalez who is overseeing the job sites, and son Jeff Fung who is managing the administrative and financial end of things. "We are slowly grooming them to take over the construction and business operations," says Tam.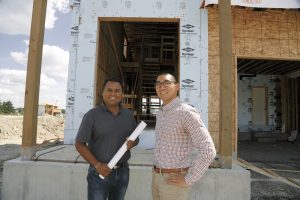 Jeff Fung says that growing up he was immersed in the family business, but never pictured himself taking it over. "I resisted for the longest time," he explains. "From the time I was 16, I spent my summers working on houses, mainly doing the grunt work. I was always thinking, career-wise, 'Anything but construction!'"
He does have a knack for project management, however, and even got his real estate licence—not because he want to sell homes, he says, but because he wanted to understand the ins and outs of the real estate industry.
Gonzalez thought he was heading for a career in machining, and was studying the discipline at Fanshawe College until he took a summer job at Forever Homes. "I loved the atmosphere, I loved the people I worked with," he recalls. The experience led him to switch gears, and he's been working with Forever Homes for 16 years.
The company has carved out a niche as a semi-custom production builder, explains Jeff Fung. "We have a number of layouts as a baseline, but the homeowner can make changes. All of our floor plans have traditional and contemporary options, and they can all be adapted. Homeowners also choose all of their finishes, from flooring and trim to cabinetry and fixtures."
"They have a solid foundation to build on, but let them try
new things. That gives them a greater feeling of ownership"
—Richard Fung
Recently, the company moved to ­temporary quarters on North Routledge Road while its Mallard Road location is torn down and rebuilt. By this time next year, Forever Homes will have its own new 3,000-square-foot, two-storey home, custom built to accommodate its growing staff (currently 18 direct employees) and perhaps with a presentation centre which will serve as a ­one-stop-shop for homebuyers to make their custom finish decisions.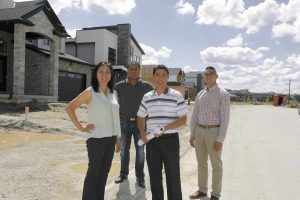 "We want to expand to the next level," says Jeff Fung. "Phil and I have talked about it, and our goal is to increase to 100 homes a year." They also want to continue to expand the firm's product line beyond single family homes, and are looking at opportunities to work with equity partners. But those projects will likely not be done under the Forever Homes banner, he says, because they want to protect the brand equity that his parents have worked so hard to build.
For example, the company was a lead shareholder in the development of the Residence on First, a luxury off-campus student residence near Fanshawe College, which was not built under the Forever Homes name.
For their part, Tam and Richard Fung are happy to see the young owners-in-training bring their own ideas to the table. "They have a solid foundation to build on," says Richard Fung, "but let them try new things. That gives them a greater feeling of ownership." 

 Kym Wolfe