A gluten-free bakery finds a recipe for success with handcrafted,
high-quality energy bars
Photo: Nicole Haney, owner of the Boho Bake Shop and creator of Boho Bars
THEY SAY THAT necessity is the mother of invention. That was the case for Nicole Haney. When the health-conscious 34-year-old couldn't find a tasty packaged whole-food energy bar to bring along on a business trip, she decided to go home and bake one herself.
Those baked treats, thrown together from simple ingredients already in Haney's pantry, provoked curiosity—and rave reviews—from her colleagues.
"People started asking me for them, and I began to realize how ­passionate I was about helping people eat healthy," Haney says. A few months later, despite having no previous experience in the food industry and no formal business training, she left the corporate world to bake full-time.
In December, 2015, the Boho Bake Shop launched out of Haney's kitchen as an order-only business.
Today, Haney employs a team of six bakers who work out of the company's 1,700-square-foot production facility located in Old East Village. Her line of gourmet vegan donuts can be found in almost a dozen independent coffee shops in the London region, and fly off the shelf at her booth at The Market at Western Fair District.
"Our next goal is to infiltrate Toronto. Once we do that, we want to expand right across Canada." —Nicole Haney
As for the whole-food energy bars? They've taken on a life of their own. Now available in six flavours, Boho Bars are available in more than 60 retailers across Ontario. "We are turning over about 5,000 bars a month," Haney says.
The company just secured a retailer in Prince Edward Island. "Our next goal is to infiltrate Toronto. Once we do that, we want to expand right across Canada."
Haney credits her rapid growth to an unwavering commitment to quality, hard work and community support.
"I naively thought I would jump out of my office job and into this business and it would be great," she says. "Then I thought, I might need a little help with this."
Haney's first stop was the London Small Business Centre where she attended a food business seminar and worked with advisors to write a comprehensive business plan. She is currently part of Western University's Propel and Accelerator programs for young entrepreneurs.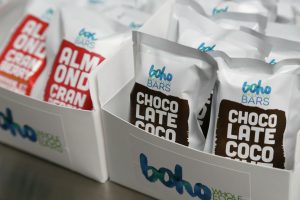 "The Small Business Centre and Western have been huge helps, both in terms of providing guidance and financing," Haney says. To date, the Boho Bake Shop has not needed to secure a line of credit or look for outside investment. "We've been fortunate to receive a few grants and our early ­success has helped us grow," Haney notes.
That's because once people taste their first Boho Bar, they usually come back for more.
"There are not a lot of energy bars out there that are made from strictly whole-food ingredients and taste great," she says. Despite the company's rapid growth, Boho Bars continue to be handcrafted from scratch and baked in batches of 24 bars at a time.
"I don't ever want someone to get a bar and not think it tastes amazing," Haney says. "It has to be the best energy bar they've ever eaten. It really is the flavour and quality of our product that sets us apart." 

 Nicole Laidler