Jillian Summers of Upstaging Limited talks about the ins and
outs of a home staging career
JILLIAN SUMMERS OWNS Upstaging Limited, a home staging business she started in 2011, transitioning from a career in life insurance.
Summers, 43, grew up in Woodstock and has a son, Tyler, a boyfriend, Jason, and a Bichon Poo, Gucci. When not working, she plays tennis, takes road trips and spends time with friends and loved ones.
When and why did you decide home staging was something you wanted to do?
I always loved houses. When I was a little girl, my mom and dad used to spend their weekends looking at open houses and talking about architecture, etcetera. I knew that I wanted to start my own business, but like most entrepreneurs, I was afraid to make the jump from my full-time salaried job.
I was having a conversation with my son, Tyler, about what courses he wanted to take in grade nine to be able to start a career. He was very stressed because he wasn't sure what he wanted to do years down the road. I told him as long as you are doing something you love and are passionate about, you will be successful. I realized I wasn't doing the same. At that point, I gave my two weeks' notice and started my business.
Is de-clutter the first law of staging?
Yes. We all have a lot of stuff, and it is easy to accumulate a lot of things we think we will use one day. But it is imperative when selling to de-clutter your home. Buyers need to be able to see the space and to visualize their own items there. If they are too focused on the owner's things, the connection is not made. That includes removing framed diplomas, as well as any items that are very personal. In my opinion, some family photos are okay, but if you have a lot of photos everywhere, it is best to remove some.
What are the other laws?
Paint and remove wallpaper. People are looking for turnkey homes and don't have the time to paint and remove wallpaper. Also, vacant rooms do not appear larger, contrary to popular belief. They usually appear smaller and lack emotional appeal. A furnished space compared to an empty one always creates an emotional connection and shows what will actually fit in the space.
How do you describe your job?
I wear many hats in my job. Being self-employed, you have to handle many different things—selling, invoicing, marketing, purchasing inventory and staging. The roles vary day by day and it is constantly changing. I also help people with design dilemmas. I love how varied my job is.
How does the current seller's market affect you?
Your home is your largest investment and even in a seller's market you need to showcase your home properly. The seller's market really didn't slow down the staging market for me at all.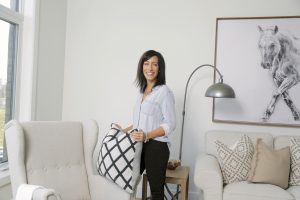 The general assumption is you would be in greater demand in a buyer's market.
Staging increases the chances of receiving multiple offers. Of course, we can't guarantee it will happen, but what I can say is you wouldn't sell your car if you didn't wash and detail it, so why would you sell your house without ensuring it looked amazing? You also need to ensure you have the right team marketing and selling your home after staging. The photos are so important, as well as the way the home is marketed. We have a lot of incredible agents we work with all the time. They see the value in staging and include us when listing.
Describe your average work day.
A typical staging day looks like this: We select the items for staging at my warehouse, prepare and pack the inventory. The movers come and we load up the truck. From there, we head out to the job and begin staging the client's home. I also work with builders, so some days I am working with clients who are building homes and helping with design selections. At other times, I am in meetings most of the day.
What's your work/life balance like?
Sometimes it is really good and other times not so great. It really all depends the scope of work we have. There are times we work 15 hour days and sometimes we work normal hours.
Best part of your career?
I love looking at houses and helping people prepare their homes for sale. It really helps alleviate the stress of selling for them. I have also designed some of the London hospital dream homes. Designing those homes was always a dream of mine, and the fact that I have been able to do so is an incredible blessing to me. They are so much fun because I can be as creative as I want. I also just recently began filming my own TV show, which is incredible­—I still find it hard to believe. When I first started my business, I had no idea I would have these amazing opportunities.
Is the worst part that you have to keep your own house neat all the time?
That's the easy part as I'm not home a lot, so the house stays fairly neat and tidy. The worst part is I always want to redesign it. 

 Interview by Christopher Clark