Returning to her hometown, a fashion designer takes the entrepreneurial plunge with a resale brand
Photo: Ashley Boyce, owner of Style Encore London
ASHLEY BOYCE AND her husband had a good life in Toronto, but as so often happens, London lured them back when they started their family.
"We both grew up here, and we moved back to be closer to extended family," says Boyce. "And I've always wanted to own my own business."
So, after six years at home with her two sons, she decided it was time to take the plunge into entrepreneurship.
"I went to school for fashion design, I'd worked for a designer in Toronto and in retail management and merchandising for Dynamite and Garage," says Boyce, explaining her background in fashion retail.
But she was also conscious of the industry's waste—from excessive packaging to trendy outfits that were treated as disposable commodities—and was looking for something that would be more environmentally friendly.
"We've been pleasantly surprised that business has been steady since day one. If we stay on track, we'll be profitable by the 18-month point" —Ashley Boyce
That enticed her to explore used clothing retail, and that eventually led her to open a Style Encore unit at Commissioners and Wonderland roads. The franchise speializes in previously owned women's clothing, shoes, handbags and accessories, catering to ages 25 and up.
She describes the merchandise as, "nothing too formal, nothing too casual, designer labels and recognized brands, a good selection, in good ­condition, at reasonable prices."
As for her decision to go with a franchised concept, Boyce says she had no illusions about the difficulty of starting a new business. "I knew how much work it would be to set up everything myself. I wanted guidance and a proven formula to follow."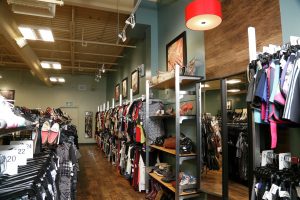 Style Encore is one of the brands franchised under the Minnesota-based Winmark corporate umbrella, which operates five concepts in North America that specialize in selling high-quality secondhand goods alongside brand new merchandise in a traditional retail format. The brand's presence in London includes Play it Again Sports, Once Upon a Child ­(children's wear) and Plato's Closet (teens to 20-somethings).
Style Encore opened its first Canadian location in Guelph in 2017. London, which launched in September, was the sixth. At just under 2,400 square feet, the store is smaller than what Boyce was looking for, but the high ceilings and bank of windows create the feeling of a larger space.
"And we have a decent amount of lights," she adds, "especially at the counter where we accept items—we can see any marks, flaws or stains, and we won't buy that." The store purchases items outright, with the seller receiving about 30 per cent of the Style Encore selling price.
"We've been pleasantly surprised that business has been steady since day one. Often when people come in to drop off items they will end up buying something," Boyce says. "We've invested tens of thousands of dollars. If we stay on track, we'll be profitable by the 18-month point."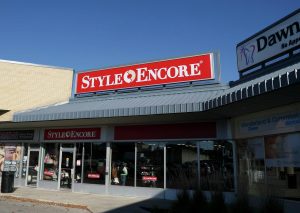 Even with much of the start-up work looked after by the franchisor—from a back-end system that generates ­purchase and selling prices, tracks inventory and flags items that need to be restocked to hands-on training that ranged from operations and marketing to how to authenticate a designer handbag—Boyce still puts in long days. Initially, she was there every day from open to close, six days a week from 10 a.m. to 8 p.m., and noon to 5 p.m. on Sundays. Now, with a staff of 11 (which she says is needed to cover all of the hours), she tries to take a break to have family dinner and sometimes stays home through to bedtime with her sons.
Although there are the normal restrictions that come with running a franchised business, Boyce says she does have some flexibility with decisions around suppliers, and she has made a point of sourcing local services. "We had the option to use Winmark's suggested accounting and insurance ­companies, for example, but we went with local businesses. We're using Arcane for our marketing and Playdio for our music. As much as possible, we want to spend our dollars locally." 

 Kym Wolfe