London Inc. Weekly 11 • 09 • 2018
VersaBank's blockchain-based safety deposit box released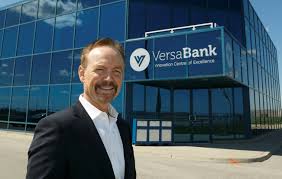 VERSABANK ANNOUNCED YESTERDAY that its subsidiary, VersaVault, has successfully completed beta testing for its previously announced digital safety deposit box and is initiating commercialization of its services.
Built utilizing blockchain technology, VersaVault allows customers to conveniently, securely and privately store digital valuables, including cryptocurrencies, in a digital equivalent of a safety deposit box. The first phase of the rollout will be to provide digital safe keeping as well as multi-signature services for cryptocurrency exchanges and crypto based investment funds.
The beta testing, conducted with an initial target client base, focused on ensuring VersaVault's design would meet the specific requirements of cryptocurrency exchanges and crypto funds. It also focused on designing a seamless, efficient and timely experience for clients, and one which maintained the most technologically advanced digital and cyber-security solutions while maintaining absolute privacy.
David Taylor, president and CEO of VersaBank and its subsidiary, VersaVault, stated: "I am just delighted with the successful results of our strenuous beta testing. While many are considering ideas and plans for a digital safety deposit box, we have designed and built it, and are now commercializing a first-of-its-kind service that provides our clients with the most sophisticated security and authentication technology available globally, in which our clients enjoy absolute privacy. The VersaVault will now begin rolling out services to cryptocurrency exchanges and crypto investment funds."

---
Indiva reboots its retail strategy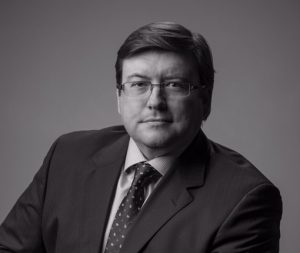 AFTER SECURING A number of retail leases in Ontario in anticipation of cannabis legalization, Indiva announced this week that it will open a single retail outlet at its licensed production facility on Hargrieve Road, subject to applicable regulatory approvals.
"We believe our location is well-situated in London, and we will be ready to open the Indiva retail store on April 1, 2019," said Neil Marotta, CEO of Indiva. "We eagerly anticipate serving the London community and surrounding area as well as Ontarians and visitors who wish to visit the Indiva store and have a first-class retail experience. We believe the Indiva store will be one of the first retail cannabis outlets to open in London."
In September, the Ontario government introduced rules to restrict cannabis producers to operating one store on the site of a production facility, while the rest of the market will be opened to independent retailers. The rule is intended to support small, independent retailers.
Prior to the rule introduction, Indiva was actively seeking to secure leases for retail cannabis locations in major urban centres in Ontario. The company had secured leases or offers to lease in Ottawa (in the Glebe, Elgin and Westboro neighbourhoods), in Toronto (in the Queen West, Beaches, Bayview and Eglinton, Dundas and Bathurst, and Kensington Market neighbourhoods) and in Guelph.
Indiva expects that the leases will be transferred to a newly created corporation―DispensaryCo―of which Indiva will maintain a minor equity interest, subject to applicable regulatory approvals. It is expected that DispensaryCo will be financed and managed independently of Indiva.

---
Fit4Less to open at Westmount Shopping Centre in Q1 2019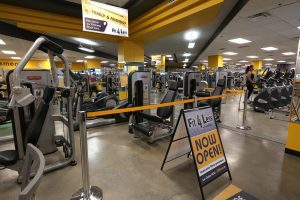 TORONTO-BASED REAL estate development and property management firm McCor Management has announced that Fit4Less will open a 26,748-square-foot health and fitness centre at Westmount Shopping Centre during the first quarter of 2019.
According to McCor, the addition of GoodLife's low-cost fitness brand to the property is a key facet of its development strategy to further alter the former shopping mall to a mixed use development site.
Along with investment partners CCI Corpfin Capital Inc. and KingSett Capital, McCor Management has begun a multi-million dollar makeover of the Westmount Shopping Centre property, set to roll-out over three phases.
"Fit4Less will be an anchor tenant at the revitalized Westmount," said Luc Corneli, principal and founder, McCor Management. "As we redevelop the storied site, Fit4Less will provide a beneficial service offering for the community and will help cement Westmount's future as an everyday hub for the neighbourhood."
The GoodLife club will further a continued emphasis on growing office space and mixed-use development at the site.
"We are excited to be opening a new Fit4Less location in London's vibrant Westmount Shopping Centre," said GoodLife VP of operations, Kathy Mackinnon. "This location will have staples such as cardio and strength equipment, along with great amenities such as a TRX Training Zone, hydro massage loungers and virtual fitness classes. We look forward to helping even more Canadian's reach their health and fitness goals."
An official opening date for Fit4Less at Westmount Shopping Centre will be announced in the coming months.

---
Kellogg site hotel proposal heads to planning and environment committee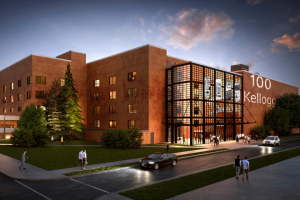 Tillsonburg-based E&E McLauglhin Ltd. plans to construct a hotel at the former Kellogg site in east London.
Plans call for the hotel to face Dundas Street, east of Kellogg Lane, and would be the next addition to the redevelopment plant for the site, which already includes The Factory indoor amusement park, a brewery and a warehouse. Future plans call for a distillery, restaurants and the relocation of the London Children's Museum to the site.
E&E McLauglhin Ltd. has not released information regarding size, branding or amenities associated with the proposed project.
The proposal heads to city council's planning and environment committee on Monday, with a recommendation by city staff to lift a "holding provision." A hold was put on the plan until a study was done to ensure other businesses at the former Kellogg plant, such as the warehouse, wouldn't disrupt the hotel.

---
Featured Business Event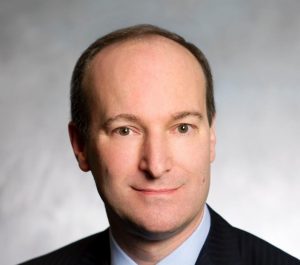 2019 Economic Outlook: Navigating a Sea of Uncertainty | November 20, 2018 
Get your fiscal house in order with a look at the economic factors beginning to shape 2019.
Keynote speaker Doug Porter, chief economist and managing director, BMO Financial Group, will be joined by local panelists Lynn Smurthwaite-Murphy, president of StarTech.com, and Mike Seabrook, president and CEO of London International Airport Authority.