So You Want My Job: Massage Therapist
Jasper Watkins of Health House & Co. chats about the realities of her career
Photo: Jasper Watkins
JASPER WATKINS IS a registered massage therapist, and together with Brittany Britton, is co-owner of the Health House & Co. They opened the business in early 2018, nine years after meeting at Lambton College and seven years after graduating from the RMT program.
Watkins, 27, went to Lord Dorchester Secondary School. She began working in London in 2011 and moved here in 2014. "Brittany and I always talked about opening a clinic together, a place that was welcoming and laid back with professional, passionate RMTs."
She has a German Shepherd, Brooks, and a Dobermann cross, Stella. When not working, she spends time at the gym and with family and friends. But her real passion is travel. In early 2018, she went to Namibia, Botswana and Zimbabwe. In 2019, she will spend three weeks in Costa Rica and Panama.
"My favourite trip so far was to Thailand, Cambodia and Vietnam."
---
When and why did you decide to become a registered massage therapist?
When I was young, I used to massage people in my family. My dad has always had back issues and I wanted to 'fix' him. I've always enjoyed being hands-on and knew I wanted to work in the healthcare field. So, massage therapy seemed the perfect fit for me.
There are a lot of 'massage tables for rent,' where therapists can work. Did you work in that model? Why did you decide to start your own place?
I think when you start your career as a registered massage therapist, that's the best way to do it. It takes time to get your name out there and to get a following. I worked in that setting for almost six years. When I decided to leave that model and open The Health House & Co., I had a great ­opportunity when the location of the clinic came up. It was also perfect timing with Brittany to start up like we had always planned.
Your job is an odd mix of personal and ­impersonal. People are vulnerable, but may not want to talk or interact. Was that difficult to get used to?
I got used to it pretty quickly. Our jobs are interesting that way. I have some clients where I can tell you all their grandchildren's names, and others I couldn't even tell you if they are married or not. It usually balances out, and I don't mind either way. If someone needs to talk about the stresses in their life, I am always happy to be a listening ear. But if the client just wants to relax without talking for the hour and take their mind off work or kids, I can provide them with a quiet ­environment for them to just zone out.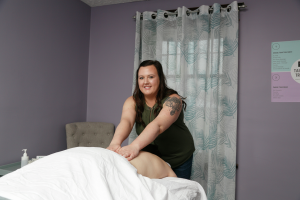 Describe your average work day.
My day at the clinic always starts with folding sheets, tidying up from the previous day and making a pot of tea for clients to take on their way out the door. Then ­checking emails and replying to any missed phone calls, checking over my schedule for the day and preparing for specific clients. I generally see between four and six clients per day.
What's your work/life balance like?
It's wonderful. The biggest benefit to being self-employed is making a schedule that works for your lifestyle. I typically have the mornings off, giving me plenty of time to relax with the dogs, have a coffee, go the gym and get a few errands done before I start at the clinic. I do work into the evenings, making sure that I am available for my clients to see me when they aren't working.
What's your job market like? Are you approached by therapists regularly?
The job market right now for massage therapists is great. I have been approached many times over the years, from individual therapists, spas, physiotherapy clinics or large chain clinics looking to hire RMTs. It's wonderful to be able to choose the kind of setting you want to build your practice in.
Best part of your career?
I like playing an active role in my clients' health and wellbeing. Working with them to relieve chronic pain and seeing them improve with each treatment is so rewarding. Plus, no one is ever in a bad mood to see me.
Worst part?
Hands down, the laundry. It is literally never-ending. 

 Interview by Christopher Clark