A local startup looks to stake a claim in Canada's emerging cannabis oil extraction market
Photo: Motif Cannabis co-founders Ian Haase and Mario Naric
MUCH OF THE public focus in the brave new world of cannabis, ­understandably, has been on people buying and smoking marijuana. It's not every day you live through the end of Prohibition.
Companies large and small, local and national, have placed big bets on growing and cultivating the plants. But there's a secondary industry that could be even more profitable: cannabis oil extraction. And a local company is poised to get in early with a processing plant in Aylmer.
In a poetic touch, Motif Cannabis is leasing 20,000 square feet in the old Imperial Tobacco building and will begin ­operations the moment it receives preliminary licensing approval from the federal government, as early as spring.
"We're using 9,000 square feet ­initially, but if things go as we expect, we'll use all 20,000 square feet and maybe more," says Ian Haase, who co-founded Motif with Mario Naric. The site is home to a variety of businesses, including WeedMD, which recently struck a deal to export ­cannabis seeds to Australia.
"We're using 9,000 square feet initially, but if things go as we expect, we'll use all 20,000 square feet and maybe more" —Ian Haase
Motif is carving out a different niche. Extracting the oils is roughly analogous to refining crude oil and turning it into various products for different markets. The comparison isn't perfect because growers like WeedMD and Indiva sell their product directly to end users.
"But there are many more products rooted in extraction," says Naric, 26, a chemical engineer who worked for Imperial Oil for two years. "The ­recreational market will be insane, as new adopters look for something other than smoking a joint."
But the terpenes and cannabinoids are also popular with makers of vapourizers, sprays, medical products and even beverages. With Coca-Cola discussing the possibility of creating a cannabis-infused line of products, it's easy to see why Haase and Naric are excited at the prospects.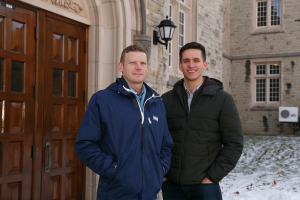 Haase, 40, left his job at Western's Propel business incubator to join Naric and scratch his entrepreneurial itch. A third partner is working part-time now, but will oversee quality assurance once the plant is up and running. The partners teamed up with a Sarnia-based investor and are hoping to raise $4 million in the coming months.
They'll hire eight to 10 people ­initially, but expect to have as many as 20 employees after a year or so.
Motif will extract oil on behalf of growers that want to sell oil under their own brand name. It will also supply oil to manufacturers who simply need it as one ingredient in their given product. The company will focus on "the ­emerging recreational market."
The degree to which that market "emerges" will dictate Motif's rate of growth. But Haase and Naric have no doubt there will be plenty of demand. 

 Christopher Clark