London Inc. Weekly 02 • 08 • 2019
TopSpin Technologies wins NFL's First and Future award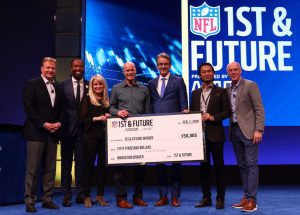 LONDON'S TOPSPIN TECHNOLOGIES Ltd. has won the NFL's First and Future award for Innovations to Advance Athlete Health and Safety.
Beating out thousands of other applicants, TopSpin took home first place and a US$50,000 grant for its TopSpin360 neck training device. The award was presented last Saturday in Atlanta, the day before Super Bowl VIII.
Invented by former Western Mustangs football player and former Fowler Kennedy Sports Medicine Clinic physiotherapist, Theo Versteegh, the TopSpin360 is the first patented training device proven to strengthen neck muscles with a view to help reduce concussions.
The device, which attaches to the top of a helmet and features a horizontal weighted rod, helps build multiplanar neuromuscular strength, which helps to keep the head stable even when the body is subjected to sudden impulses, such as body contact in football or hockey, or ball contact in soccer. The TopSpin360 is also outfitted with a data-collecting sensor that transmits over Bluetooth to an accompanying app.
Versteegh said the company, which has offices in London and Detroit, will be weighing its next steps with its windfall, adding the award festivities in Atlanta also enabled the company to make connections with NFL biomechanics researchers.
"We'd like to capitalize on this," he said in an interview with the London Free Press. "$50,000 is great, but even more so is this validation that we get from winning a competition like this against a number of other great companies."

---
GDLS-C shares in new U.S Army contract for systems technical support 
THE U.S. ARMY has awarded General Dynamics Land Systems a contract worth up to US$402 million for systems technical support (STS) for the Stryker Brigade Combat Team (SBCT).
Work will be performed with current employees at GD operations in Sterling Heights, Michigan, and General Dynamics Land Systems-Canada in London.
Under the five-year STS contract that began in January, GD will perform a variety of work, including log, development, and support of government testing. The objective of the partnership is to maintain high operational readiness for the Soldiers who serve in the SBCT.
The U.S. Army continues to modernize its Stryker fleet of vehicles, manufactured in London, through the introduction of the 30mm, up gunned Infantry Carrier Vehicle – Dragoon and the Double-V Hull A1 platform. The upgrading and modernization work is being done at General Dynamics facilities in Ohio, Alabama, Florida, and Michigan.
The Stryker A1 eight-wheeled vehicle is built to vastly increase power, survivability and mobility, while providing extra stowage and seating for nine soldiers, plus a three-soldier crew. The Stryker fleet is considered the backbone of the U.S. Army, with nearly 4,700 vehicles fielded.

---
Strong January for home resales; signs of more balanced market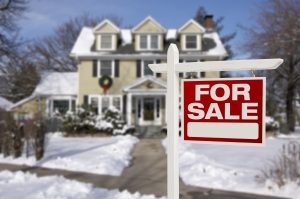 THE LONDON AND St. Thomas Association of Realtors (LSTAR) announced 525 homes were sold in January, up 17.4 per cent over January 2018. The number of home resales was higher than the 10-year average, with the second highest number of units sold in January since 2010.
"We're starting to observe signs of movement toward more balance in the marketplace, based on the sales-to-new listings ratio," said Earl Taylor, 2019 LSTAR president. "In January, the ratio was 60.9 per cent across LSTAR'S jurisdiction. The Canadian Real Estate Association (CREA) says a ratio between 40 per cent and 60 per cent is generally consistent with a balanced market."
Bucking the trend was St. Thomas, which saw a sales-to-new listing ratio of 80.3 per cent in January, which CREA says represents conditions in the marketplace that favour sellers. St. Thomas also posted a 10-year high for its average home sales price.
"In January, average home sales price in St. Thomas was $343,178, up 34 per cent compared to January 2018," Taylor said. "Going further back, that's up 68.9 per cent compared to January 2014 and up 86.7 per cent compared to 10 years ago."
Average home sales price made steady gains in the five major areas of LSTAR's region. In London, the average sales price was $387,859 up 11.2 per cent from last January, while it was $398,150 in Strathroy, an increase of 41.4 per cent from January 2018.
"Looking at specific geographic areas, London North had an average of $477,615, up 18.1 per cent from the same period last year," Taylor said. "London South, which also includes data from the west side of London, had an average sales price of $381,120 in January, up 6.6 per cent compared to January 2018 and up 95.8% compared to just 10 years ago."

---
Indiva moves forward with planned extraction operation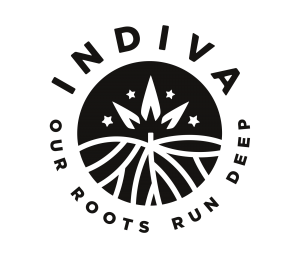 INDIVA LIMITED HAS further solidified its commitment to the upcoming cannabis derivatives and edibles market by hiring Lucid Lab Group to design the company's planned extraction operation at its Hargrieve Road facility.
The announcement from Indiva comes as cannabis companies across Canada are preparing for the introduction of edibles, concentrates and topicals to the market later this year.
The new extraction operation, which is planned for Q2 2019, will be the hub of oil manufacturing and product innovation for all of Indiva's related cannabis products, including tinctures and gel capsules, as well as licensed products such as Bhang Chocolate, Ruby Sugar and Ruby Chewable Gems.
Based in Seattle, Washington, Lucid Lab Group is a specialist in the design and operation of cannabis extraction facilities. Seattle is also the home base of another Indiva partner, DeepCell Industries, which creates cannabis-infused products using patented technology, and has also worked with Lucid to produce cannabis oil for their products.
"We are very excited to work with Lucid given their expertise in this area, as well as their past history with one of our preferred partners and licensor DeepCell," said Niel Marotta, Indiva's president and CEO. "Our goal is to be prepared to serve the legal edibles market with high quality, innovative and award-winning products."  

---
Featured Business Event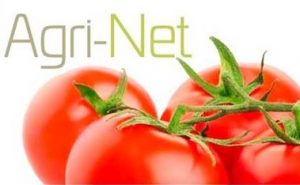 Agri-Net 2019 | February 13, 2019
Agri-Net is a London Chamber of Commerce Mega Networking Event that showcases the agribusiness community and the economic impact they provide in Southwestern Ontario.  Attendees will have the opportunity to meet new people and business prospects and view some exciting exhibits while enjoying some tasty food samples and a cash bar.