If a business is stuck in a rut or, even worse, failing, it might be time to ­consider a business pivot
Photo: Oscar ONeill
MANY ENTREPRENEURS START a business because they have a great idea—an innovative product, a unique service idea or a new way of doing things.
But when that initial idea doesn't work out quite as planned, or your customers push you in a different direction, startups often face a daunting decision: stick with the ­original vision or pivot in a new direction?
Oscar ONeill faced just such a decision last year. His ­fledgling company, YourTech London, found early success providing IT solutions for small business clients. But a recurring theme kept popping up in conversations with his customers and in his own efforts to operate his company as efficiently and smartly as possible.
"I learned that my customers cared most about technology saving time and increasing their operational effectiveness," says ONeill. "I wanted to be actively improving and automating my customers' businesses as opposed to just maintaining their existing infrastructure. My customers were all for the pivot and I just did it."
"I let go of my only employee and I read many books and taught myself new skills" —Oscar ONeill
It was far from a painless transition, however, as ONeill had to deeply immerse himself in a technology that is still emerging, and even more so for small businesses: ­artificial intelligence (AI). Ultimately, he reasoned, AI will be key to ­helping companies use automation in order to operate more efficiently.
"I let go of my only employee and I read many books and taught myself new skills," he explains. "I took a deep dive into the world of artificial intelligence and robotic process automation."
From his decision to pivot, a new company—DigitalStaff was born—with the aim of bringing the power of AI to small businesses.
ONeill describes the new service offering as "intelligent automation solutions for various business processes and various industries. We learn about your business, we ­prepare an automation proof of concept and then we implement that automation. You'll be able to save a significant amount of time and money by taking advantage of our solutions."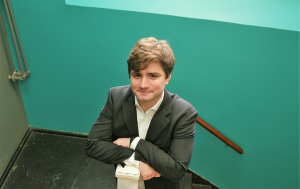 The bottom-line savings is made possible by the rapid ­evolution of artificial intelligence as a service (AIaaS). While AI has typically been an expensive tool for larger ­enterprises, new evolutions in the technology have made it more ­affordable and available than ever before, with AI-based tools designed as an on-demand service rather than requiring a significant upfront investment.
"It used to be that in order to take advantage of AI you would need to code your own artificial intelligence from scratch and train the AI. So, it only made sense that big companies could take advantage of AI," says ONeill. "­Fast-forward to today and you can benefit from the resources that other ­companies have invested into AI—all you need to do is pay a fee per transaction."
Significant tech names like Microsoft, Google, IBM and Amazon offer AIaaS platforms, while numerous startups are looking to grab a piece of a what will become a very ­lucrative pie. From automating accounts payable processes to AI ­turning scans of documents into editable text files, ­automated processes backed by artificial intelligence is already enabling companies to run leaner and more efficient, and as the technology matures and more innovators jump into the space, people like Oscar ONeill will have even more tools at their disposal to assist small businesses.