For Indigenous artist and entrepreneur Robin Henry, the path to success includes empowering aboriginal youth
Photo: Robin Henry
AS AN ARTIST, Robin Henry knows how hard it can be to make ends meet. A graduate of London's Beal Art program and the Yukon School of Visual Arts, the 30-year-old spent years working odd jobs to support a passion for illustration and silk-screen printing.
As a Londoner of French and Anishinaabe heritage, Henry also understands the challenges First Nations youth can face to achieve economic independence without sacrificing their Indigenous identity.
Last summer, the stars aligned for Henry. After completing the Ontario Works Self Employment Program through the London Small Business Centre, Henry was invited to provide live screen-printing services at Sunfest for London indie apparel brand Life of Leisure. Henry also made the decision to move the fledgling screen-printing enterprise out of the kitchen and into a creative pod at B13—an arts and business incubator in the Old East Village.
Henry officially launched Antler River Press last August. "I went from printing runs of 10 or 20 t-shirts for friends' bands to working with some bigger clients," Henry says.
How big?
Lululemon London hired Henry to live print a ­limited-edition t-shirt at the company's 20th-­anniversary celebration. Other clients include familiar names like Bethany's Hope Foundation, Booch Organic Kombucha, Odyssey Records and Punk Rock Flea Market.
"I've been building really nice relationships with many small businesses in London. I think Antler River Press is just going to keep growing" —Robin Henry
Now Henry is paying the success forward as a mentor for the Out of Sound Rezonance Silkscreen Intern Program.
Co-founded in 2012 by Kirsten Kurvink Palm and Adam Sturgeon, Rezonance provides Indigenous youth with paid internships that bridge the gap between culture, art and entrepreneurship through the medium of screen printing.
Sturgeon—who is Chippewa but grew up in London—says the initiative was inspired by the art and activism of The Professional Native Indian Artists Incorporation. Sometimes called the Indian Group of Seven, its most famous member was Anishinaabe painter Norval Morrisseau, who also spent time working in a print shop.
"We think of ourselves as a continuation of a movement that envisions an Indigenous future for our young ­people through economic sovereignty," says the 34-year-old silk-screen artist, musician and Indigenous community worker. (Londoners may also know Sturgeon as the owner of Out of Sound Records and the artistic director of the Grickle Grass music festival.)
"As Indigenous people, we believe that to look forward and to progress as a people we have to understand our past," Sturgeon explains. "Over time I began to tie the threads of our cultural practices to this art form of silk-screening."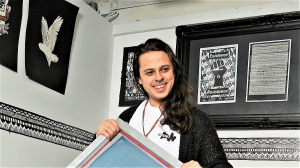 Since 2012, Rezonance has worked with young people in remote communities throughout New Brunswick, Quebec and Ontario. Last December, Sturgeon and Henry teamed up to launch a four-month internship program here in London.
Mikaila Stevens is one of four interns who come to B13 two evenings a week to learn about screen printing and entrepreneurship through a First Nations lens.
A graduate of Fanshawe College's business program, the 22-year-old hopes to open a creative business and says the mix of cultural learning, business skills and the chance to meet other Indigenous artists is a perfect fit. "I've never seen a program like this," she says. "I left the first day with a million different ideas. It's very inspiring."
Blake Durocher heard about Rezonance from an Elder. At 16, he is still in high school but dreams of owning an Indigenous clothing line. "I was kind of nervous because I didn't know what it was going to be like," Durocher says. "But it's been great. It's really fun to learn about all this stuff."
This summer, Sturgeon and Henry will invite their four interns on the Pow Wow trail to promote the Rezonance program through live screen-printing events.
Henry knows first-hand how the right connections, some business skills, talent and hard work can turn a creative passion into a profession. "I've been building really nice relationships with many small businesses in London," Henry says. "I think Antler River Press is just going to keep growing." 

 Nicole Laidler