London Inc. Weekly 05 • 24 • 2019
Linamar CEO Linda Hasenfratz named Western University's 23rd chancellor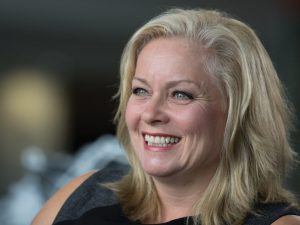 Photo: Linamar CEO, Linda Hasenfratz, has been named Western University's 23rd chancellor
WESTERN UNIVERSITY ANNOUNCED yesterday that Linda Hasenfratz will serve as the university's 23rd chancellor.
Hasenfratz has been CEO of Guelph-based auto-parts maker Linamar since 2002, when she succeeded her father, Frank Hasenfratz. She joined the company in 1990 and worked her way up from the ground floor, experiencing all aspects of the business including machine operation, engineering and operations management.
Since her tenure as CEO, Hasenfratz has grown Linamar's revenues from $800 million to over $6.5 billion.
A Western alumna and member of the Ivey Business School Advisory Board, Hasenfratz has long been a keen supporter of Western and regularly shares her advice, strategic thinking and creativity with students, faculty and researchers.
"I am incredibly honoured to be appointed to this role," said Hasenfratz in a released statement. "Western is a world-class institution making a tremendous impact through its talent, expertise and influence. I'm looking forward to working with the entire Western community to help ensure that success continues to grow."
A member of the Canadian Business Hall of Fame, Hasenfratz has been widely recognized for contributions to Canadian business and for her commitments to the community. She sits on various boards, including CIBC, the Business Council of Canada, Faurecia, Catalyst Canada as well as philanthropic boards such at the Royal Ontario Museum and the Philanthropy Leadership Cabinet of the Guelph General Hospital.
As the honorary and symbolic head of the university, the chancellor presides at convocation ceremonies to admit candidates to degrees, diplomas and certificates. The position also serves as an ex-officio voting member of the board of governors, university senate and certain committees of both governing bodies.
As chancellor, she will succeed Australian businessman Jack Cowin, who will end his term June 28. Hasenfratz will be officially installed during convocation ceremonies in October.

---
Libro Credit Union expands into Oxford County with Woodstock location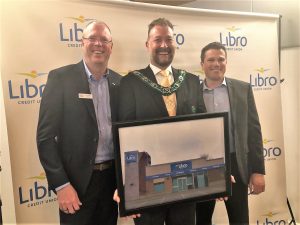 Photo (from left): Libro CEO Steve Bolton, Woodstock Mayor Trevor Birtch and Libro regional commercial manager, Garrett Graham, pose with a rendering of Libro's new Woodstock location
LIBRO CREDIT UNION announced Wednesday it plans to open a new location in Woodstock by year's end, creating 10 jobs.
The new Libro location, which will serve serving Oxford County, will be located at 383-427 Norwich Avenue, Woodstock, near the southern access point to the city from the 401. Of the 10 new jobs, seven will be full-time and three will be part-time.
Making the announcement at an event at Woodstock Museum, Steve Bolton, Libro's president, CEO and head coach, said, "We're thrilled to be expanding our network of locations to Woodstock, serving the wider Oxford County and inviting people here to become Libro owners and to share in our goal of growing prosperity together.
"Although we have had owners in this area for many years, this announcement could be seen as our first step into Oxford County. It feels like home. Every community served by Libro has its uniqueness, and they all have common values."
Libro is the largest credit union in Southwestern Ontario. With this announcement, and other recent announcements, including the opening of a new satellite branch in Old East Village at 874 Dundas Street, it expects to have 36 locations open by the end of 2019.

---
Local Home Hardware manager receives national recognition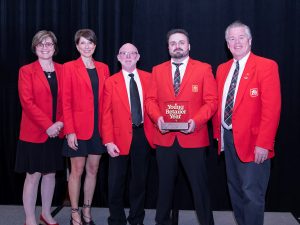 Photo: Kevin Harris has been named a 2019 Young Retailer of the Year by the North American Retail Hardware Association
KEVIN HARRIS, STORE manager of Harris Home Hardware at 1080 Adelaide Street, has been named one of the independent hardware industry's seven 2019 Young Retailer of the Year honourees by the North American Retail Hardware Association.
The Young Retailer of the Year program identifies and promotes the next generation of aspiring independent home improvement retailers. It recognizes individual achievement by industry retailers age 35 and younger throughout Canada and the U.S.
Selected from three separate retail categories, honourees are chosen based on a number of criteria, including professional milestones, community engagement, continuing hardware industry education and extracurricular activities.
"It is truly an honour and a privilege to receive this accolade," said Harris. "This achievement was made possible by the hard work, diligence and team effort of our staff and management as well as the loyal support of our customers."
Harris began his in April 2010, when he joined Harris Home Hardware as the store merchandiser. The store is owned by his parents, Ron Harris and Tracey Harris. In 2013, Harris transitioned to store manager and under his leadership, the store doubled sales over a five-year period.
"To be selected as a Young Retailer of the Year is a high honour," said Scott Wright, executive director of the Retail Leadership Institute. "Kevin shows the kind of energy and ambition that will move our industry forward." 

---
Specialty cruise franchisees add third London location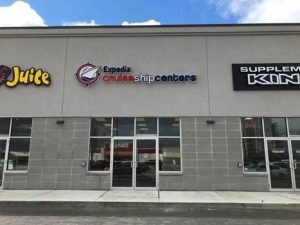 Photo: The new Expedia CruiseShipCenters unit on Wonderland Road South
HUSBAND-AND-WIFE duo Jim and Norma Ferguson have opened their third Expedia CruiseShipCenters franchise unit in London at 3074 Wonderland Road South.
The couple, who have always had a passion for travel, sought to turn that passion into their livelihood and opened their first Expedia CruiseShipCenters location in the Masonville area over 23 years ago. They now employ a team of over 80 travel agents. The new location will be managed by their son, Malcolm Ferguson.
"Our team of knowledgeable cruise and vacation consultants are passionately committed to helping our customers plan their next big adventure, and it's this level of exceptional service that sets us apart," said Malcolm Ferguson. "We are actively recruiting vacation consultants to work full-time or part-time from our retail centre. Our agents have the freedom and flexibility to build their travel business with the power of Expedia behind them."
Expedia CruiseShipCenters—part of the Expedia Group family of brands—offers cruise vacations and travel services through a growing network of more than 255 locations across North America. The growth is in part driven by recent gains in the cruise travel industry. According to the Cruise Lines International Association, more than 30 million passengers are expected to cruise in 2019, a drastic increase over the last five years. Additionally, 24 new ocean, river and specialty ships are scheduled to debut this year.

---
Featured Business Event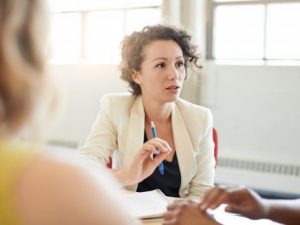 Conflict Management for Women: How to Navigate the Changing Power Dynamic | May 30, 2019
It's no secret that men and women approach conflict differently. Societal and even biological differences create a dynamic for women that can make conflict more difficult, uncomfortable, and potentially career limiting. For some women, being assertive can lead to harsh judgement, labelling, or toxic work environments.
Women in Communications and Technology (WCT) London invites you to a panel discussion on conflict management techniques specifically for women. We'll discuss the role that emotions play in conflict management and tips for approaching conflict with confidence, setting healthy limits, and expressing yourself without being labelled.
Our balanced panel will include perspectives from established professionals with vast experience with conflict management.