A minimalist wallet launches a lifestyle accessory brand
Photo: Orgashell founder, Gamal Assaad
A WALLET ISN'T just a wallet. To quote the great George Costanza, purveyor of fat wallets, it's an organizer, a ­memory and an old friend. The wallet is an oft-overlooked part of the troika—wallet, phone, keys—that you take virtually ­everywhere you go.
So, why do most of us carry such boring versions?
Gamal Assaad set out to change this with the launch of Orgashell last December. After ­spending two years working through design, quality and ­manufacturing processes, and then tuning the business through Western's Propel incubator program and raising seed money on Kickstarter, Orgashell now has two different types of wallets on the market—The Commuter and The Millennial—in a range of coloured leathers.
A mechanical engineering graduate turned startup founder, Assaad turned his eye and creative passion for design to what are called "carry" products—bags, wallets, keychains, that sort of thing. After designing a few styles of bags that never really thrilled him, he settled on a modular wallet design that can be expanded when needed, slimmed down when it isn't.
"I always get a couple of dads showing up and showing me how big their wallets are. It ends up being a competition between my customers for who has the largest wallet" —Gamal Assaad
"Everyone wants to carry a slimmer wallet—but they don't," Assaad says.
In general, the wallet industry is moving away from the big toward slimmer profiles, but many men still carry around the wallet they bought during the first Obama administration—or earlier. "For some people, it's a little bit tough to let go," laughs Assaad. "It really depends on your usage."
Not surprisingly, Orgashell is structured primarily as an online retail business, but all things being equal, Assaad prefers the opportunity to sell his wallets in person at pop-up sales and trade booths.
"What I absolutely love about this is almost every single ­person I've met has a completely different wallet," he says. "I always get a couple of dads showing up and showing me how big their wallets are. It ends up being a competition between my customers for who has the largest wallet."
Assaad is quick to throw a lot of praise to Western's Propel incubator, something he credits with helping him take Orgashell from paper to product. "I got to spend the entire day working on my business for four straight months in a row," he says. "That was probably one of the best things that happened to my business."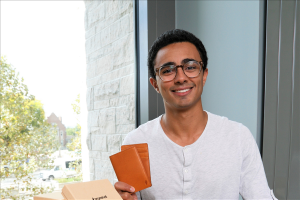 It also put him in touch with mentors, which he says are an indispensable part of his growth as an entrepreneur, ­something he calls, "the part that I just jumped into the deep end." On the other end, he says his engineering degree makes talking to ­suppliers and manufacturers (Orgashell products are manufactured in China) a lot easier.
He's also happy to have some tough and honest critics as friends and advisors to the company. "I just give them samples of my products, they use it for a couple of weeks, and they're the kind of guys and gals that will give me a call and say, 'Hey, Gamal, I'm sorry but this sucks,'" he says. "I need those people."
He'll need them going forward, too, as Orgashell looks beyond its first two wallet offerings. Assaad wants stay in the wallet space—one notable absence from their lineup is a wallet designed for women, something Assaad plans to address—and then return to some of the earlier ideas for leather bags and other carry items.
"Hopefully, we'll get back into some tote bags, maybe ­backpacks and shopping bags," he says. "Whatever product the market is looking for."

Kieran Delamont