Nominate now for the 2022 Best Places to Work awards!
CERTAINLY, THE PANDEMIC has forever changed the way we work. But, as they always do, the best businesses are stepping up to support their employees as they navigate the uncharted waters.
Which is why it is more important than ever to recognize our local organizations that have gone above and beyond to create outstanding workplace cultures, even in the face of this new normal.
If you think your organization is the best place to work in town — or you admire a local enterprise for its commitment to its workforce — consider casting a nomination for London Inc.'s annual Best Places to Work awards program. These awards recognize the top workplaces in London based on a third-party survey.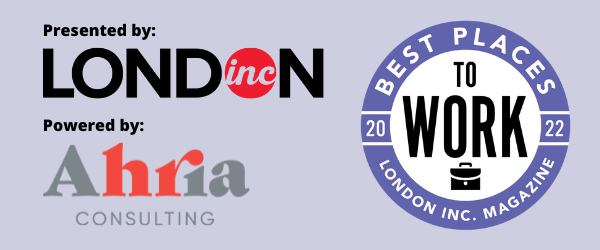 Eligibility Requirements:
Companies are named Best Places to Work based on their results in a free workplace survey conducted by Ahria Consulting, London's leading human resources management consulting firm.
Being named a London Best Place to Work will not only help attract the best and the brightest talent, but the survey will also provide you with the valuable feedback you need to retain your best and brightest workers.
Fill out the nomination form below. Anyone can nominate an organization, and self-nominations are welcome (and if your company was named a Best Places to Work recipient last year, we encourage you to enter again!). The nominated business will be contacted by Ahria Consulting. With a broad focus on helping organizations with culture, leadership and employee engagement issues, Ahria Consulting has teamed up with the Industrial Organizational Psychology department at Western University to develop an employee engagement survey utilizing the very best in assessment tools and protocols.
Why Participate? Why not!
Participation is a no-brainer. Win or lose you'll receive your engagement survey results, plus actionable ideas for improvement. And if you win, recognition will be the icing on the cake!
Once nominated, Ahria Consulting will send a survey link to be provided to employees to complete a confidential online survey. Companies must have at least 10 employees to participate, and at least 50 per cent of employees must complete the survey for your organization to be considered.
Best Places to Work Winners and Finalists will be featured in the October 2022 issue of London Inc.
Check out coverage from 2021 here. 
Categories:
Best Places to Work awards will be divided into the following categories:
Small Business (between 10 and 19 employees)
Medium Business (between 20 and 80 employees)
Large Business (greater than 80 employees)
Employees' answers are strictly confidential and anonymous. No individual response will be shared with the company.
All participating organizations will receive a free report from Ahria Consulting highlighting the current level of employee engagement in their organization. Although it is not a requirement, companies will also have the option of discussing their results in more depth with the Ahria Consulting team.
Deadlines:
Nomination deadline: August 19, 2022.
Submission deadline: August 26, 2022.
To Nominate:
Please fill out the nomination form below. The point person at the nominated organization will be contacted shortly with survey details.
PLEASE NOTE: Only one nomination submission is required. 
Have additional questions? For general program inquiries, contact Gord Delamont at London Inc., [email protected]. For questions relating to the workplace survey, contact Terry Gillis at Ahria Consulting, [email protected].