London Inc. Weekly 11 • 01 • 2019
Nominations open for the 2020 Best Places to Work awards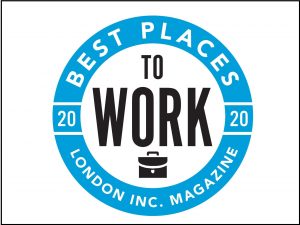 Photo: Nominations are now open for the 2020 Best Places to Work awards
LONDON INC., IN partnership with Ahria Consulting, is seeking nominations for the 2020 Best Places to Work awards. These awards recognize employers in the London area that have gone above and beyond to create outstanding workplace environments.
Companies are named Best Places to Work based on their results in a workplace survey conducted by Ahria Consulting. Being named a London Best Place to Work will not only help attract the best and the brightest talent, but the survey will also provide you with the valuable feedback you need to retain your best and brightest workers.
Anyone can nominate an organization and self-nominations are welcome—and companies named Best Places to Work recipients last year are encouraged to enter again. The nominated business will be contacted by Ahria Consulting. With a broad focus on helping organizations with culture, leadership and employee engagement issues, Ahria Consulting has teamed up with the Industrial Organizational Psychology department at Western University to develop an employee engagement survey utilizing the very best in assessment tools and protocols.
Best Places to Work awards are divided into three categories: Small Business (between 10 and 19 employees); Medium Business (between 20 and 80 employees); and Large Business (greater than 80 employees).
Once nominated, Ahria Consulting will send a survey link to be provided to employees to complete a confidential online survey. Companies must have at least 10 employees to participate, and at least 50 per cent of employees must complete the survey for your organization to be considered.
All participating organizations will receive a free report from Ahria Consulting highlighting the current level of employee engagement in their organization.
Best Places to Work Winners and Finalists will be featured in the February 2020 issue of London Inc. The nomination deadline for the 2020 program is December 13, 2019. Click here to nominate. 

---
Race Roster acquired by Asics Corp.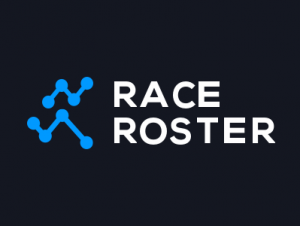 Photo: Race Roster has been acquired by Asics Corporation and will become a part of the company's Asics Digital portfolio
ASICS CORPORATION, A Japanese multinational producer of footwear and sports equipment, has announced the acquisition of London-based Race Roster.
Established in 2012, Race Roster is a leading race registration platform for running events, providing event organizers with a robust CRM tool for tracking participant data, marketing campaigns and event revenue.
Race Roster will join Asics Digital's portfolio of consumer-focused running platforms. As part of the agreement, Asics has formed a new Canadian subsidiary known as Race Roster North America.
"The idea of integrating an athletic brand with race registration solves many of the challenges faced by race directors," said Alex Vander Hoeven, CEO of Race Roster. "We are excited that a brand so deeply ingrained in the running community shares our vision, and we look forward to introducing our expanded offering to the racing industry."
"We are thrilled to welcome the Race Roster team into our ASICS family," added Dan Smith, president of Asics Digital. "As we take this step together, we are excited to not only expand our digital footprint, but also create new and innovative ways to serve runners and the running community."
Race Roster will continue to be based in London. In fact, the company is expanding its offices next week, moving from King Street to a new 15,000-square-foot space in the Design House London building at 186 York Street.
According to a released statement, it is anticipated that Asics will enable Race Roster to become the top endurance event platform and partner by bringing premium branded experiences to events of all sizes, helping to solve marketing and sponsorship challenges faced by many race organizers and enhancing the runner experience by offering access to additional Asics platform and loyalty programs.

---
The Tricar Group unveils city's first privately funded sports field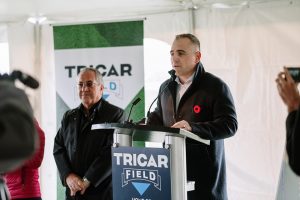 Photo: Tricar vice-president of operations, Adam Carapella
ON WEDNESDAY OF this week, The Tricar Group broke ground on Tricar Field, a new turf sports field located behind their head office on Colonel Talbot Road.
The $2-million project is the first turf field in London that is 100 per cent privately funded and will be home to the London TFC Soccer Academy.
"We are committed to improving our great community in as many ways as possible, and this is another example of that commitment," said The Tricar Group vice-president of operations, Adam Carapella. "We saw this as an opportunity to develop otherwise unused land into a recreation facility that will give back to the community we live and work in. We are really excited that Tricar Field will benefit children of all ages for many years to come."
The project will include a full-size regulation soccer pitch with lights, as well as two smaller fields. Tricar hopes to open the facility next spring.
In addition to becoming the training facility for London TFC, Tricar is actively working with partners to provide the field for use by sports camps and other recreational endeavors within the city. The company said it chose to install a turf field because it allows for multiple uses and provide certain benefits over traditional grass fields, including increased time of use, improved performance and safety, less need for constant upkeep and no need for water, organic or chemical maintenance.

---
Western partners on research of proprietary yeast for cannabis beverages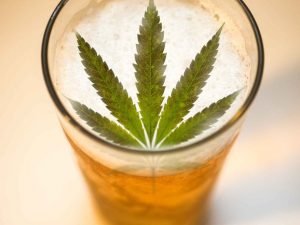 Photo: Western is partnering with Province Brands of Canada to develop yeasts for brewing cannabis beers
WESTERN UNIVERSITY HAS received a $45,000 research grant to study and develop yeasts used in brewing beers made from hemp and cannabis.
The grant is funded by the Ontario Center of Excellence's Voucher for Innovation and Productivity program and by the Natural Sciences and Engineering Research Council of Canada's Engage program, and the research will be conducted in collaboration with Toronto-based Province Brands of Canada, developers of the world's first beers brewed from cannabis.
The proprietary yeast being developed is expected to be a revolutionary and time-saving technology which can be used in crafting beers made from hemp and cannabis, as well as in other applications. The yeast will allow Province Brands of Canada to brew its beverages using no barley, sugar or grains and instead fermenting the cannabis plant matter.
"Applying cutting-edge bioengineering tools and advancement in agriculture to the rapidly evolving cannabis industry is creating an extremely exciting environment for entrepreneurs and new graduates in many business sectors," said Dr. Lars Rehmann, associate professor in the Department of Chemical and Biochemical Engineering at Western. "Excellent support for joined projects between universities and highly innovative companies can result in outside-the-box solutions to industrial problems, providing a competitive edge to everyone involved."
Brewed beverages containing cannabis are expected to see explosive growth when Canada becomes the first country in the world to allow for the sale of recreational cannabis edibles and beverages at a federal level later this year.

---
Featured Business Event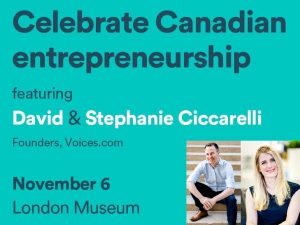 Celebrate London Entrepreneurs with BDC  | November 6, 2019, 5:30 p.m. to 8 p.m., Museum London
Join BDC for a cocktail reception as they celebrate Canadian entrepreneurship and 60 years working alongside London entrepreneurs. The event features
› Keynote presentation by David Ciccarelli, co-founder & CEO of Voices.com, followed by a fireside chat with David and his wife, Stephanie Ciccarelli, co-founder and chief brand officer of Voices.com. 
› Insights from BDC's latest study, A Nation of Entrepreneurs: The Changing Face of Canadian Entrepreneurship, from BDC president and CEO, Michael Denham, including tips and strategies to achieve higher sales, profits and employment growth.
› Networking reception to mark BDC's 75th anniversary and 60 years working alongside London entrepreneurs to help them build and grow their businesses, featuring a mouthwatering assortment of food and complimentary cocktails.