A year after legalization, one of Canada's ­foremost experts on medical ­cannabis continues to advocate for education and awareness
Photo: Dr. Mike Hart
DR. MIKE HART doesn't consider himself a boundary-pusher, which is surprising since he is one of the most prominent cannabis-friendly doctors in the country. Not a boundary-pusher, he says—just a doctor who believes in using every tool in his toolbox to help patients. And when that includes pointing a patient towards cannabis, he's all for it.
"I just do the best thing for the patients, whatever has the most ­evidence," he says.
But in a profession that has generally been uneasy about medical cannabis (but required by courts to permit it all the same), putting pot alongside the prescription pad as an equal instead of a last resort is a bit of a radical position in its own right.
Since writing his first cannabis ­prescription five and a half years ago, a lot has changed—for cannabis, for Canada and for Hart and his practice, the ReadyToGo clinic on Richmond Street. In 2014, he was the first to open a clinic in London with a cannabis specialty; now, there are about a half-dozen. The pot he's prescribing is no longer ­coming from the tightly controlled, version-1.0 market, but from a constantly growing national market, now with hundreds of licensed growers.
"It's definitely more difficult to chat with my colleagues and people who are against cannabis. I look forward to the day when it's introduced into the medical curriculum, and med students will be learning about medical cannabis" —Dr. Mike Hart
Patient demographics have changed, too. "A lot of people, at the beginning, were younger people, but now that cannabis is legal, and now that there's been a lot more buzz about it, you see a lot more older ­people," he says.
"Since that time, I think some other physicians have come on board, and see the value in medical cannabis and have started prescribing it for the patients," he continues. "That's really nice."
Hart is mostly self-taught when it comes to cannabis; the research is out there if you want to look for it. For many doctors, the issue keeping them from seeing pot as a medical tool is not a lack of research, but a lack of will.
Still, Hart is reluctant see himself as a cannabis doctor, just like he doesn't see himself as a boundary-pusher.
"I would say I'm still a jack-of-all-trades," he says. His family medicine practice, often pot-free, co-exists alongside his reputation as a pot ­doctor perfectly comfortably, though a lot of his patients are referrals from other physicians who aren't as equipped to prescribe cannabis (or as comfortable doing so) as he is.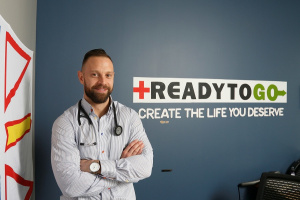 But whether he admits it or not, there's no question that Hart is on the ­progressive end of the ­medical ­profession. He's had research ­published about his prescribing of ketamine, a powerful animal ­anaesthetic (or a ­dissociative British rave drug, ­depending on whom you ask) for patients with treatment-resistant depression. He often recommends patients "optimize their hormone ­levels," and he tries not to prescribe "harsh medicine" like OxyContin, because they are "really, really addictive." He is not, in other words, your grandmother's family doctor.
For now, Hart wants to stay the course at his practice, which moved its office to some prime real estate on Richmond Row about two and a half years ago. Which makes sense, in a way, since being a cannabis-forward doctor is still, heading into 2020, a break from convention and the mainstream. Hart knows this and gets it—par for the course in a profession not known for its willingness to change all that quickly.
"It's definitely more difficult to chat with my colleagues and people who are against cannabis," he says. "I look ­forward to the day when it's introduced into the medical curriculum, and med students will be learning about ­medical cannabis."

Kieran Delamont