A long-time staple of London's music scene rebrands with a national focus
Photo: Ryan Schroeyens
ASKED IF THE launch of Music City Canada, an amalgamated rebranding of the Schroeyens family's growing music shop empire here in London, is a bit like the meeting of the Five Families in The Godfather minus the crimes, owner Ryan Schroeyens thinks about it for a moment.
"In a way, it is," he laughs.
Over the last 40 years (Schroeyens's father, Ron, founded the company in 1981), the family has expanded their music and audio-visual production business in different directions. Best known around town might be The PA Shop, catering to audiophiles and event planners, and London Guitars, a specialty store boasting the Barenaked Ladies' guitar tech as a staff member. But they also run London Percussion, AV Solutions, Charterhouse Studios and a live event production business.
In November, partly in a push to expand their online retail presence and partly to formalize the tight relationship between all aspects of the business ("the teams worked very closely together already," says Schroeyens), the ­business announced it was rebranding as Music City Canada, bringing the Five Families, so to speak, together.
"We felt it was necessary to have a national brand—with a family business approach" —Ryan Schroeyens
"It's a universal brand that the other brands will live under," explains Schroeyens. "London Guitars doesn't go away—it just operates under a new name. It's a way of cross-promoting different parts of the business."
Schroeyens says the move to change the name made sense, as the company's online sales have been growing across the country, not just in Southwestern Ontario. "We felt it was necessary to have a national brand," he says, "with a family business approach."
In terms of operation, not a whole lot has changed just yet. "We are seeing an increase in sales," says Schroeyens. "Building out the team over the next year is the plan, and then from there we definitely plan to grow and expand."
There's a tricky balancing act here. Schroeyens knows this. Stepping beyond your identity as a local speciality store—one with a reputation strong enough to attract people from across the province and to get Corey Hart to record a single at Charterhouse Studios last year—to grow into a national online brand is a move that comes with all sorts of challenges and risks.
To try to recreate the in-person customer service the company has long prided itself on, they've invested heavily in digital customer service tools, like live video chat and shipment tracking.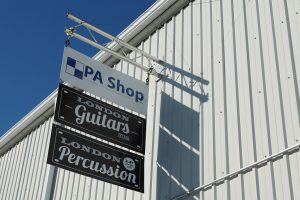 "We have the best of both worlds," Schroeyens says. Online, the business markets to a much wider customer base, which in turn helps support the brick-and-mortar store—very much a destination for gearheads in its own right. Indeed, the one thing Schroeyens and crew are steadfast about is not wanting to lose what they have built in London.
"We see people from all over the world here," says Schroeyens, ­noting that touring artists often stop in around their concerts, whether to pick up supplies or just meet with the industry vets who work in the store. "There's people who are recording here, and Londoners don't know it's happening."
And while that reputation has been well-earned over four decades in the business, it's looking ahead that is exciting.
"It is new. It's interesting for us," Schroeyens says. "It's creating a whole bunch of new things, [and] I think this is a good way for people to understand the full scope of what we do."

Kieran Delamont