Social Capital: Theresa Carriere
Meet the Londoners working to make a meaningful difference in our community
---
Theresa Carriere, Founder, OneRun
Passion: Cancer support
---
"I was diagnosed and treated for breast cancer in 2007. I was extremely fortunate with an early detection, and as a survivor I felt it was important to do what I could to help others dealing with cancer. I did my first OneRun—one survivor, one day, 100-kilometre run—from London to Sarnia in 2010.
This year, since it's our tenth anniversary, we've changed it up a bit. We have identified 10 local survivors plus 10 survivors from across Canada who are each going to run a 10-kilometre stretch with me on June 19. The plan is for the national survivors to take OneRun back to their own local communities. Being part of a run like this is so powerful, and we want to share that magic with other communities across the country.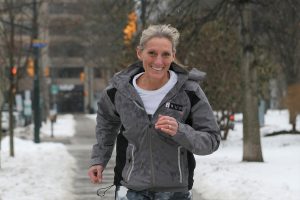 OneRun has a fantastic team of volunteers and sponsors. Over the past 10 years, we have raised more than $1.3 million to help fund local cancer support programs. This year, the funds raised will be directed to Wellspring Cancer Support Centre and, for the first time, to Childcan, an organization focused on childhood cancers. Sadly, kids' cancer is on the rise. We have 10 high schools in London, Parkhill, Strathroy and St. Thomas that will host OneRun events in May, and we plan to have child cancer survivors out to talk to the students—the idea of kids running for kids really resonates.
Beyond the health issues, there are so many other stresses that families experience and so many extra expenses. People tell me their stories, and I figure if we have the ability to help these folks we should keep doing it. We have to continue because, unfortunately, there are still many who are suffering from this horrible disease."
---
Social Capital is Presented By: