Achieving an Ontario first with its B Corp ­certification, McCabe Promotional looks to turn a successful past into a transformative future
Photo: Jamie McCabe
THERE'S SOMETHING IRRESISTIBLE about the humble t-shirt, especially if it's free. Same goes for pens. Or almost anything commemorative, so long as it's free. Without unleashing a theological debate, consider the possibility Adam and Eve were overrun with "first annual" loin cloths, hammers and spears.
It seems to be an innate human quality. How many t-shirts, pens, mugs and lanyards do we all have, shoved into the back of closets or filling junk drawers?
The mysterious attraction of these items was the starting point of McCabe Promotional, long before there even was a McCabe Promotional. And for all the cutting-edge systems and education the company relies on today, the primal desire to receive commemorative collectibles is still at the core of everything it does.
In the mid-1980s, Jim and Sandi McCabe were running an advertising company, scraping by at times, but eventually finding a way to buy a building on Wharncliffe Road and move out of their dining room/basement set-up. They also published TV Facts in London and Kitchener-Waterloo and did some publishing for the Better Business Bureau.
"It was really starting to cook as we got more accounts, and at some point I wanted to give away pens as promotional items," recalls Jim. "I found someone to supply them, and then people running their own businesses asked me where I got my pens. Same thing for t-shirts and jackets. I ended up as a kind of middleman, getting these products to people who wanted them. We were selling a fair bit of promotional stuff, and that was when we decided to sell the TV Facts business."
It wasn't long before they had moved on from all their other businesses to focus on what became known as McCabe Promotional Advertising Inc. More than three decades later, that business employs 50 people in four cities. It has dozens of clients across the country, to whom it supplies a dizzying number of products, often custom designed and created.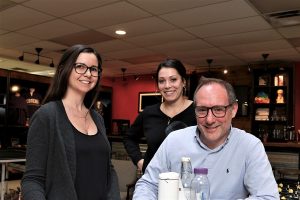 After decades of growth and success, this year is shaping up to be its most exciting. McCabe just revamped its image with a new logo and web design. This spring, it will move from its long-time Sovereign Road home to a snazzy new headquarters on Maitland Street. And earlier this year, it earned B Corporation certification, an accomplishment of greater magnitude than the "B Corp" nomenclature might suggest.
It all adds up to a transformative year for a company now run by the second generation of McCabes. As is often the case when a family ownership transition is successful, the incoming generation started at the bottom and slowly learned the business.
Son Jamie, 44, has been president for 10 years and grew up working in the business, starting when it was still run exclusively from large portions of the family home. "I would charge one cent for pencil sharpening and five cents to empty the waste basket," he recalls. He also worked there during summers while in school — presumably at a higher wage scale.
After he had graduated from Ridley College and then Lakehead University, where he studied political science, he had neither a job nor any plans. That prompted a conversation that father and son remember with uncanny similarity.
"He asked me what I was going to do now that school was done, and I said I wasn't sure, but maybe I would backpack across Europe," Jamie says.
"Yes, I remember him saying something like that," Jim recalls. "Ridley and Lakehead weren't cheap, you know, and we were thinking it was time for him to get on with it."
"He told me unless I had another plan, I could show up for work Monday morning," Jamie sums up. "This was on Friday, so I had the weekend. I remember thinking I would do it until something better came along."
McCabe is the first promotions distributor in Ontario to be certified and one of only eight worldwide
Happily, for all involved, nothing ever did. He started by stocking products in the warehouse, largely organizing the Sovereign Road storage area. That led to sales, which led to business development. Along the way, long-time employee Colin Rous bought into the business. He is a minority owner today and works with Jamie running things.
Jamie's older sister, Debbie, is not involved with the business.
The senior McCabes worked long hours to establish and grow the business. "Sandi was instrumental in everything we did," Jim says. "She was great at customer service, figuring out what we could do to make our customers happy."
She was a nurse at University Hospital when Jim bought the original ad agency franchise. "She loved nursing and told me not to count on her to help with the business," he recalls with a laugh. "She helped on her off-days but didn't want to join full-time. When it got to the point that I was overwhelmed, I said I would find a way to pay her what she was making at the hospital if she joined me full-time."
Each month, Jim would put off reading the fiction he loved until he read one business book. It was his own intuition, though, that had the greatest effect on what they did. "We'd work our asses off to get a new account and then love our customers to death. If you did that, they would stay with you. We were the first promotional company in Canada to offer a 100 per cent guarantee. If the customer was unhappy with anything, we redid the whole order."
The company garnered several awards and certifications, among them Distributor of the Year from the Promotional Products Association of Canada, known today as the Promotional Product Professionals of Canada.
The only thing that slowed Jim down was a stroke 15 years ago. "That's when I realized I couldn't do it forever. There had to be a transition. That happened a decade ago. Jim hung around in a smaller office for a few months but soon realized Jamie had things under control. There was no need for a second Pope. Besides, there was tennis and golf (and in Sandi's case, painting) to enjoy, in London and Florida.
For the last 10 years, Jamie has grown the company steadily, adding about four employees per year and expanding to Ottawa, Toronto and Clinton (where a friend in the same business joined McCabe).
In a sense, however, the heart of his tenure will really begin this year. He embraced the concept of the B Corporation and unleashed marketing manager Alexandra Webb to work on a checklist of no less than 100 items required to earn the certification. Employee training has evolved into McCabe University, an intensive training program for all new employees, helping immerse them in the culture of the organization, particularly in the new B Corp reality. It also provides continuing education for all employees and encourages them to give time to charities and causes they support.
And he is moving the company downtown, in large part to create a more enjoyable working environment for his employees. (Worker retention is not just an issue for tech firms creating games for our phones.)
"We've renovated Sovereign Road so many times over the years, trying to add things for our people. And we've increased benefits and added things like unlimited vacation," Jamie says. "But moving to a new, modern space located downtown will allow us to do more. People will be able to walk or bike to work or go somewhere fun at lunch. Our goal is to be an inspiring place to work."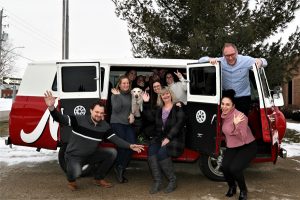 Becoming a B Corp is as much about inspiring the company's own people as it is about reflecting its value system to its customers. The 'B' in B Corp stands for beneficial. The non-profit B Lab, founded in Berwyn, Pennsylvania, in 2006, certifies organizations that voluntarily meet standards of transparency, accountability and sustainability. McCabe is the first promotions distributor in Ontario to be certified and one of only eight worldwide.
"When we make decisions, we consider all stakeholders, including our employees along with the environmental impact," Jamie says. "We were doing a lot of these things already, but we weren't documenting them. We've also changed our articles of incorporation to reflect these beliefs."
It doesn't mean that every product McCabe sells to its clients is biodegradable with zero net impact on the environment. But it does mean the items and manufacturing process should be sustainable, using ethically sourced materials.
"One of our clients, Libro, is a B Corp and suggested we look into it," says Webb, who spent much of the last year on the project. "We work with a lot of small-scale suppliers who are thrilled to sell to a B Corp."
Like Sandi, Webb worked in a hospital setting before joining McCabe. She had turned down McCabe but quickly regretted it. "I called back and asked for another chance," she says sheepishly. That was six years ago. She started as an administrative assistant and is the company's first marketing manager today. She's also in charge of the B Corp project.
Another constant presence in the office is Marigold, a 12-year-old female mutt who takes a keen interest in everyone who walks through the front door. Among the thousands of products McCabe offers its clients, there is the Marigold Collection. McCabe gives three per cent of the proceeds from these products to various Canadian charities. The Marigold Grant Program helps employees direct funds to charities of their choice, matched by the company. The program is an example of something McCabe was already doing that fits within the B Corp philosophy.
He couldn't have imagined how all of this would work out as he stewed for an entire weekend, trying to decide whether to work for his parents. But as Jamie leads the company into its next phase, he's very happy he showed up that Monday morning.

Christopher Clark
To read more about tbk, visit Christopher Clark's blog at www.christopherclarkwriter.com/blog