Born out of necessity, Wooly Maple proves to be a little ­business that could
Photo: Ashley Burt
AS SHE DESCRIBES it, launching ­artisanal craft and clothing line Wooly Maple wasn't much of a choice for Ashley Burt. Instead, it grew first out of a response to her own mental health challenges, and later when she needed some income, into a full-fledged job.
But the idea didn't start there. Burt was in therapy for a personality disorder when she rediscovered crocheting.
"Crocheting, just the act, can be so helpful in reducing anxiety and reducing your heart rate," she says. It quickly became "a form of art therapy," she says — something that was at once expressive, calming and — when she completed a project — something she could use.
"The group therapy I was in, it required a lot of time," she explains. Most employers weren't willing to let her take the time off for necessary therapy sessions, so she was faced with a choice: steady, stable employment or her mental health.
"I was able to find some consistent employment for a few years, but my mental health just wasn't built for a traditional workplace," she says. "When I found my mental health slipping again, I wasn't willing to risk it."
"My customers have shown up for me online like I can't believe. If this support continues, I'll be fine — and that's a huge privilege" —Ashley Burt
Burt didn't identify as a natural entrepreneur, at least not back then. Starting a ­business "wouldn't have been anything I planned to do," she says. "Circumstances presented ­themselves in a way that I had no choice."
Making the best of bad circumstances is often what separates successful businesses from failed ventures. Faced with uncertain income, Burt looked to her crochet projects as something that could generate a bit of money. At first, Wooly Maple started selling crocheted hats to family, friends and ­followers on Facebook. "I crocheted hats, and that's how people knew me," says Burt. Then she ­developed a logo and some accompanying branding, and "people really responded, ­saying they wanted it on clothing." So, she grew the clothing side of the business.
Now, her product line has expanded even further, from ­screen-printed t-shirts and scrunchies to sweaters. And all of it carries the same ­self-care DNA that launched the company in the first place.
"It's definitely cozy, leisure wear," says Burt. "All things you just really want to curl up with. A quite literal comfort item, something that's going to keep someone nice and warm."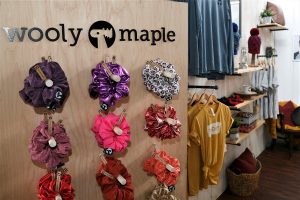 Burt might be a classic case of being rewarded for simply putting herself out there. One week, three years ago, she made the decision to try to take what was at that point a small but growing crocheted hat hobby-business into a full-time gig. A couple days later, she was offered a permanent booth at The Market at Western Fair District. "I don't believe in signs that much," she says, "but… "
Three years on, the company is bustling along. Burt still has a ­permanent booth at the market, and now employs seamstresses to help with the production of her pieces. Wooly Maple also has a scrunchie of the month club — since scrunchies have "completely blown up," laughs Burt.
All along the way, Burt has rolled up her own sleeves to learn how to make whatever it was her customers wanted. When they wanted t-shirts, she learned how to screen print. When they wanted scrunchies, she learned how to make those, too.
As a small business, Burt knows that the next few months will be rough, with the viral pandemic and the associated economic slowdown. Like a lot of other businesses, she's doing her best to increase her online sales as she weathers the storm, eager to get back to her preferred methods: connecting with customers, selling in person.
For now, she hopes that all that work making personal connections with customers will pay dividends. "I have so many customers who have become friends," she says. "And just in the last week, my customers have shown up for me online like I can't believe. If this support continues, I'll be fine — and that's a huge privilege."

Kieran Delamont