Sharing the food — and the stories — of their ­homeland, a foodpreneur couple moves to share their kitchen space, too
Photo: Malvin and Maryam Wright
IT'S A SUPPER club, pop-up eatery, catering business, licensed kitchen-for-rent and community-building social enterprise — all wrapped up in one unique commercial model. Yaya's Kitchen and WOW Kitchen is one of the newest concepts to set up shop in London Food Incubator in Old East Village, offering both a taste of Northern Nigeria cuisine and culture to the public, and affordable cooking space to local food entrepreneurs.
The notion for Yaya's Kitchen, ­interestingly, first took root in northern Canada. Malvin and Maryam Wright had moved from Nigeria to Nunavut and discovered that cooking was the optimal way to connect with their new community. So, after moving to London in 2017, they put up a post on Facebook and again invited friends to enjoy ­traditional Northern Nigerian food in their home. Gatherings started in their backyard, then spilled into the kitchen and dining room and, before long, Yaya's Kitchen had become a monthly ­supper-club event.
As the gatherings grew, the Wrights began to look for a larger space to rent. It needed to have a licensed kitchen and room for a sit-down meal.
"We looked at churches and ­commercial kitchens and approached restaurants to see if we could use their space on a day that they were normally closed, but we couldn't find a space that would work," explains Malvin. "We ­figured if we're looking, then other ­people must be looking, too."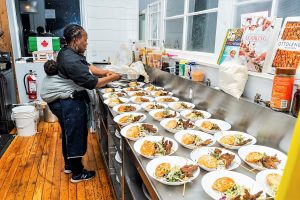 Photo: Maryam Wright (and daughter) in the WOW Kitchen
led the couple to develop the accompanying WOW Kitchen concept, a rental offering enabling other food ­entrepreneurs to use Yaya's Kitchen space when it was sitting idle. "There's a gap in the market that we thought we could fill," says Malvin.
The Wrights ran a successful test run of Yaya's Kitchen Supper Club in the London Food Incubator early in 2019, and as luck would have it, a permanent space became available for them to lease in the fall. Since the grand opening in late November, the couple has hosted monthly supper club events and Saturday afternoon ­pop-ups where people can eat-in while enjoying music and the ­company of other diners or grab a meal to take home.
Maryam learned to make traditional Sahel dishes ­growing up as the oldest of four siblings in Northern Nigeria (yaya means 'older sister'). Malvin trained at George Brown Culinary School and worked as a chef in fine ­dining ­restaurants in Toronto and Peterborough. Eventually he attended university, then worked as a community ­development practitioner in Latin America and Africa, which is where he met Maryam.
"We wanted to create a space to tell the story of the Black Experience through food. We are also exploring food's role in building community" —Malvin Wright
Although the menus feature food from the Sahel region of Africa, they also integrate ­traditional dishes from other parts of the globe. "We wanted to create a space to tell the story of the Black Experience through food," says Malvin. "We are also exploring food's role in building community."
For supper club evenings, communal tables are set up in the common area of the food incubator. There is music and storytelling and a multi-course sit-down meal — a two- to three-hour dining experience with a curated menu of small plates or tapas. Those evenings Maryam runs the kitchen while Malvin mainly looks after the guests, and both rely on a team of dedicated volunteers who help prepare and serve the food. "We have volunteers who are willing to come in to help — they get to see what we do in the kitchen and get a free cooking ­lesson, and of course a meal," says Maryam.
"We still use Facebook and Instagram to let people know about our events, and we post them on our website, but mainly people find out through word-of-mouth," says Malvin. In ­addition to the supper club and pop-up events, Yaya's Kitchen is growing the catering side of the business and offers private in-home dinners.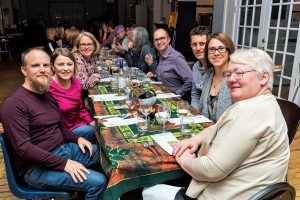 Photo: A Yaya's Kitchen Supper Club in the Food Incubator Building
At the same time, the Wrights are reaching out to existing and aspiring food entrepreneurs, ethnic and community groups and culinary training programs to let them know about WOW Kitchen with an eye to growing rental side of the business.
"We have a local entrepreneur who makes wellness meals for her clients here and capacity for more sublets," says Malvin. "For a daily rental fee of $150, people have a fully equipped kitchen to beta test concepts or recipes."
One early hurdle has been the necessity for renters to have their own insurance in place. "It's hard to find an affordable package — insurance companies aren't really recognizing or supporting the gig economy," says Malvin. "I'm currently exploring options with an insurance provider."

Kym Wolfe