Robin Honey chats about career twists and turns, creative processes and the transformational powers of great branding
Photo: Robin Honey
ROBIN HONEY IS a brand consultant who has worked with scores of companies to name more than 100 products and services and to design thousands of logos. From London, she studied special arts at Beal after high school, worked as a fine artist for a couple of years and then studied advertising illustration at Sheridan College.
She worked at a Toronto ad agency for a couple of years then moved back to London and founded Honey Design, a company she ran for more than 25 years. Within a few years of getting started, she shifted from traditional ad agency to brand specialty boutique: She had found her niche.
In 2014, she sold the business to Arcane and worked in collaboration for a few years. When that ended, she and recently retired husband, Jeff, began travelling and "working our way through our bucket list, enjoying life at much more relaxed pace. Our son lives in Waterloo, so we're empty-nesters."
Former clients began to seek her advice, so she hung out a ­shingle as a brand consultant, without impinging on her bucket list activities.
---
You've specialized in design and branding your entire career. Where did that interest come from?
I started out in 1989 as a full-service ad agency, but realized that my most successful engagements — the ones I got the most satisfaction from — were when I could dig into the organization's 'why' and create something with some longevity that was more meaningful and valuable. I changed my focus to branding to facilitate that. My strength turned out not to be doing the hands-on design work myself — I had lots of great designers over the years do that for me. It was my ability to strategically combine a big idea with the right words and the right images.
After years of running Honey Design, you're now working as a brand consultant. What specifically does a brand consultant do?
I'm really doing what I've always done, but without the encumbrance of the administration. Having to make payroll and manage people takes a lot of time and energy away from creativity. I'm back to doing what inspired me to go into business: solving problems and helping people. That involves interviewing the client to determine what success looks like for them. I do research to determine what is working and what is not. For new companies, I come up with brand names. Everything is based on a brand story, though. That is part of a blueprint that lays out the reasons the company exists and positions how they can make that resonate with their audiences. A brand is about telling a better, more coherent story, and it can be transformational when it is all brought together with the right visuals. I have such vast experience now that I can shorthand the process. And as an independent, I can hire the designer who best fits the situation. I've always sketched my logo concepts, so I give the designer the broad idea, the brand story and a mood board as reference. It is so much fun seeing the idea come to life.
Are you conscious of observing the world through a design-related lens? Is there a product or brand doing something you like that others might not even notice?
I notice things other people might not. I see themes and trends that influence my work. I think design is a differentiator. I love fashion and interior design, fine art and architecture — all forms interest and inspire me. I'm drawn to things that are unique, because as a creative, that's what I love to do myself. It's that sense of discovery and constant learning that are part of my makeup.
Is it difficult to mesh the creative necessities of branding process with the expectations and demands of clients?
A strong idea creates a great logo. Now, I also create names, so that provides even more integration in the process. Some of my clients claim I am psychic, but really, I'm just a very good listener… although sometimes I can visualize the solution fully formed in my mind very quickly! I was the first to specialize in branding in London and developed my own process that has evolved, but still serves me well today, years later. I'm very lucky to have found a career that uses all my talents.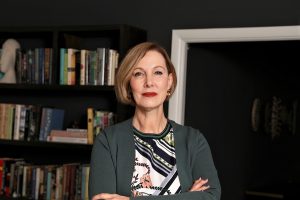 You've worked a lot with the craft-beer industry. How did that specialty develop?
That came about because the Forked River [Brewing Company] guys came to me with a thorough business plan, a great name and complete artistic freedom. Then a former client came to me with a plan to do something really ambitious, and again, gave me free reign. My love of research and history resulted in me writing the Cowbell Brewing Founders' Series stories and imagining the characters and visuals for the packaging — all after naming the brand itself. I've never had such fun, and I've never seen such a flawless execution. There are a couple of others, but Cowbell is definitely a career pinnacle for me. It has been one of the most successful craft brewery launches in Canada and it continues to thrive under the Sparling family's amazing leadership. I'm so grateful for their trust in me.
I assume you don't have a typical day at work, but can you describe a typical process working with a client?
Meeting face-to-face virtually or in-person. Listening and asking questions. Doing research. If I put all the information in, and let it incubate for a while, I can then start the creative process. I also really enjoy presenting concepts to the client. That exchange of ideas and feedback help the end result to be uniquely theirs.
Best part of your job?
Having that spark of a great idea that I know is the right one; then seeing it out there and hearing from my clients how much it has impacted their business.
Worst part?
I'm still not great at paperwork — I have to remind myself to invoice!

Interview by Christopher Clark