As cleaning and disinfecting becomes a priority for reopening businesses, entrepreneurs are pivoting to meet the demand
Photo: Joseph Jongsma, James Smith and Paul Yuhasz
WHERE SOME SEE uncertainty, the entrepreneur sees opportunity. Such was the case with the team behind Sock Savings, a business consulting group founded last October by Joseph Jongsma, James Smith, Paul Yuhasz and Anneka Burghout.
Watching the Covid-19 crisis unfold in China this February, the team realized 2020 would not be business as usual. Drawing on their entrepreneurial experience and a heartfelt desire to help others, they worked around the clock to develop Disinfect & Fog, a disinfecting and fogging business designed to help people safely return to work in the post-pandemic world.
Launched this April, the company cleans and decontaminates commercial, institutional and residential environments for Covid-19 and other potential bacteria, viruses and germs.
Fogging has long been used as a non-invasive way to combat mould, pests and stubborn odors, but adapting the technology for the fight against a virus like Covid-19 is something relatively new.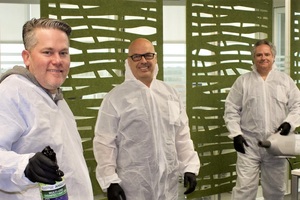 Jongsma says the Disinfect & Fog team took their time to do their due diligence before jumping into the field. That included training with a mentor with more than a decade of experience in the fogging industry. "We wanted to make sure that we do the job right and that we understand the different types of chemicals and foggers needed to disinfect and fog different kinds of environments," he says.
Disinfect & Fog uses ultra low-volume (ULV) foggers and dry foggers in combination with physical cleaning to ensure thorough disinfecting, even in high-touch or hard-to-reach areas. "Using dry foggers allows us to get to all those surfaces like keyboards and other sensitive electronic equipment that don't mix well with moisture," Smith explains.
The company's disinfecting fogging system allows for a 99.99 per cent effectiveness using a-allergenic solution. Equipment and non-toxic disinfectants are approved by Health Canada for use in home and office. "The products we use are guaranteed to kill all forms of pathogens, but they will not harm people," says Smith. In fact, once a location has been fogged with the food-grade disinfectant, there is no need for additional rinsing or wiping.

Disinfect & Fog offers custom fogging solutions for large offices, institutional settings and manufacturing facilities, as well as restaurants, retail stores, homes and even automobiles.
The company is looking to expand its team of trained technicians in anticipation of increased demand as the economy starts to reopen.
"We see a lot of interest in the market," Jongsma says. "This is a step companies know they are going to have to take in order to help their employees and customers feel safe coming into their environments. We are here to help them make sure that their space is disinfected properly."

Nicole Laidler