Fundraising in the age of Coronavirus
United Way CEO Kelly Ziegner and 2020 campaign chair Trevor Squires chat about virtual versions, authentic ­conversations and the spirit of ­collaboration and resolve
KELLY ZIEGNER HAS been CEO of United Way Elgin Middlesex since 2016 and began with the organization 10 years ago. She grew up in London and attended Montcalm and Clarke Road secondary schools before studying English and literature at Kinga's University College. Married, she has a daughter about to start at Concordia. She's a cycling enthusiast and often rides to work from her home in Old North. She also has a dog named Chachi.
Trevor Squires has been general manager at McCormick & Company since 2018, when he moved to London. He grew up in Nova Scotia and studied at Saint Mary's University in Halifax. He's been with McCormick for six years after working for HJ Heinz and Unilever previously. He too is married, to Janis, with a daughter, Hannah, who just graduated from Laurier with a business degree. His one-year job as chair of this year's United Way campaign began in March and has been a different challenge than expected. He loves food and tastes of many kinds, at home or at restaurants, embracing the McCormick vision of 'A World United by Flavour'.
We've all read about the difficulties charities are having during the pandemic. Beyond the obvious distancing requirements, how has it affected your operation?
ZIEGNER: Like everyone, our staff of 25 has had to adapt by working from home and having virtual meetings. We have a well-established network of volunteers who are committed to helping our community. One immediate challenge is that we normally raise about $1 million a year with special events at various workplaces — things like chili lunches and bake sales. We are working with volunteers on creative strategies to replace that revenue, through payroll giving, and through alternative events.
One example of a change we've made is our kick-off event for this year's campaign. It will be a virtual version of our annual 3M Harvest Lunch. It used to be lunch with a couple of thousand people in downtown London. This year, it will be a virtual event that is asking people to buy a $10 lunch for someone in need. It is taking place virtually all week from September 21 to 25, with a special lunchtime streaming presentation on September 24. People can participate through United Way's social media and on the website.
Trevor, are there similarities with how UW is coping, compared to your day job at McCormick Canada?
SQUIRES: McCormick has been a part of the critical food supply, providing products to grocery stores, restaurants, public services, hospitals and care facilities. Our top priority during this pandemic has been the safety and well-being of our employees and the communities they live in. At our facilities, we implemented employee protocols and rigorous safety procedures to keep our employees safe. For employees who are physically working in locations critical to keeping our operations running, we implemented hourly wage increases, extended leave to care for family members, and committed to maintaining salaries if operations were suspended.
There has been a surge in consumer demand for our products as so many people were cooking at home so much more. Canadians are looking for assistance to create meals and memorable family moments. McCormick Canada kitchen, creative and digital teams are working from home and experiencing these lifestyle changes right alongside our consumers, and within 72 hours of our work-from-home mandate, they were creating how-to video content, cooking at home Q&As, Instagram cooking stories and more — and will continue to do this.
Have you revised the fundraising target this year?
ZIEGNER: We've moved away from setting an official target in the last few years and instead focus on the needs of the more than 120 programs and services we support. We invested $6.5 million in those programs last year, and we know in many cases the needs will be greater because of the pandemic. Examples include the South London Neighbourhood Resource Centre, which is reporting a tenfold increase in people accessing their emergency food cupboard and the Canadian Mental Health Association, which is reporting a 43 per cent increase in calls to their supportive listening line.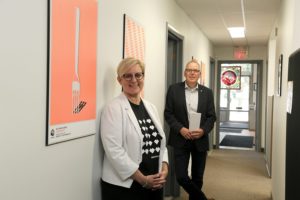 Your brand is always about supporting local needs. Is that more difficult when everyone is focused on a global challenge like this?
SQUIRES: This all started just after I had signed up for the year, and I worried people would be reticent to get involved. I've been calling people to serve on the campaign cabinet and no one has declined. The response has been wonderful. The overall focus areas of the campaign are poverty, with a focus on hunger and equitable access to basic needs, and mental health, with a focus on social isolation and wellbeing. These are very much local issues exaggerated by the pandemic.
ZIEGNER: We've found a spirit of collaboration and a resolve to protect the most vulnerable right now. People want to help. We received our largest private gift ever, and many people who are in a position to give are increasing their regular donations.
I assume many people who normally support United Way are more worried about their own employment status than usual. How do you acknowledge and deal with that reality?
SQUIRES: We have been very impressed and humbled by the number of individuals and workplaces who have confirmed their commitment to this year's campaign. In this time of Covid-19, there will be fewer events and we are really focusing on the importance of individual gifts during the campaign.
ZIEGNER: We are having authentic conversations with people about how they are doing. There's real empathy out there as most of us know someone who's been impacted by this crisis. United Way has always been about harnessing the power of the collective. If each of us who is able to give does, we can ensure no one gets left behind.

Interview by Christopher Clark
To view this story in Virtual Paper format, click here.