Innovative pallet handling systems manufacturer QTEK Design lands a big client — and eyes even bigger potential
Photo: QTEK Design owner, Paul Redman
MODERN RETAILING DEPENDS on many technologies — price scanners, inventory algorithms, refrigeration and, of course, computers.
There's something more prosaic, however, on which much of it is based: the lowly pallet.
Most stock at your local Sobeys, Lowes or Walmart arrives on wooden pallets. And depending on the vibe of the retailer, some or most of the product is displayed that way, too. But it takes more than a forklift and a certified operator to load, unload and organize those pallets.
That fact is why QTEK Design exists and is growing impressively, hiring an average of one person per month, with orders that will keep it busy for the next two years and beyond.
"Walmart USA just ordered 65 units, which is about 18 months' worth of sales," says QTEK owner, Paul Redman. The company spun out of an older company he had that supplied the food-and-beverage industry with logistical support.
"We're on a huge growth curve, and the market is really big" ―Paul Redman
QTEK manufactures a series of machines that make loading and unloading pallets speedy and safe. Its most popular machine is the DStacker GS.
In many warehouses, pallets are moved by forklift but are often stacked and retrieved by hand. That's labour intensive and sometimes dangerous.
"What you sometimes have is pallets stacked up high, so the employees pull them off and let them fall to the ground. Then they pick the mix of items for a pallet they're filling. People and products are hurt, and it takes too long," Redman says.
Story Continues Below

The DStacker GS is a pallet storage and delivery ­system that can operate without electrical, pneumatic or ­hydraulic power. It can dispense a pallet every 10 seconds, and ­operators can retrieve and load the system without leaving the forklift, which minimizes injuries from manual ­handling and eliminates damage from dropping pallets onto the warehouse floor.
At nearly three dozen distribution centres across the country, Walmart USA fulfills orders for its individual stores. Each order is unique to each store. "A smaller store might order eight or nine pallets of mostly grocery items," Redman explains. "Someone needs to pick the right products to fill the order and put them on the pallets, and retrieving pallets by hand is slow and inefficient."
Pre-pandemic, Walmart USA approached QTEK ­looking for two DStackers for each of its distribution centres. Redman assumed the company had heard good things about the 18 units Walmart Canada had purchased three years ago.
"But no. They didn't know Canada was already using them," he explains. "It certainly helped to move things along, but it wasn't the reason they contacted me."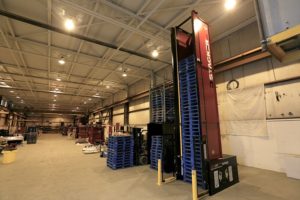 Redman got in and out of the U.S. just in time to set up a team of people to do the installation of the machines. He and his team in London had been doing installation, but the combination of Walmart's large order and the border restrictions meant he needed a new approach.
When the current order is installed, Walmart is ­looking at possibly buying 82 more. And PepsiCo is talking to QTEK about customizing a version of the DStacker to fit into its warehousing operations.
Says Redman, "We're on a huge growth curve, and the market is really big."

Christopher Clark
To view this story in Virtual Paper format, click here.