Pathway Group, a Toronto-based government relations firm, hangs out a Forest City shingle
Photo: Pathway Group VP, Kirsten Krose
REGARDLESS OF THE business you're in, it can be tough to have your voice heard at City Hall, Queen's Park or on Parliament Hill. With the opening of a London office, Pathway Group is ready to help facilitate the conversation.
The Toronto-based government relations, public affairs and communications firm has been helping clients build working relationships with three levels of government since 2002. The company is known for having a team that crosses political boundaries and for working with a wide range of sectors, including healthcare, manufacturing, transportation and infrastructure, post-secondary education, agriculture and food and technology.
"London has a rich diversity of businesses, institutions, not-for-profits and industry associations that deserve affordable access to high-quality government relations services just like their counterparts and competitors in places like Toronto and Ottawa," says Pathway Group partner, Jeff Bangs, in an email interview. "Our team is largely made up of people from smaller towns and cities, but we've been successful building incredible networks and understanding of how governments work."
"Sometimes, if you haven't had the experience working with government, it can be tricky to navigate the political landscape and policy process"―Kirsten Krose
The new London office is headed by Pathway Group VP, Kirsten Krose.
A Forest City native, Krose grew up in a politically active household, but says her first poli-sci class at the University of New Brunswick failed to impress. "I switched to economics and really enjoyed that," she says. That led to an interest in public policy.
In 2008, Krose worked on Peter MacKay's ­successful election campaign in Nova Scotia before moving to Ottawa to serve as executive assistant to Bev Oda, then the Minister of International Cooperation. The following year, she landed a position in the Office of the Prime Minister. "I worked in the bullpen of the communications department," says Krose. "It was very intense."
Provincially, she has worked for the Department of Social Development in New Brunswick and for the Ministry of Forest, Lands, Natural Resource Operations and Rural Development in British Columbia. She also has hands-on experience as a small business owner, having run a successful real estate business in Ottawa.
Story Continues Below

Krose returned to London to spend time with family in late 2018, with no intention of making the city her ­permanent home. "I was actually on my way back to Nova Scotia, but I started doing some consulting work and it grew from there," she says.
A friend suggested she reach out to Pathway Group to see if she would be a good fit.
"Not long after meeting Kirsten, we recognized that she shares the values we've grown our company on — a strong work ethic, a desire to level the playing field between government and the ­people government is meant to serve. And she puts customer service above all else," notes Bangs.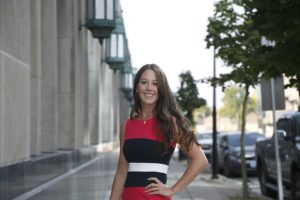 Krose officially joined the Pathway team in May, spending the summer months introducing herself to the London community by working the phones, participating in Zoom events and taking advantage of the city's many patios for in-person meetings.
She describes her work as building a bridge between clients and government.
"Sometimes, if you haven't had the experience working with government, it can be tricky to navigate the political landscape and policy process," she says, noting that is where having an ­outside resource like Pathway Group can help.
"Aligning Kirsten's demonstrated talent in government and politics with our track record in advocacy not only makes good business sense," says Bangs, "it gives community leaders in London a local champion like they've never had before."

Nicole Laidler