Everreal ramps up during a time of economic upheaval, following its own organic path
Photo: Cayleah Matthews, founder of Everreal
CAYLEAH MATTHEWS COMES from an entrepreneurial family, so perhaps it's not surprising she ended up as a foodpreneur. Her great-grandfather launched the Club House brand (now a division of McCormick and Company, the parent of McCormick Canada) in 1883, originally as a coffee company, with spices being added a few years later. Her mom has memories of climbing the mountains of coffee beans as a child, and she was the person who taught Matthews about spices and how they can be used to create a rich palette experience.
After graduating from the University of Waterloo, where she studied science and business, Matthews was on track for a career in finance. Until the concept of Real Pops pulled her in a new direction. "Being creative and being able to follow my vision is exciting," she says of her decision to establish her company, Everreal.
A self-professed science nerd, Matthews took a very methodical approach to formulating recipes for the healthy, small-batch popsicle alternatives she started making in 2017, experimenting with different flavour combinations and meticulously documenting the results to ensure she could consistently replicate the most popular ones.
"Covid has taught us to be agile" ―Cayleah Matthews
Matthews initially sold them at farmers' markets and festivals across Southwestern Ontario. "I think people are looking for healthy options. We use fresh organic and plant-based ingredients, with minimal sugar, minimal processing and no preservatives," she says.
By the end of August that first year, Matthews was talking to the folks at Remark Fresh Markets, and by year end the store had added Real Pops to their retail shelves.
"We started making Real Pops in a consignment commercial kitchen, but we needed more space, so in 2018 we moved into the basement at Fire Roasted Coffee on King Street," says Matthews.
The 'we' Matthews refers to includes partner, Jesse Kelly. "We both have science backgrounds," she says (he has a marine biology degree). "We both approach problem solving in a very methodical way.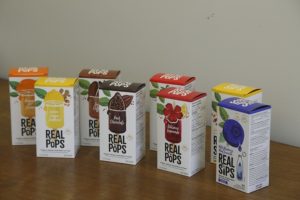 Sales continued to climb steadily, then in late 2018, food retailer Sobeys Inc. knocked on the door.
"Sobeys contacted us and asked if we would be part of their local foods program. We were able to get into 25 stores in London and surrounding area, and we realized we needed to get a separate food distributor to deliver to the stores.
"The problem was, the Real Pops had to be palleted and shrink-wrapped before the distributor picked them up, and we had no way to do that in the basement. Margaret [Coons] let us use space at Nuts for Cheese — we'd bring the pallets and we'd bring product packed in dry ice, put it on the pallets and shrink wrap it, then cover it in dry ice to keep it frozen until it was picked up. It was time consuming and it cost too much; we knew it wouldn't work over the long term. So, we found this great spot, 2,000 square feet on Pacific Court, and we moved here in February 2019."
The most demanding production period for Real Pops is from February to June. Once summer rolled around last year, Matthews was able to step back from production demands and focus on three priorities.
The first step was to refresh packaging design. Second, she had decided to develop an additional product line that is not a seasonal product — something that would contribute to steady year-round sales.
Enter Real Sips, a flavoured water mix that is also made from organic and plant-based ingredients and is licensed by Health Canada as a natural health product.
Story Continues Below

"Each sip stick can make up to three litres of beverage, depending on how diluted it is. It's equivalent to about eight cans of flavoured water."
Third was an investment in the back-end processes, including packaging equipment. "We were hand-packaging everything, it was really labour intensive," Matthews says. "Now, the machine wraps and seals, we just have to put them in boxes."
With the new production set up, Everreal has the capacity to produce 80,000 Real Pops each month.
Both the newly designed look and the new product were on track to launch in April 2020. A number of grocery retailer chains were set to carry both Real Pops and Real Sips, and Matthews had started to build Real Sips inventory. Then came the pandemic.
"A number of retailers told us they couldn't take on any new products, and unfortunately, with the new package design, even Real Pops was considered to be a new product," Matthews explains. "Our distributor found us new grocery stores in Guelph and Hamilton. It was a huge relief, but we still had to lay off staff.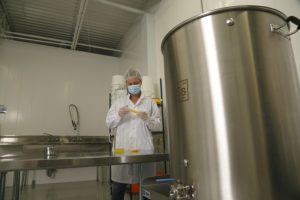 But like many Covid-time supply-strategy decisions, the only certainty was a likely change. "When the weather got hot, retailers were calling saying, 'We need Real Pops!'" Matthews says. "A lot of our original employees weren't available, so we relied on some of our friends' kids and students who were looking for summer work. For a while, Jesse and I were working every day until two in the morning. Still, it looks like we will only hit about a third of our projected sales this year.
The formal launch of Real Sips was delayed to October, and Matthews admits she has no real idea what sales are going to look like. She now has a second distributor in Quebec, and her Ontario distributor has expanded his territory, which means Everreal products can now be found as far away as Vancouver and Quebec City.
Even if the fall proves to be challenging, Matthews says the young company is prepared. "Covid has taught us to be agile. Stores have good systems in place now, and I believe they are better prepared to deal with a second wave."

Kym Wolfe