GFR90 takes aim at a $6-billion market with a wearable artificial kidney device
Photo: GFR90's managing partner, Norm Tiffin, and CEO, Don Bilyea
IF YOU WERE a medical professional or a person with kidney troubles, you would likely understand why a company developing a wearable artificial kidney would choose the name GFR90.
Glomerular filtration rate (GFR) is a calculation that determines how well blood is being filtered by the kidneys, and is one way to measure a person's kidney function. A GFR under 90 indicates kidney damage and quite possibly early kidney disease.
Kidney disease is reaching epidemic proportions, particularly in North America, says Norm Tiffin, president and managing partner of GFR90, a London-base medical device development company that is bringing a wearable artificial kidney to market.
About 60 per cent of people will have a problem with their kidneys at some point, adds GFR90 CEO, Don Bilyea, and half of the world market is in North America.
The role of the kidney is to remove waste product and excess fluid from the body. When it stops functioning there are two options: a transplant or dialysis, which typically means visiting a clinic or hospital three times a week, for four to six hours each time.
"We expect to hit the market in the next two to two-and-a-half years, but first there is a need for capitalization" ―Norm Tiffen
"Dialysis creates its own problems," explains Tiffin, describing the impact on both quality and length of life. "Between treatments, patients feel lethargic, nauseous and generally poor because waste, fluids and electrolytes accumulate between treatments and upset normal body function. And it's not just hard on a person physically, it's also mentally depressing."
The GFR90 device is essentially a wearable dialysis machine that allows patients to be continuously dialyzed, enabling them to maintain a near ­normal lifestyle.
A team of London-based physicians and engineers have been working on the device for the past four years and have developed a viable prototype. They had received initial approvals and were preparing for proof-of-concept clinical trials (short-term, three- to four-hour tests on humans in a dialysis clinic, involving patients who are already undergoing dialysis) when the pandemic hit, putting those plans on hold.
Story Continues Below

Tiffin and Bilyea are hopeful that initial clinical trials will begin before year end. In the meantime, they are focusing their efforts on commercializing the product, raising investment dollars to continue the development work and reaching out to three stakeholders — government and private insurers who pay for dialysis, healthcare providers and practitioners who work with kidney patients to inform them about treatment options and patients themselves.
"We expect to hit the market in the next two to two-­and-a-half years, but first there is a need for capitalization," says Tiffin.
There are a number of other teams in Canada and ­internationally also working to develop alternatives to in-clinic or hospital dialysis treatments. First-to-market products traditionally hold the strongest market position, and GFR90 would like to be that company. But Bilyea expects strong sales regardless because the need is so high. "This is a $6-billion market and it will continue to grow," he says.
Last year, U.S. health administrators set a policy goal: by 2025, 80 per cent of patients with end-stage kidney disease should receive home dialysis or kidney transplants (at that point, only 12 per cent were receiving dialysis at home). Currently, 763,000 Americans are on dialysis at an average annual cost of (USD) $87,900 per patient.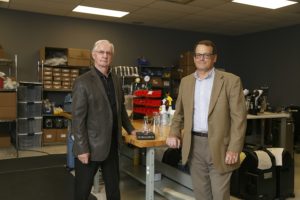 "We believe that 15 to 20 per cent of dialysis patients would be capable of using our mobile device," says Tiffin, which would result in significant cost savings for ­government and health insurers.
The GFR90 device is a vest equipped with all of the ­component parts required for dialysis, from a pump, tubes and sensors to a replaceable blood filter and a bag that ­collects excess fluids and can be emptied as needed, like a bladder. Tiffin and Bilyea have already identified a distribution network to ensure components requiring replacement can be easily sourced by users.
While wearing the device, people can move about ­normally, rather than being tethered to a home dialysis machine for several hours each day. And having continuous versus intermittent dialysis will level out the swings in fluid and toxin levels, which can have a huge positive impact on how patients feel on a day-to-day basis.

Kym Wolfe