Justin McKellar of Equals Brewing Company sheds light on the ­pandemic pinch, the Bangarang launch and aligning with consumer demand
Photo: Justin McKellar
JUSTIN MCKELLAR, 37, is general manager and brewmaster at Equals Brewing Company. Established three years ago, Equals handles brewing and packaging on contract for small and niche breweries. It is owned by Brian Semkowski and his partners at Southwest Sun Group. This summer, it launched its first original product — Bangarang, a hard seltzer.
Born in Glencoe, McKellar joined the company in 2018 after working for a variety of brewers across the country, large and small. His interest in brewing began with a co-op placement at Molson while studying at the University of Waterloo. He then earned a master's degree at Heriot Watt University in Edinburgh, Scotland, a school with an international reputation, "the Harvard of the brewing industry."
McKellar met his wife, Hayley, at Waterloo. She joined him in Scotland and went to teacher's college. They have three children: Nora, 8; Dylan, 6; Clara, 3. When not working or parenting, he plays hockey and enjoys the outdoors.
---
London Inc: The Equals concept is to brew for niche brands that can't invest in their own manufacturing and packing setup, right? Roughly how many brands work with you? Examples?
Justin McKellar: As a brewery, we do contract brewing, co-packaging and partner brewing. We combine experienced management and beer brewing team, state-of-the-art equipment and quality control processes to brands that may not have the means or space to produce the quantity of product they need.
The relationship differs from client to client, but we have the capabilities to brew any beer style or match recipes from a client's current brewery.
This model has proven very successful. In 2019, we worked with over 34 breweries. Some of the brewers we work with include Triple Bogey Brewing, Post Game Brewing, Hometown Brewing Company, which launched their own brewery in Norfolk County, and Lost Craft Brewing.
LI: Part of the pitch to those brands was that Equals would not compete by brewing its own label, so how much of a consideration was that when you launched Bangarang?
JM: The year 2020 has been far from normal. We originally had developed the capability to produce a hard seltzer with the intent to support customer brands. When Covid hit, our summer forecast of committed volume went to zero in a matter of two weeks and we had to put some plans in place to control our destiny.
We believed strongly in the segment and were blown away when we started tasting the samples that our lead brewer, Prathit Naniwadekar, put together for our taste panel. The flavours that rose to the top were Lemon Lime, Mango and my favourite, Blue Raspberry. Having tasted the competitors' samples, I knew we had a great line-up that could compete. In terms of our customers, we communicate openly with them and integrity, quality and customer service are three core values we live by, so they know that we will live up to our commitments.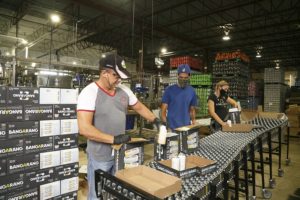 LI: People compare it to White Claw Hard Seltzer. Is that fair?
JM: The hard seltzer category is heavily populated, and certainly White Claw helped draw attention to this segment. What sets Bangarang apart are the ingredients and brewing process.
Bangarang is made using a proprietary filtration method that purifies the alcohol produced during fermentation, then mixing it with seltzer and all-natural flavourings. Most other seltzers available at the LCBO are all spirits based, or essentially just a vodka with soda water. So, a comparison to White Claw is only fair if you are comparing us to U.S.-produced White Claw, which uses a production method much closer to our own. Our fans tell us that they like the taste and can't taste the vodka burn.
LI: How was Bangarang received this summer? Can you divulge sales stats?
JM: Bangarang has been very well received. Given that we're local, we've seen a tremendous amount of support from the London community that has been spreading outwards to the rest of the province. We are now sold in 350 Beer Stores.
Overall, sales of hard seltzer and ready-to-drink beverages have seen a massive increase. The LCBO has reported a 42 per cent increase from last summer to this summer. We are working with the Beer Store to help increase awareness and category development for seltzers and ready-to-drink beverages as many people aren't even aware that these types of drinks are available at the Beer Store.
The time for hard seltzers is now. The factors that we're noticing driving this trend are the younger generations' — Millennials and Gen Z — desire for drink alternatives that better align with their wellness-conscience attitudes. Bangarang, being lower in calories, carbs and sugar, fits that bill.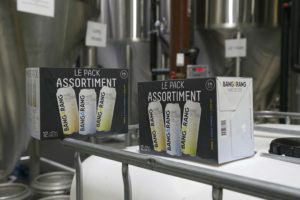 LI: Will Equals create more products under its own brand names?
JM: You never know, but right now we have a great team focusing on Bangarang. It's a new and exciting product for us and we are looking forward to seeing where it goes.
LI: How did you adjust to the pandemic in your own operations? Have some things changed forever?
JM: As soon as the NBA shut down, we knew that Coronavirus wasn't going to be a short-term thing. We implemented a Covid reaction plan early on that consisted of non-essential workers working at home for some time, the adoption of masks and a daily healthcare screening program. Being a food-production facility, we already had stringent cleaning standards, but we have also increased the frequency of cleaning as well.
LI: How much are you feeling the pain and suffering of the bar and restaurant sector?
JM: For many breweries, restaurants and bars can make up 20 to 30 per cent of their sales volume. Volumes in the on-premise were essentially cut off during the lockdown, but thankfully after some easing, patios and golf courses helped some of our customers recover to a certain extent. I think there will continue to be softness overall, but hopefully people will continue to support local bars and restaurants through a second lockdown through taking advantage of takeout and delivery options.

Interview by Christopher Clark