Libro celebrates new Credit Union Act
A modernization of the Credit Union Act allows credit unions to be more competitive and offer additional products and services
A MAJOR CHANGE to regulatory framework announced by the Ontario government in its recent budget is being celebrated by credit unions across Ontario, including London-based Libro Credit Union.  
The Credit Unions and Caisses Populaires Act, which replaces the Credit Unions and Caisse Populaires Act, 1994, allows credit unions to be more agile and competitive, and increases the products and services they can offer, including allowing the sale of insurance products within branches and on websites.
"Our act is 26 years old, pre-dates the interne, and was in need of an overhaul. This government listened, worked with our sector and was focused on ensuring that credit union members were supported through new legislation," says Brent Furtney, Libro's advocacy and government relations manager.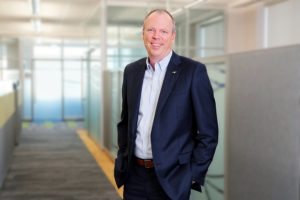 Photo: Libro Credit Union CEO, Steve Bolton
"A new Credit Union Act will continue to allow our sector to grow and innovate within Ontario, while ensuring consumers who bank with a credit union are protected. Our mission to build up the communities we serve and drive prosperity for our members has been addressed today by the government," continues Furtney.
The changes in the new Act include:
Credit unions will be able to offer property and casualty insurance in their branches;

Credit unions will be able to offer services to non-members;

There will be more flexibility instead of restricted rules, allowing expanded businesses;

A new Market Code of Conduct will be recognized in the legislation.
"We're pleased and grateful to gain more flexibility in our business, because the opportunities it creates will be significant," adds Libro CEO, Steve Bolton. "As our business becomes stronger, it means we can have more of an impact on Libro Owners and communities across southwestern Ontario. Our goal is always to grow everyone's prosperity."